« LAC Fares Well in Climate Change Performance Index | Home | Nuevo Instrumento Chileno para Apoyar a la Eficiencia Energética de las Empresas / New Chilean Instrument to Help Corporate Energy Efficiency »
By Keith R | November 15, 2006
Topics: Biotechnology, Environmental Protection, Hazardous Substances, Health Issues, Occupational Safety & Health, Pharmaceutical Issues, Sanitation, Tobacco Control | No Comments »

On Thursday 09 November 2006 the World Health Organization (WHO) elected a new chief executive, and it wasn't a Latin. Dr. Margaret Chan of Hong Kong (but representing China in the contest) beat out Mexican Health Minister Julio Frenk for the post of Director-General (DG) — first for the WHO Executive Board (EB) endorsement, and then in the vote in special session of WHO's top decision-taking body, the World Health Assembly (WHA).
Since the EB and WHA votes were by secret ballot, we'll probably never know all the factors behind them. They may deny it, but some in the Asian caucus probably voted for Chan because Dr. Lee, the prior DG whose term of office was cut short by his sudden death last May, was also Asian (Korean), so they felt the office should stay in Asian hands. [Yes, UN behind-the-scenes politicking on top posts can be as silly as all that, as any seasoned UN watcher can tell you.] China pushed Chan's candidacy hard so that China could gain its first UN top post, and they doubtless made some off-the-record promises-for-votes (although again, all involved will deny it happened). Some may have voted for her because she played a pivotal role in the SARS crisis and has been WHO's point person in monitoring and preparations for avian influenza ("bird flu") — current fears of a looming influenza pandemic made her an attractive choice. Some may have voted for her because (by all accounts) she's smart and personable.
At this point the rationales behind the votes no longer matter. The WHA already decided that she'll take office on 04 January 2007 and serve until June 2012. What matters now is what she does with the Organization, its influence, reputation and tools over the next five years.
What does it all mean for the nations of Latin America and the Caribbean (LAC)?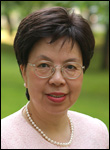 Meet Dr. Chan
Who is this Dr. Chan, what does she bring to the table?
Dr. Chan currently is an WHO Assistant DG in charge of Communicable Diseases, a post she gained last year. She has only been on staff at WHO since 2003, when Dr. Lee became WHO DG. Prior to that she had served nearly her entire professional life with Hong Kong's Department of Health. She started there as a Medical Officer in 1978, and left in 2003 as its Director.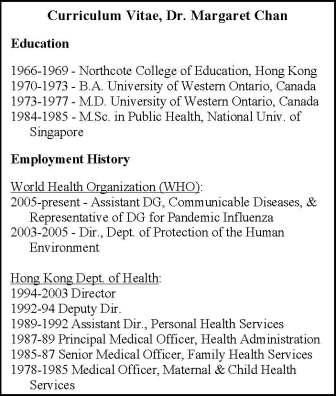 She is perhaps best known for her roles in Hong Kong's response to the 2003 SARS (severe acute respiratory syndrome) and 1997 H5N1 bird flu crises. She was widely praised for her decision to cull all poultry in the city in 1997, but strongly criticized for not reacting quick enough and not standing up enough to mainland Chinese officials during the SARS crisis when they stonewalled about cases in neighboring Guangdong province.
Obviously aware of her critics and whispers that Chan will not take a hardline on China's lack of transparency about disease surveillance, Chan worked quickly to dispel concerns soon after her election. She told Agence France-Presse (AFP) "Now I'm elected as the WHO's Director General I no longer carry my nationality on my sleeve. I leave it behind…I will speak up if some members states need to strengthen their effort and in this case if you are referring to China I will definitely speak out and urge China… to share information."
Chan's experience with WHO goes beyond infectious disease and disease surveillance, however. Her first WHO post was direction of the department in charge of setting environmental health criteria and guidelines (for such things as air and water contaminants, drinking water quality, proper management of hazardous wastes) and occupational exposure limits (for chemical, biological and physical agents) that are often copied, referenced or simply cut-and-pasted wholesale into national laws and regulations in LAC nations.
She also (1) was involved in the negotiations that resulted in the WHO Framework Convention on Tobacco Control (FCTC); (2) chaired WHO's group formulating guidelines for evaluating traditional medicines; (3) was very active on the Regional Committee governing WHO's Western Pacific Regional Office (WPRO).
Her Stated Priorities for WHO
Between her campaign "manifesto," her answers to the questions put to her during the campaign by respected medical journal The Lancet, the anti-tobacco activists and the People's Health Movement (PHM), plus her acceptance speech to the WHA once approved as the new DG, we have a long laundry list of Dr. Chan's intentions for the WHO.
Perhaps too long a list. One criticism leveled at her candidacy was that she covered nearly every possible promise to make for reform and improvement at WHO (with the notable exception of reforming WHO headquarters' relationship with its regional offices!). She would find ways to attract new talent and funding. She would work with everybody. She would strengthen current initiatives and launch new ones. And so forth. You get the picture! An agenda with something for everybody in it, but little sense of hierarchy among priorities.
She presents her agenda as focused, clear and organized into six "key issues": health development, security, capacity, information and knowledge, partnership, and performance. As you see by the very broad issue titles, this agenda encompasses a lot — probably too much for any DG to fulfill in five years.
Clearly cognizant of this charge, in her speech to the WHA she promises that she is pragmatic:
Here is what I think we should not do. We must not spread our resources too thin. The temptation is great. The determinants of health are broad, and the opportunities are multiple.

We must know our comparative advantage and stick with activities that WHO is uniquely well suited to perform. I have heard repeated calls for WHO to concentrate on a set of core public health functions. We must not duplicate the work of others. And we must not try to do everything on our own.

I firmly believe that WHO should not follow a "full menu" approach. But we do need to see what's on the table and do our utmost to ensure that public health gets a balanced diet.
In the WHA speech she promised to "refine and sharpen" her vision for WHO and present a tighter agenda to the regular session of the WHA in May 2007. But she also gave a hint of the two overarching priorities by which wants her administration to be judged: Africa and women's health. The former because of its tremendous needs in nearly every aspect of health care. By the latter she does not just mean maternal health, she declares.
Women do much more than have babies. Unfortunately, their activities in households and communities, coupled with their low status, make them especially vulnerable to health problems – from indoor air pollution and multiple infectious diseases to violence.

Yet evidence from many sources also shows that women are agents of change – for families, the workforce, and entire communities. The health of children largely depends on the health of women. As mothers, as sisters, as aunts and as grandmothers in the home. As carers, as teachers and as health workers in the community. And I have been all of these – except a grandmother!

Reducing health problems in women and empowering them will result in a dramatic increase in health-promoting behaviours – right where it counts most.
This perspective will probably mean an even closer working relationship with UNICEF, which has been advocating (and practicing) this perspective for decades.
As for other issues, rather than go through them all and regurgitate her complete manifestos, survey answers and speeches, I will highlight a few of the more interesting or important priorities she has outlined so far:
Health surveillance and early warning: "I plan to set up a global health observatory to collect, collate and disseminate data on priority health problems. I will integrate WHO's research activities to more strategically address a common health research agenda." "For outbreaks, the international community will not be securely defended until all countries have core surveillance and response capacities in place. The global surveillance system must have no gaps or weak spots." [This is an area where LAC needs help. Although some of the bigger LAC nations — Argentina, Brazil, Mexico — have pretty good health surveillance systems, some of the smaller and/or poorer nations — Bolivia, Haiti, the Dominican Republic, much of Central America — have many "gaps" and "weak spots."]
HIV/AIDS, tuberculosis (TB), malaria and tropical diseases: She calls for enhancing "WHO's commitment to the target of

universal access to HIV treatment

, prevention and care" and "accelerating the momentum to control malaria, TB and ancient tropical diseases that anchor large populations in poverty." [Malaria, TB and tropical diseases are longstanding health priorities of the LAC nations.]
Drugs, vaccines and diagnostics: "WHO must influence the research and development agenda…we will not be able to make major strides forward until we have new vaccines, new drugs and new diagnostic tools. In addition, we must find the right balance between the protection of intellectual property rights and access to affordable essential medicines. This is not easy! But we cannot be evasive." [Many LAC health ministries will be interested to hear these words, as they have been asking WHO to be less evasive about the drug patents/access to medicines axis.]
Going beyond the Millennium Development Goals (MDGs): "Let us not limit health development to the MDG targets…We must also address reproductive health, violence and injuries, and the growing burden that

chronic diseases

place on development –

heart disease, stroke, cancer, diabetes, mental illness

and others. We must accelerate initiatives in safer pregnancy, integrated management of

childhood illness

and immunization…Our support to implement the Global Strategy on Diet, Physical Activity and Health will increase." [Given LAC's vulnerability to cardiovascular disease, this may be good news for LAC nations.]
Tobacco Control: "We will scale up efforts to control tobacco, including full implementation of the Framework Convention on Tobacco Control." [This doubtless is music to the ears of anti-tobacco NGOs. They had opposed Frenk because he had negotiated with tobacco firms in Mexico on tax and advertising issue and welcomed Chan's appointment.]
Primary Health Care: "I plan to promote integrated primary health care as a strategy for strengthening health systems. The reason is simple: It works. This is the only way to ensure fair, affordable, and sustainable access to essential care across a population. We have the evidence. I have experienced this personally."
Many of the priorities Chan has outlined certainly interest LAC health officials and practitioners, but given her emphasis on Africa (she also mentioned the nations formerly in the Soviet bloc as badly needing WHO's help), LAC nations may not expect priority attention from Geneva over the next five years. Instead, as in the past, they will expect better response and closer cooperation from the Pan American Health Organization (PAHO), whether or not it meshes with "Geneva priorities." One of Dr. Chan's challenges will be to persuade them that WHO-Geneva is as much or more important to their health agenda as its regional affiliate (PAHO) is.
— Keith R
Tags: AIDS, avian influenza, bird flu, cancer, cardiovascular disease, China, communicable diseases, diabetes, diagnostics, diet, disease surveillance, enfermedades cardiovasculares, enfermedades crónicas, essential medicines, FCTC, health development, health surveillance, heart disease, HIV, immunization, intellectual property, Julio Frenk, malaria, Margaret Chan, MDGs, medicamentos, mental illness, Millennium Development Goals, OMS, pharmaceuticals, PHM, pregnancy, primary health care, SARS, stroke, tabaco, The Lancet, Tobacco Control, traditional medicines, tropical disease, tuberculosis, universal access, vaccines, vacunas, WHO, women's health
Subscribe to My Comments Feed
Leave a Reply