« Two ECLAC Technical Studies on Biofuels / Dos estudios técnicos de CEPAL sobre biocombustibles | Home | The Stove of the Future May be Mexican »
By Keith R | December 12, 2006
Topics: Environmental Protection, Extractive Sectors, Sanitation, Water Issues | No Comments »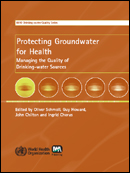 The World Health Organization (WHO), in cooperation with the International Water Association (IWA), has released a collection of essays providing guidance on the protection of groundwater. As WHO summarizes it, the book
…provides a structured approach to analyzing hazards to groundwater quality, assessing the risk they may cause for a specific supply, setting priorities in addressing these, and developing management strategies for their control. For health professionals, it thus is a tool for access to environmental information needed for such a process and for professionals from other sectors, it gives a point of entry for understanding health aspects of groundwater management.
Section I of the book provides background on groundwater and its importance, and the types of challenges its protection faces (pathogens, chemical/pesticide contamination, etc., population pressures). Groundwater is an important source of drinking water in most Latin American and Caribbean (LAC) areas where there is not a nearby, ready surface source of fresh water, such as a lake or river. On many islands, such as Barbados, it is a critical source that, if not managed properly, can lead to water supply crises.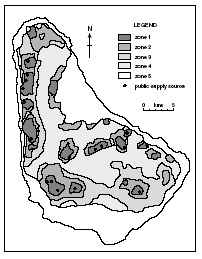 Sections II and III cover assessment of groundwater sources and pollution potential thereof. Section IV discusses different approaches to groundwater protection management, including water safety plans, groundwater protection zones, hydrological management. Section V tackles policy approaches to pollution source management, including the possibility of special regimes covering agriculture, human sanitation, mining, industry, military sites, waste disposal sites, and transportation systems (primarily controlling the use of chemicals and managing runoff).
Although quite detailed and geared to professionals, I found the book quite readable for laymen in my scan of its contents. I particularly like that the authors and editors use examples of systems and approaches used around the world (including LAC nations) and the lessons they offer.
The English version in PDF of the report can be downloaded at this link. A Spanish version is not yet available.
WHO. Protecting Groundwater for Health: Managing the Quality of Drinking-water Sources. Edited by O. Schmoll, G. Howard, J. Chilton and I. Chorus. ISBN: 1843390795. Published by IWA Publishing, London, UK.
Tags: agriculture, Barbados, chemicals, drinking water, groundwater, groundwater protection zones, groundwater quality, human sanitation, hydrological management, industry, IWA, military sites, mining, OMS, pathogens, pesticide contamination, run-off, waste disposal sites, water safety plans, WHO
Subscribe to My Comments Feed
Leave a Reply