« "Eco-Sustainable" Packaging Made from Yucca | Home | Brazil Wants CFCs Out of Inhalers »
By Keith R | October 30, 2007
Topics: Climate Change, Corporate Social Responsibility, Economics & the Environment, Environmental Protection, Health Issues, Renewable Sources | No Comments »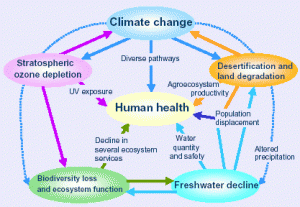 Every year the World Health Organization (WHO) picks a theme for World Health Day, April 7th, the day celebrating WHO's founding, so that everybody in involved in public health can talk "on message" and focus their discussion about the pre-selected theme. In 2007 it was "invest in health, build a safer future." In 2008 it will be "protect health from climate change."
It's not a new issue, nor a something new for WHO to tackle. In fact, WHO has issued several documents on it in recent years, including a major 2003 report, a 2005 "fact sheet" on climate and health, a March 2007 article on the topic in the Bulletin of the WHO, and a May 2007 article by WHO experts on the urban dimension in the Journal of Urban Health. WHO also had a major role in putting together the human health chapter of the latest (fourth) Intergovernmental Panel on Climate Change (IPCC) assessment report.
But WHO seems to feel that, in the wake of Al Gore's "Inconvenient Truth," the Stern Review, and the IPCC Fourth Assessment — and media and public reactions to them — the human health impact and how best to prepare for it have gotten lost in the shuffle of sensational headlines and emotional debates about sea-level rise, polar bears and hurricane ferocity and frequency. So WHO will try to refocus the attention of policymakers, the media and the general public back to public health impacts and strategies next April.
I have to admit that, looking back at this blog's many climate change entries — for example, on "Up in Smoke," the Nagy report, and Brazil's climate change assessment — I've given it the back seat and/or only cursory discussion. I also really did not do justice to the influence of climate change on the difficulty LAC is experiencing in getting a handle on malaria and dengue. Guess I'm simply going to have to put together one of those comprehensive Temas looks at the subject…
____________________________________

From the World Health Organization (WHO):
WHO calls for global action to "protect health from climate change"

As momentum for action on climate change continues to grow, the World Health Organization (WHO) announced today that it will focus its World Health Day 2008 theme on "protecting health from climate change."

The World Health Organization was born out of international commitment to build global security and peace. Sixty years later, that same sense of vulnerability and solidarity is bringing the global community together to address the growing threat of climate change to public health security.

"Just as health and wellbeing was seen as a defining aspect of peace and security," notes Dr Margaret Chan, WHO Director-General," so too, the health and wellbeing of populations must become the defining measure of the impact of climate change and our efforts to address it effectively". Climate change is finding itself in an increasingly central position on the international agenda, as most recently evidenced by the Nobel Prize awarded to former US Vice President Al Gore and a team of UN experts for their work on the subject. Today, it is becoming clearer that sustainable development leads to healthy environments and enhanced public health.

"Health professionals are on the front line in dealing with the impacts of climate change. The most vulnerable populations are those who live in countries where the health sector already struggles to prevent, detect, control and treat diseases and health conditions, including malaria, malnutrition and diarrhoea. Climate change will highlight and exacerbate these weaknesses by bringing new pressures on public health, with greater frequency".

"We need to put public health at the heart of the climate change agenda," Dr Chan added. "This includes mobilizing governments and stakeholders to collaborate on strengthening surveillance and control of infectious diseases, safer use of diminishing water supplies, and health action in emergencies."

On World Health Day 2008, communities and organizations around the world will host activities to establish greater awareness and public understanding of health consequences of climate change, and to show the impact of the growing interdependency between these two areas on national and international decisions and policies.

About World Health Day

World health Day was created in 1948 by the First World Health Assembly to mark the founding of the World Health Organization. World Health Day takes place on 7 April annually and serves to raise awareness of key global public health challenges. World Health Day 2008 will mark the 60th anniversary of WHO.
_____________________________________

Desde la Organización Mundial de la Salud (OMS):
La OMS insta a que se adopten medidas a escala mundial para "proteger la salud frente al cambio climático"

Coincidiendo con el creciente impulso para que se actúe frente al cambio climático, la Organización Mundial de la Salud (OMS) ha anunciado hoy que el tema del Día Mundial de la Salud 2008 se centrará en la «protección de la salud frente al cambio climático».

«Del mismo modo que la salud y el bienestar se consideran aspectos determinantes de la paz y la seguridad», ha declarado la Dra. Margaret Chan, Directora General de la OMS, «la salud y el bienestar de las poblaciones deben convertirse en la medida que determine el impacto del cambio climático y nuestros esfuerzos para hacerle frente con eficacia».

La Organización Mundial de la Salud nació del compromiso internacional para establecer la paz y la seguridad en todo el mundo. Sesenta años más tarde, ese mismo sentido de vulnerabilidad y solidaridad reúne a la comunidad internacional con el fin de hacer frente a la creciente amenaza del cambio climático para la seguridad de la salud pública.

El cambio climático ocupa una posición cada vez más importante entre las prioridades internacionales, como ha puesto de manifiesto el Premio Nobel que acaba de otorgarse al ex Vicepresidente de los Estados Unidos, Al Gore, y a un equipo de expertos de las Naciones Unidas por la labor realizada al respecto. Hoy en día, cada vez es más evidente que el desarrollo sostenible propicia los ambientes saludables y mejora la salud pública.

«El personal de salud está al frente de la lucha contra las repercusiones del cambio climático. Las poblaciones más vulnerables son las de los países cuyo sector sanitario ya está luchando para prevenir, detectar, controlar y tratar enfermedades y afecciones tales como la malaria, la malnutrición y la diarrea. El cambio climático pondrá de relieve y exacerbará esas deficiencias al ejercer con mayor frecuencia nuevas presiones sobre la salud pública.»

«Es preciso que situemos la salud pública en el centro de la agenda sobre el cambio climático», ha agregado la Dra. Chan. «Ello incluye la movilización de los gobiernos y otras partes interesadas para que colaboren en el fortalecimiento de la vigilancia y el control de las enfermedades infecciosas, la utilización segura de unos suministros de agua que disminuyen, y la acción sanitaria en las emergencias.»

Con ocasión del Día Mundial de la Salud 2008, las comunidades y organizaciones de todo el mundo celebrarán actividades encaminadas a aumentar el grado de sensibilidad y comprensión de la población con respecto a las consecuencias del cambio climático en la salud, y de mostrar el impacto que la creciente interdependencia entre esas dos esferas tiene en las decisiones y políticas a escala nacional e internacional.

Acerca del Día Mundial de la Salud

En 1948, la Primera Asamblea Mundial de la Salud estableció el Día Mundial de la Salud con el fin de conmemorar la creación de la Organización Mundial de la Salud. El Día Mundial de la Salud se celebra el 7 de abril cada año, y sirve para sensibilizar acerca de los problemas fundamentales de salud pública en todo el mundo. El Día Mundial de la Salud 2008 señalará el 60º aniversario de la OMS.
Tags: Al Gore, Asamblea Mundial de la Salud, cambio climático, Climate Change, Día Mundial de la Salud, diarrea, diarrhoea, infectious diseases, IPCC, malaria, malnutrición, malnutrition, Margaret Chan, Nobel Prize, OMS, public health, salud pública, saude, water supply, WHA, WHO, World Health Day
Subscribe to My Comments Feed
Leave a Reply