« Eco-Certification for Tourism: The Role of Blue Flag, Part I | Home | A Bright Future for Solar in LAC? »
By Keith R | October 14, 2006
Topics: Air Quality, Environmental Protection, Government Accountability, Hazardous Substances, Sanitation, Water Issues | No Comments »
Lima Is Not for Asthmatics

A recent post in Ecoperu warned that walking through Lima's city center could prove hazardous to your health due to contaminants in the air that exceed international standards.
I was a bit taken aback by this statement. It's been over three years since I last walked Lima's center, so maybe my memory is hazy, but I don't remember it being quite that bad. Well yes, I do remember hazy smog hanging over the city in early morning, but nothing quite like one often sees/feels (yes, sometimes the air feels thick) in Mexico City.
I don't doubt what Gustavo writes is true — it's his home turf, and he doubtless walks it all the time.
What's more, he backed it up by referring to a recently published quarterly bulletin on "environmental statistics" issued by Peru's Statistical Institute (INEI). The statistics and graphs are provided by the Health Ministry's Directorate-General on Environmental Health (DIGESA) based on data collected by a monitoring station in Lima's city center. The INEI bulletin covers the findings for five contaminants covered by Peru's existing Air Quality Standards (ECA) Regulations: total suspended particulates (TSP, known by its Spanish acronym PTS); fine particulates (those 2.5 µg/m3 or less); nitrogen dioxide (NO2); sulfur dioxide (SO2); and lead (Pb).
I find it interesting and unfortunate that they do not publish statistics for the other air contaminants covered by the ECA Regulation, namely ozone (O3), carbon monoxide (CO) and hydrogen sulfide.
Let's take a look at the published statistics he refers to. In each graph (click on each to see a larger version) the vertical red bars represent levels in 2005, the vertical white bars levels in 2006. The black horizontal line is the level set by the current national ECA.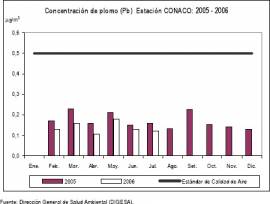 As you can readily see, levels in the city center for suspended particulates, no matter the size, far exceed national air quality standards, while airborne lead levels are far below, SO2 levels consistently under the relevant ECA, and levels for NO2 were exceeded twice in 2005 but have been in line during 2006 readings.
National vs. International
But Gustavo refers to international, not national, standards. How do they differ?
When people refer to international air quality standards, they usually are speaking of the World Health Organization's (WHO) guidelines. [The notable exception: WHO has not set a guideline for TSP.] As I previously posted ("WHO to Policymakers – Clear the Air"), updated and generally tougher standards were just released for particulates, NO2 and SO2. When Gustavo posted his article, they were not yet officially released, so I'll refer to both the prior and new standards here:
Peru's lead standard is in line with WHO guidelines, and the air in Lima's center appears to be well below (probably thanks to phasing out leaded gasoline some years ago).
WHO previously did not have set guidelines for fine particulates (PM2.5), but now has called for an annual mean of 20 µg/m3. Peru's PM2.5 standard is in line with that guideline, but as noted above, the levels in the center of Lima are nowhere near compliance.
Peru's ECA for SO2 is an annual arithmetic average of 80 µg/m3, while updated WHO guidelines have called for 50 µg/m3 annually and no more than 20 µg/m3 over any single 24-hour period. Most of Lima's 2006 levels of SO2 exceed those WHO recommendations. [These may improve over the next couple of years, however, since Congress passed this past March a new law cutting the sulphur content of gasoline.]
Peru's ECA for NO2, an annual average of 100 µg/m3, is far above WHO's guideline of 40 µg/m3. If Lima had to meet the WHO NO2 standard, it would have failed in every month of 2006 but July.
So with the notable exception of lead, the air in Lima's center does exceed international standards.
How much does the difference between national and WHO standards matter? Well, the WHO standards are based on public health studies; ignoring them means serious public health consequences and their attendant costs. Besides, Peru's new General Environment Law requires that WHO standards be used as reference when setting ECAs and Maximum Permissible Limits (LMPs). There is a bill pending in Congress to create a Clean Air Law, and this may be used to change current Peruvian norms and address the particulate issue.
Is This Just a Downtown Problem?
If one pulls the historical data for the Lima-Callao region from DIGESA's website (click on each graph below to see a larger version), one finds that
NO2 levels have dropped significantly since the year 2000 throughout the region, have been ECA compliant since 2001, and all but Lima's center probably could comply with tougher WHO guidelines;
all but Lima's center (the last group of bars on the right of each graph) have been ECA-compliant for SO2 since the year 2000, and Lima's center finally met the standard in 2005 — if a tougher WHO standard was adopted, only Lima's center would not be compliant;
TSP levels have been ECA-compliant in Callao since 2004. Unfortunately, the historical graphs show that in Lima-South, Lima-North and Lima-Center — the second, third and fifth bar groups on each graph, respectively — particulate emissions have been rising since 2000. This suggests that local government officials need to focus heavily on emissions from diesel-powered vehicles (the Pan American Health Organization – PAHO – says that 66.3% of Lima's large particulate emissions are attributable to mobile sources).
But Looking at the Glass Half-Full…
As bad as all this may sound, there is a bright (well, less dark) side. First, there is the very fact that Peru conducts such ongoing, detailed monitoring of air quality at all. While that may sound like no big deal to Americans, Canadians, Japanese, or West Europeans, among Latin American and Caribbean (LAC) nations it currently is more the exception than the rule.
Peru did not take that step alone. The design and implementation of the air monitoring program had the technical assistance of WHO/PAHO's Lima-based Pan American Center for Sanitary Engineering and Environmental Science (CEPIS), plus that of Japan's International Cooperation Agency (JICA). The Peruvian government has also prepared inventories of fixed emission sources in 13 departments (Peru's sub-federal divisions) with the help of JICA (click on the image at right to access the site with the inventories).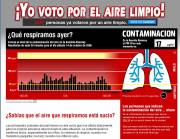 Second, Peru provides such data to the public in a relatively timely manner. Recent data is published by INEI, historical data provided on both DIGESA's website and through a special page on the National Environment Council's (Conam) website. This is rarer still among LAC nations, as are the regular radio warnings about air quality that Moisés mentions in his article. Even more unusual: you can see the PM10 levels in Lima's center in real-time, with a constantly updated graph that shows averages in half-hour increments (click on the red image at right to go to the site).
Third, as noted above, Peruvian authorities have submitted to Congress a draft Clean Air Law aiming to provide a firmer, clearer legal basis for action. [This step is interesting in itself, as most LAC nations have chosen to regulate air quality/pollution matters via regulations based on a general environment law, rather than a standalone law insulated from changes in the general environment law.]
Fourth, with the help of several international aid groups — the Swedish International Development Agency (SIDA), Swiss Agency for Development and Cooperation (COSUDE), the Dutch Government and the US Agency for International Development (USAID) — Conam has prepared both national and local plans (for Arequipa, Cuzco and Trujillo) to bring air quality to acceptable levels and launched an effort, in cooperation with local/regional governments, to educate the public on the subject.
Click to hear Peru's radio spot urging action on cleaner air: [audio:http://www.conam.gob.pe/aire/swf/mp3/conam_campana%20_radial_aire.mp3]
Sound and Fury Signifying…?
To paraphrase Shakespeare by way of Faulkner, is all this sound and fury, in the end signifying no real change?
That depends a lot on the new President of the Nation, the new Conam President and the new Congress. They have been given a sound foundation — good data, a draft Clean Air law, clean-up plans and programs to push the public into demanding and accepting tougher action. The question is what they do with it — what they build on that foundation (to continue the metaphor). Will Alan Garcia give the environment high priority in his Administration? (and manage Peru better than he did in his prior turn as President?) Will Conam President Brack maximize Conam's leverage in this area? Will the new Congress pass a strong, comprehensive Clean Air Law with effective enforcement mechanisms?
Stay Tuned.
— Keith R
Tags: air pollution, Air Quality, Alan Garcia, calidad del aire, Callao, carbon monoxide, CEPIS, Conam, contaminación atmosférica, contaminants, COSUDE, diesel, DIGESA, ECA, fine particulates, hydrogen sulfide, INEI, JICA, lead, Lima, nitrogen dioxide, NO2, O3, OMS, ozone, PAHO, Peru, PM10, PM2.5, poluição do ar, qualidade do ar, SIDA, smog, SO2, sulfur dioxide, total suspended particulates, USAID, WHO
Subscribe to My Comments Feed
Leave a Reply