« $50 Million for Green Energy in Rural Argentina | Home | IDB Finances Mexican Work on Climate Change / BID financiará agenda de México sobre cambio climático »
By Keith R | November 20, 2008
Topics: Environmental Protection, Marine/Coastal Issues | No Comments »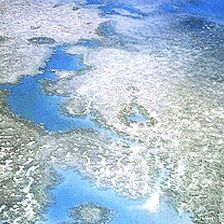 In September Brazil's Environment Minister, Carlos Minc, caused quite a stir in conservation circles.  He announced that he was sending a decree to the Planalto Palace for President Lula to sign that would significantly enhance Brazil's protection of its coral reefs, something conservationists and marine biologists have been pushing for since at least the late 1990s.
The only problem is, two months later, the decree has yet to emerge with Lula's signature.  Will it emerge?  And if so, what's caused the delay and how might it be altered?
Brazil's Reefs and Why Protect Them
Some readers are probably surprised to hear that Brazil has reefs — most people outside Brazil tend to think that reefs in Latin America and the Caribbean (LAC) are restricted to the Caribbean and Central American nations and territories.
Not so! In fact, of the 8,000 kilometers of Brazilian coastline, about 3,000 km have reefs — a length about as long as that of Australia's famous Great Barrier Reef.  The difference is that Brazilian reefs are not a continuous line and nowhere near as broad as the Great Barrier Reef.  They primarily pepper Brazil's northern coast, starting in Maranhão and stretching as far south as the border between Bahia and Espírito Santo states (click on the map image at right to see reef locations).  Brazil has the only known reefs in the South Atlantic.
I won't repeat here all the challenges facing reefs in LAC in general, and the arguments for their better protection — instead I urge you to read the Temas series on the need for stronger reef protection in LAC.  As for the specific case of the Brazilian reefs, perhaps it may suffice to note that the Environment Ministry (MMA) estimates that some 18 million Brazilians depend directly or indirectly on the environments created by Brazil's reefs.  That includes more than just the fishing industry directly linked to the corals and mangroves, but also coastal developments protected by reefs and the growing ecotourism industry in the reef and whale areas.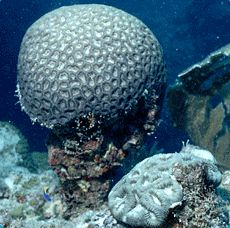 They are also incredibly biodiverse. One reef formation alone – the one surrounding the Abrolhos archipelago of small volcanic islands 70 km off the coast of southern Bahia — includes many unique species found only in Brazilian waters.  Half of the 16 coral species found there are exclusive to Brazil, such as the particular brain coral (Mussismilia braziliensis) pictured at right.  It also happens to be one of the world's few sanctuaries for the humpback whale.
…But Not That Well Protected at the Moment
Unfortunately, only a small percentage of these reefs are protected under Brazilian law at present.  As Minc pointed out in announcing the draft decree, only 0.5% of Brazilian territorial waters have protected status, vs. about 20% of Brazilian lands.  The number of marine protected areas (MPAs) are few (click on map below right to see them in a large image), and not (yet) well monitored and managed.
And they don't necessarily fully cover the reef formations they are intended to cover.  Take for example Brazil's oldest MPA, the Abrolhos National Marine Park (PARNAM), created by decree in 1983.  Scientists investigating the Abrolhos reefs recently determined that the reef area may be double that originally thought, meaning that only 1% currently is protected by the Park.  [The full reef area is about 40,000 km2, or roughly the size of Espirito Santo state.]
What Minc Wants to Do
The draft decree Minc sent to Lula would create the Brazilian Initiative for the Conservation of Coral Reefs that would have as its core goal the expansion of protected status to the estimated 20% of Brazilian seas containing reefs and/or may serve as whale sanctuaries.
So What's the Hold-up?
Why hasn't the decree emerged?  I don't have inside information on this particular question, but have a strong educated guess: hydrocarbons.
Many of these reefs abut or overlap current or suspected oil and gas fields.  In fact, in May 2006, after pressure from NGOs led by Conservation International (CI), MMA created a buffer zone (zona de amortecimento – ZA) surrounding PARNAM in which oil and gas drilling exploration and drilling is restricted (for now).  The industry, National Petroleum Agency (ANP) and the Ministry of Energy and Mines (MME) have never been thrilled about the Abrolhos ZA — their concerns at the prospect of permanently blocking offshore drilling by expanding MPA protection to all reefs and their surrounding waters probably are probably being voiced loudly at the Planalto.
MMA seems to have anticipated this potential conflict, which is part of the reason why they undertook the ambitious project to prepare comprehensive atlases of the Brazilian sedimentary basins that might be affected by oil and gas exploration, drilling and related activities.  It's also why marine biologists and groups like CI are busily preparing studies showing the need for greater protection for the reefs and greater caution about allowing exploration and drilling nearby.
Tags: ANP, arrecifes coralinos, Bahia, brain coral, Brasil, Brazil, Carlos Minc, Conservation International, coral reefs, Espírito Santo, humpback whale, hydrocarbons, Maranhão, Mussismilia braziliensis, oil rigs, PARNAM, petroleum exploration, recifes, whale sanctuaries, zona de amortecimento
Subscribe to My Comments Feed
Leave a Reply