« IDB to Join Fight on Neglected Infectious Diseases / El BID combatirá las enfermedades tropicales desatendidas / O BID vai combater as doenças infecciosas negligenciadas | Home | A New Image for Chilean Cigarette Packs »
By Keith R | September 4, 2009
Topics: Chemicals, Hazardous Substances | 1 Comment »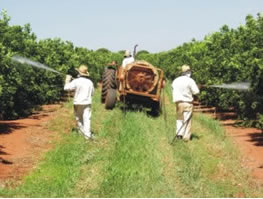 Following up on its review of 12 pesticides banned or severely restricted in other nations, Brazil's National Sanitary Vigilance Agency (ANVISA) is proposing a ban on the use in that country of the active ingredient endosulfan in pesticides used in growing cotton, cocoa, coffee, sugarcane and soybeans.   The proposal, released for public comment today, also provides for the suspension of the importation and registration of new pesticides based on that substance.
In another proposal published for comment today, ANVISA called for an immediate ban on use of the organophosphate pesticide acephate on crops of peanuts, potatoes, broccoli, citrus, cabbage, cauliflower, carnation, chrysanthemum , beans, tobacco, melons, peppers, cabbage, tomato and roses. Acephate would be restricted in agricultural use to cotton and soybeans, and even then only until October 31, 2013.  ANVISA further recommended a ban on household and gardening use of acephate and dropping the acceptable daily intake (ADI) of the product of 0.03 mg/kg body weight per day down to 0.0008 mg/kg body weight per day.
Proposals to restrict use of these two active ingredients is based on studies that point to serious health damage related to use of these substances, plus their ban in other countries.
_______________
Desde a Agência Nacional de Vigilância Sanitária (ANVISA):
Agrotóxicos: estudos recomendam a proibição de duas substâncias

A Agência Nacional de Vigilância Sanitária (Anvisa) recomendou o banimento de uso, em todo país, do ingrediente ativo endossulfam, agrotóxico utilizado no cultivo de algodão, cacau, café, cana de açúcar e soja. A indicação, publicada na Consulta Pública 61, nesta sexta-feira (4), prevê, ainda, a suspensão da importação e do registro de novos agrotóxicos a base dessa substância.

Já para o ingrediente ativo acefato, a Consulta Pública 60 da Agência, também desta sexta-feira (4), apontou para a proibição imediata de uso nas culturas de amendoim, batata, brócolis, citros, couve, couve-flor, cravo, crisântemo, feijão, fumo, melão, pimentão, repolho, rosa e tomate. O acefato só poderá ser usado em algodão e soja, até a data de 31 de outubro de 2013.

A Anvisa também recomendou a proibição de uso doméstico e em jardinagem do acefato e restringiu a ingestão diária aceitável do produto de 0,03 mg/Kg de peso corpóreo/dia para 0,0008 mg/kg de peso corpóreo/dia. Essa substância não poderá ser aplicada de forma manual e costal (bombas nas costas).

As restrições de uso desses dois ingredientes ativos de agrotóxicos é baseado em estudos que apontam para graves danos de saúde relacionados ao uso dessas substâncias. Além disso, o acefato e endossulfam já foram banidos em vários países do mundo.
Tags: acefato, acephate, active ingredients, ADI, agrotoxicos, algodão, amendoim, Anvisa, ban, banimento, batata, beans, Brasil, Brazil, broccoli, brócolis, cabbage, cacau, cafe, cana-de-açúcar, carnation, cauliflower, chrysanthemum, citros, citrus, coffee, couve, couve-flor, cravo, crisântemo, endossulfam, endosulfan, feijão, fumo, Hazardous Substances, importação, imports, ingredientes ativos, melão, melon, peanuts, peppers, pesticides, pimentão, potatoes, proibição, repolho, rosa, roses, soja, substâncias perigosas, sugarcane, tobacco, tomate, tomato
One Response to "ANVISA Proposes Ban on Endosulfan, Partial Ban on Acephate"
Greenearth Says:
June 26th, 2010 at 23:26

I wish you well in eliminating the use of these pesticides.
Leave a Reply