« Eye on Ads: Latin American Idol Urges Paper, Tetra-Pak Recycling | Home | MERCOSUR Tackles Tobacco Advertising »
By Keith R | June 19, 2009
Topics: Cosmetics/Personal Care Products, Hazardous Substances | No Comments »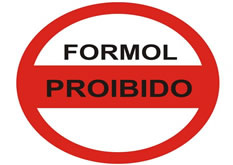 If you are a woman who goes frequently to a hair salon — and all latinas I know do –chances are very good that you have heard of, or have even had, the popular "Brazilian blowout," also known as Brazilian keratin treatment or escova progressiva (progressive blow-dry).
But did you know that many (if not most) of these treatments use formaldehyde, a substance considered a health risk and probable carcinogen?
Brazil's National Sanitary Vigilance Agency (ANVISA) does.
Concerned about the sharp rise in formaldehyde sales, its improper use in beauty treatments and reports of health problems associated with such use, ANVISA just banned the sale of formaldehyde in drugstores, pharmacies, supermarkets, department stores, emporiums and convenience stores.
ANVISA's regulation, Resolution RDC 36-2009, also declares that adding formaldehyde to finished cosmetic products in beauty salons poses health risks and violates regulations regarding cosmetics, personal hygiene products and perfumes, and thus subject to the administrative, civil and criminal sanctions under Law 6437 on infractions involving federal sanitary legislation.
______________
Desde a Agência Nacional de Vigilância Sanitária (ANVISA):
Proibida a venda de formol

Está proibida em todo o país a venda de formol em drogaria, farmácia, supermercado, armazém e empório, loja de conveniência e drugstore. De acordo com a RDC 36/09 aprovada pela Diretoria Colegida da Anvisa, o formol, ou formaldeído (solução a 37%), não pode estar disponível em nenhum destes estabelecimentos.

A medida foi adota tendo em vista o uso inadequado deste produto em procedimentos de estética. O formol vinha sendo utilizado indiscriminadamente em procedimentos popularmente conhecidos como "escova progressiva", com a finalidade de alisar os cabelos acarretando sérios riscos à saúde. A adulteração de produtos cosméticos, com adição de formol, por exemplo, já é considerado crime hediondo pelo Código Penal Brasileiro.

Os estabelecimentos abrangidos pela resolução terão o prazo de 180 (cento e oitenta) dias para promover as adequações necessárias.
Tags: Anvisa, armazém, beauty products, beauty salon, beauty treatments, Brasil, Brazil, Brazilian blowout, Brazilian hair treatment, Código Penal Brasileiro, convenience stores, cosméticos, cosmetics, department stores, drogaria, drug stores, drugstore, empório, emporiums, escova progressiva, farmácia, formaldehyde, formaldeído, formol, hair products, hair salon, hair straighteners, IARC, keratin straightening, loja de conveniência, pharmacies, procedimentos de estética, produtos capilares, public health, saude, supermarkets, supermercado
Subscribe to My Comments Feed
Leave a Reply