« Making Mexico City Bicycle-Friendly | Home | FAO: Agriculture Should be in New Climate Agreement / El nuevo acuerdo sobre el cambio climático debe incluir la agricultura »
By Keith R | April 2, 2009
Topics: Chemicals, Hazardous Substances | No Comments »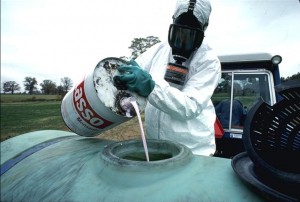 Brazilian health officials are concerned.  In 2008 Brazil became the largest consumer of pesticides in the world, surpassing the US with a market of more than US$7 billion.  Yet many of the pesticides now manufactured in, or imported into, Brazil and widely used there have been banned or severely restricted for health and environmental reasons by other nations, including the 27-nation European Community, US, Canada, Japan, China and India.
The National Health Surveillance Agency (Anvisa) is charged with reviewing active substances in registered pesticides when it feels that new or additional data changes the risk assessment done when the substance was originally registered. As the result of such reviews, the Agency has already banned the use of four active ingredients and severely restricted the use of another 19, used in the manufacture of more than 300 pesticides in Brazil.  One example cited by Letícia Rodrigues, Anvisa's manager of toxicological evaluation, is a ban on organophosphate insecticides based on chlorpyrifos when it was found that the substance affects the neurological and cognitive development of children exposed to it.
No Longer on Hold?
In 2008 a series of court decisions prevented Anvisa from proceeding with a review of 14 active ingredients used in more than 200 pesticides. Andrea Salazar, legal adviser to the Consumer Defense Institute (Instituto de Defesa do Consumidor – IDEC), attributes the court actions to a series of law suits filed by pesticide manufacturers and their trade association, the National Association of the Agricultural Defense Products Industry (Sindicato Nacional da Indústria de Produtos para Defesa Agrícola – SINDAG).
As a result of the court actions, Brazil continues to produce and import pesticides banned in many countries. "What you cannot sell any more in the European Union, United States, Canada, Japan and China, is just now being stopped in the Brazilian market," says Rosany Boch, of the Oswaldo Cruz Foundation (Fiocruz), which coordinates the National Poison Information System (Sistema Nacional de Informações Tóxico-Farmacológicas – SINTOX).
IDEC helped spearhead a motion of support from the National Health Council (Conselho Nacional de Saúde – CNS) for continuing the reviews, as well as other expressions of broad support from civil society organizations.  That, plus the support by the Advocate-General for the Union (AGU) for Anvisa's stance, may overturn lower court judgments on review of 13 active substances.  Only a review of the organophosphate insecticide acephate was fully voided by the courts.  Anvisa (with the vocal support of the Environment Ministry) plans to finalize the other reviews by June 2009.
Reevaluation 2008
| | | |
| --- | --- | --- |
| | | |
| Abamectin | | – acute toxicity & suspicion of reproductive toxicity of the active ingredient & its metabolites |
| Acephate | European Community | – neurotoxicity, suspicion of carcinogenicity & reproductive toxicity & the necessity to revise the Average Daily Intake |
| Carbofuran | European Community, US | – high acute toxicity, suspected endocrine disruption |
| Cihexatin | European Community, Japan, US, Canada | – high acute toxicity, suspected carcinogenicity for human beings, reproductive toxicity & neurotoxicity |
| Endosulfan | European Community, India (only authorized for producing pesticides) | – high acute toxicity, suspected endocrine disruption & productive toxicity |
| Glifosato | | – high utilization, poisoning cases, request to revise Acceptable Daily Intake (ADI) by the registrant firm, necessity to control impurities present in the technical product & possible adverse toxicological effects |
| Lactofen | European Community | – carcinogenic for humans |
| Methamidophos | European Community, China, India | – high acute toxicity & neurotoxicity |
| Methyl Parathion | European Community, China | – neurotoxicity, suspected endocrine disruptor, mutagenicity & carcinogenicity |
| Paraquat | European Community | – high acute toxicity & toxicity |
| Phorate | European Community, US | – high acute toxicity & neurotoxicity |
| Phosmet | European Community | – neurotoxicity |
| Tiram | US | – studies demonstrate mutagenicity, reproductive toxicity & suspected endocrine disruptor |
| Triclorfon | European Community | – neurotoxicity, potential carcinogenicity & reproductive toxicity |
Judicial Processes and Situation
Author
of the Action

Active Ingredients Involved




Current Results of Judicial Decisions & Dates

Arysta
Life Science

Acephate

– Suspension of the reevaluation of acephate

Annulment of the reevaluation

SINDAG

methyl parathion, methamidophos, carbofuran, endosulfan, phorate, phosmet, paraquat, tiram & Trichlorfon

– Suspension of the reevaluation of 9 active ingredients

– Anvisa/AGU obtain the suspension of the injunction via judge of the 13th District on 06 Nov. 2008

Sipcam
Isagro

Cihexatin

– Injunction obtained to suspend the conclusions of the reevaluation of Cihexatin


– Anvisa/AGU obtained dismissal in TRF 1st Region on 04 Feb. 2009


– Anvisa/AGU obtained suspension of the injunction by judge in 6th chamber on 17 Feb. 2009
Source: ANVISA
__________________
Desde a Agência Nacional de Vigilância Sanitária (ANVISA):
Reavaliação de agrotóxicos: 10 anos de proteção a população

Um dado preocupa as autoridades sanitárias nacionais. Em 2008, o Brasil assumiu o posto de maior consumidor de agrotóxicos em todo mundo, posição antes ocupada pelos Estados Unidos. Só o mercado de agrotóxicos movimentou mais de US$ 7 bilhões.

Para proteger a saúde da população dos riscos associados ao uso destes produtos nas culturas agrícolas nacionais, a Agência Nacional de Vigilância Sanitária (Anvisa) trabalha na reavaliação de substâncias ativas utilizadas em agrotóxicos no Brasil. "Como o registro de um agrotóxico é eterno, a reavaliação ocorre quando há alguma alteração de riscos à saúde, em comparação aos riscos avaliados durante a concessão de registro de determinada substância ativa", explica a gerente de avaliação toxicológica da Anvisa, Letícia Rodrigues.

Até hoje, a Agência já proibiu o uso de quatro ingredientes ativos e restringiu severamente o uso de outros 19, utilizados na fabricação de mais de 300 agrotóxicos no país. "Nesse processo, destaca-se a proibição do uso como inseticida doméstico para o ingrediente ativo clorpirifós. Essa substância afetava o desenvolvimento neurológico e cognitivo de crianças que ficassem expostas a ela", afirma Letícia.

Paralisação

Em 2008, uma série de decisões judiciais impediram a Anvisa de realizar a reavaliação de 14 ingredientes ativos (utilizados em mais de 200 agrotóxicos). "Empresas de agrotóxicos e o próprio Sindicato Nacional da Indústria de Produtos para Defesa Agrícola recorreram ao Judiciário para impedir a Anvisa de cumprir seu papel", critica a consultora jurídica do Instituto de Defesa do Consumidor (IDEC), Andrea Salazar.

Esse cenário contribuiu para o Brasil continuar a produzir e importar agrotóxicos proibidos em diversos países do mundo. "O que não se consegue mais vender para a União Européia, Estados Unidos, Canadá, Japão e China, acaba vindo parar no mercado brasileiro", complementa Rosany Bocher, coordenadora do Sistema Nacional de Informações Tóxico-Farmacológicas da Fundação Oswaldo Cruz.

A consultora jurídica do IDEC, Andrea Salazar, acredita que só após a existência de jurisprudência sobre o tema as barreiras jurídicas serão vencidas. "A superação desse entrave acontecerá a partir da pacificação da jurisprudência no sentido de reconhecer a imprescindibilidade da reavaliação dos agrotóxicos para a preservação da saúde da população, garantida textualmente pela legislação vigente.", afirma Andrea.

Após moção de apoio do Conselho Nacional de Saúde, amplo apoio da sociedade civil organizada e recursos por parte da Advocacia Geral da União (AGU), a Anvisa consegui reverter as decisões judiciais para a reavaliação de 13 substâncias ativas. Somente a reavaliação do acefato foi declarada nula. As demais reavaliações foram retomadas e estão previstas para serem finalizadas até junho de 2009.

Reavaliação 2008

Alguns países onde está proibido

Abamectina

– toxicidade aguda e suspeita de toxicidade reprodutiva
do IA e de seus metabólitos

Acefato

Comunidade
Européia
– neurotoxicidade, suspeita de carcinogenicidade e de
toxicidade reprodutiva e a necessidade de revisar a Ingestão Diária Aceitável

Carbofurano

Comunidade Européia, Estados Unidos

– alta toxicidade aguda, suspeita de desregulação endócrina

Cihexatina

Comunidade Européia, Japão, Estados Unidos, Canadá

– alta toxicidade aguda, suspeita de carcinogenicidade para seres humanos, toxicidade reprodutiva e neurotoxicidade


Endossulfam

Comunidade Européia, Índia (só está autorizada a produção do agrotóxico)

– alta toxicidade aguda, suspeita de desregulação endócrina e toxicidade reprodutiva

Forato

Comunidade Européia, Estados Unidos

– alta toxicidade aguda e neurotoxicidade

Fosmete

Comunidade
Européia

– neurotoxicidade

Glifosato

– larga utilização, casos de intoxicação, solicitação de revisão da Ingesta Diária Aceitável (IDA) por parte de empresa registrante, necessidade de controle de impurezas presentes no produto técnico e possíveis efeitos toxicológicos adversos

Lactofem

Comunidade Européia

– carcinogênico para humanos

Metamidofós

Comunidade Européia, China, Índia

– alta toxicidade aguda e neurotoxicidade

Paraquate

Comunidade Européia

– alta toxicidade aguda e toxicidade

Parationa
Metílica

Com. Européia, China

– neurotoxicidade, suspeita de desregulação
endócrina, mutagenicidade e carcinogenicidade

Tiram

Estados
Unidos

– estudos demonstram mutagenicidade, toxicidade reprodutiva e suspeita de desregulação endócrina

Triclorfom

Comunidade
Européia

– neurotoxicidade, potencial carcinogênico e toxicidade reprodutiva

Processos judiciais e situação

Autor
da Ação

Ingredientes ativos envolvidos




Resultado atual das decisões judiciais e datas

Arysta
Life Science

Acefato

– Suspensão da reavaliação do acefato

Anulação da reavaliação

SINDAG

Parationa Metílica, Metamidofós, Carbofurano, Endossulfan, Forato, Fosmete, Paraquate, Tiram e Triclorfom

– Suspensão da reavaliação de 9 ingredientes ativos

– Anvisa/AGU obteve a suspensão da liminar pelo juiz da 13ª Vara em 06 de novembro de 2008

Sipcam
Isagro

Cihexatina

– Obtenção de Liminar suspendendo a conclusão da reavaliação da Cihexatina


– Anvisa/AGU obteve provimento de recurso no TRF 1ª Região em 04/02/2009


– Anvisa/AGU obtém a suspensão da liminar pela juíza da 6ª vara em 17/02/2009

Fonte: ANVISA
Tags: abamectina, acefato, acephate, ADI, agrochemicals, agrotoxicos, Anvisa, Arysta Life Science, Brasil, Brazil, Canada, carbofuran, carbofurano, carcinogenicidade, China, chlorpyrifos, cihexatina, Comunidade Européia, desregulação endócrina, endocrine disruptor, endosulfan, European Community, European Union, Fiocruz, forato, fosmete, IDEC, India, ingesta diária aceitável, insecticides, Japan, Japão, lactofem, lactofen, liminar, metamidofós, methyl parathion, mutagenicidade, mutagenicity, neurotoxicidade, neurotoxicity, organophosphates, paraquat, paraquate, parationa metílica, pesticides, phosmet, plaguicidas, reproductive toxicity, SINDAG, SINTOX, tiram, toxicidade, toxicidade reprodutiva, toxicity, trichlorfon, triclorfom, União Europea
Subscribe to My Comments Feed
Leave a Reply