« Printer Cartridges for Movie Tickets | Home | Tobacco Use in Individuals with Severe Mental Illnesses / Tabagismo em indivíduos com transtornos mentais graves »
By Keith R | July 29, 2007
Topics: Chemicals, Hazardous Substances | No Comments »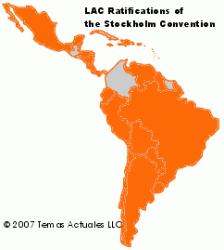 The Guyanese Government announced this week that it will ratify the Stockholm Convention on Pesistent Organic Pollutants (POPs).   The Stockholm Convention (text: English, Spanish) commits Contracting Parties (CPs) to eliminate, severely restrict and/or minimize the production, use and trade of 12 POPs — nine pesticides, three byproducts of industrial processes and of combustion (dioxins, furans and hexachlorobenzene) and the electrical systems coolant PCB.
With the announcement, Guyana becomes the fourth Latin American and Caribbean (LAC) nation to ratify/accede to the Stockholm Convention so far in 2007 (the others are Costa Rica, the Dominican Republic and Jamaica).  This would bring the total number of LAC nations ratifying/acceding so far to 25 (see map).
Those LAC nations which signed the agreement but have yet to ratify include Belize, Colombia, Cuba, El Salvador, Guatemala, Haiti and Suriname.  Grenada never signed.
— Keith R
Tags: contaminantes organicos persistentes, Convenio de Estocolmo, dioxin, electrical systems, furans, Guyana, Hazardous Substances, hexachlorobenzene, PCBs, persistent organic pollutants, pesticides, plaguicidas, POPs, Stockholm Convention, substâncias perigosas, sustancias peligrosas
Subscribe to My Comments Feed
Leave a Reply