« Brazil to Build Tobacco Testing Lab for Latin America / Brasil vai construir laboratório | Home | An Ambitious Energy Efficiency Law for Uruguay »
By Keith R | September 22, 2009
Topics: Chemicals, Hazardous Substances, Sustainable Agriculture | No Comments »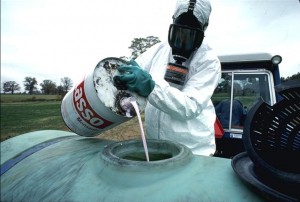 I've mentioned in the past that Brazilian states sometimes get impatient waiting for the federal government to act on environmental issues and elect to take their own action, which eventually prods the feds into action (sometimes because industry complains about conflicting state rules on the same subject). It looks that may be about to happen regarding pesticides.
Earlier this year I posted about the plans of the National Health Surveillance Agency (Anvisa) to ban or restrict 12 active ingredients for pesticides for health or environmental reasons based on a review of new or additional data and regulatory actions taken by other nations on 14 active ingredients. Anvisa hoped to have this process wrapped up by mid-year, but this timetable has since slipped.
The state that is Brazil's largest agricultural producer, and the state with the largest population, São Paulo, may not wait. In fact, they may even go further than Anvisa intends to. A bill was recently introduced in the state assembly that would ban — not just restrict — every one of the 14 pesticides on Anvisa's review list. These are:
abamectin
acephate
carbofuran
cyhexatin
endosulfan
phorate
phosmet
glyphosate
lactofen
methamidophos
paraquat
methyl parathion
tiram
trichlorfon
In addition, the bill calls for (a) the state to take all necessary measures to recover and ensure an adequate final destination for the banned chemicals; (b) promote organic foods; (c) holding an annual Agrotoxics Protection Week in the week containing 13 May during which the state will educate the public about the environmental and health risks of pesticides.
The bill's sponsor, Simão Pedro [Worker's Party (PT)], argues that SP should take this step to show leadership in environment and health issues.
It will be interesting to see whether SP's strong agricultural and chemical lobbies will allow this bill to reach a plenary vote.
Tags: abamectin, abamectina, acefato, acephate, active ingredients, agricultura orgánica, agroquímicos, agrotoxicos, Anvisa, ban, Brasil, Brazil, carbofuran, carbofurano, cihexatina, cyhexatin, endossulfam, endosulfan, forato, fosmete, glifosato, glyphosate, lactofem, lactofen, metamidofós, methamidophos, methyl parathion, organic produce, paraquat, paraquate, parationa metílica, pesticides, phorate, phosmet, São Paulo, tiram, trichlorfon, triclorfom
Subscribe to My Comments Feed
Leave a Reply