« Peru Opens Public Consultations on Draft National Environment Policy / Peru pone en consulta pública borrador de política nacional del ambiente | Home | Economic Growth Model is Rapidly Transforming/Degrading the Amazon »
By Keith R | February 19, 2009
Topics: Health Issues | No Comments »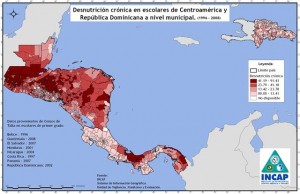 The Nutrition Institute of Central America and Panama (INCAP) has just released an updated version of their map of malnutrition among primary school children indicated at the level of the 1,430 municipalities in INCAP's eight member countries (Belize, Costa Rica, Dominican Republic, El Salvador, Guatemala, Honduras, Nicaragua, Panama). The new update (click on the image to see a full-sized version) takes into account the latest census figures from Guatemala.
The darker the red on the map, the greater the level of malnutrition. Not all that surprisingly, the darkest spots on the map are found in the areas with high concentrations of poor and/or indigenous populations in Guatemala, Honduras, Nicaragua and Panama.
While an interesting and possibly quite useful exercise, I do have a one problem with this particular example of geo-referenced data: it is comparing nutrition data from a very wide range of dates and different degrees of confidence in the data collection behind it, so I have to ask just how comparable the underlying data truly is.  The data from Belize is from 1996 and from Costa Rica 1997 — can we be certain that there have been no significant shifts (positive or negative) in childhood nutrition in those countries over the last 10-12 years?  The Dominican data is from the 2002 census, the quality of which many still wonder about to this day…
My point being, perhaps it would be best to update this map further, but next time with national data that is within a tigher range of years, gathered using an agreed common methodology in which there is a high degree of confidence in the resulting data.
____________________
Desde el Instituto de Nutrición de Centro América y Panamá (INCAP):
Actualizado el Mapa Regional de Desnutrición Crónica en escolares de Centroamérica y República Dominicana a nivel municipal

Con la publicación de la información del Censo Nacional de Talla en escolares realizado en Guatemala por el Ministerio de Educación y la Secretaría de Seguridad Alimentaria y Nutricional, el Instituto de Nutrición de Centro América y Panamá – INCAP ha actualizado el Mapa Regional de la Situación de Desnutrición Crónica en los 1430 municipios de los ocho países miembros.

Los datos de prevalencia más recientemente recolectados en los Censos de Talla en Escolares son los correspondientes a los años de 1996 a 2008. Estos se registran en una base de datos regional y se vincula a la información georeferenciada digital de nivel municipal con que cuenta el INCAP. El total de datos de prevalencia es dividido en cuartiles para definir categorías vulnerabilidad. Por su naturaleza regional y por la forma de construirlo, los códigos de colores reflejados no son necesariamente los mismos que se observarían si los cuartiles fueran construidos para analizar a cada país de manera aislada. Este mapa tiene como utilidad poner a cada una de las unidades municipales en comparación con todos los municipios de los países miembros.

Puede observarse en este mapa regional que la mayor concentración de municipios en el cuartil superior, se encuentra en conglomerados municipales de Guatemala, Honduras, Nicaragua y Panamá. En regiones que corresponden a alta concentración de pobreza, población indígena y otros indicadores de marginación.

Próximamente serán publicados los mapas individuales a nivel de país, en los distintos años más recientes disponibles con el fin de analizar la tendencia de la desnutrición crónica a lo interno de cada país. Ello permitirá ver la evolución del problema y priorizar intervenciones diferenciadas según los determinantes sociales, económicos y ambientales específicos de cada unidad geográfica.
Tags: América Central, Belize, Central America, Centroamérica, Costa Rica, desnutrición, Dominican Republic, El Salvador, escolares, Guatemala, Honduras, INCAP, malnutrition, Nicaragua, Panama, public health, República Dominicana, salud pública
Subscribe to My Comments Feed
Leave a Reply