« Cuba to Help Argentina Produce Cancer, Antiretroviral Drugs | Home | Loan to Improve Brazil's Universal Health Care System / Empréstimo para Melhorar o Sistema Universal de Cuidados de Saúde »
By Keith R | January 29, 2009
Topics: Hazardous Substances, Health Issues | No Comments »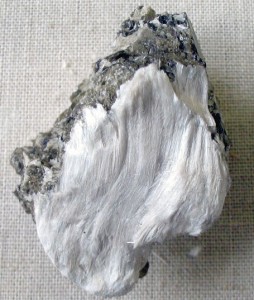 Brazil's Environment Minister, Carlos Minc, just banned asbestos.
Well, not quite.  He announced at the World Social Forum that has banned, through an administrative rule (portaria), the use of any product containing asbesto fibers in construction or goods acquired by the Environment Ministry (MMA) and its associated organs: the national environment agency, IBAMA, the Chico Mendes Institute for the Conservation of Biodiversity (ICMBio), the National Water Agency (ANA), and the Botanical Garden of Rio de Janeiro (JBRJ).
A symbolic gesture, yes.  Minc is doing for the entities under his control what he'd like to see the nation do — perhaps hoping that the example would revive national debate over proposals to ban or phaseout asbestos.  Four Brazilian states (Mato Grosso do Sul, Rio Grande do Sul, Rio de Janeiro, São Paulo) and several cities (among them Bauru, Campinas, Mogi Mirim, Osasco, Ribeirão Preto, São Caetano do Sul, São Paulo) already ban asbestos, including in one case a ban pushed by Minc himself when he was a state assemblyman in Rio de Janeiro (RJ).
MMA and the Health Ministry (MS) have wanted to ban asbestos for many years, hence Minc's declaration here that MS will be the next to ban asbestos in all their buildings and procurement.  But it's unclear how much further this effort will get at the federal level since bills to ban asbestos have been blocked in Congress by the domestic asbestos production industry and the delegation of the state where most asbestos mining is done in Brazil, Goiás.  Further, the Ministries of Industry (MDIC) and Mines (MME) — and frankly, the Planalto as well — have been reluctant to have the Lula Administration take a firm position favoring a ban (more often than not raising the jobs issue).  In addition, the industry has been fighting in Brazilian courts to get the state and local bans overturned.
____________________
Desde o Ministério do Meio Ambiente (MMA):
MMA bane o uso do amianto

Portaria do Ministério do Meio Ambiente proíbe o uso de amianto em qualquer construção ou bem adquirido pelo Ministério do Meio Ambiente e de seus órgãos vinculado: Instituto Brasileiro do Meio Ambiente e dos Recursos Naturais Renováveis (Ibama), Instituto Chico Mendes de Conservação da Biodiversidade (ICMBio), Agência Nacional de Águas (ANA) e Instituto de Pesquisas Jardim Botânico do Rio de Janeiro (JBRJ). O anúncio foi feito nesta quinta-feira (29) pelo ministro do Meio Ambiente, Carlos Minc, no Fórum Social Mundial, em Belém.

A portaria bane também o uso de qualquer produto que tenha fibra de amianto. A medida visa proteger a saúde dos trabalhadores que ficam expostos ao amianto regularmente no dever de sua função, evitando que contraiam doenças como asbestose (doença crônica pulmonar que provoca endurecimento do órgão), câncer de pulmão e mesotelioma de pleura (membrana que reveste o pulmão), pericárdio (membrana que reveste o coração) e peritônio (membrana que recobre a cavidade abdominal.

Quatro estados brasileiros já haviam tomado a decisão de proibir o uso de amianto. "É um passo a mais na nossa luta de muitos anos. É preciso que, através de ações, a sociedade pressione e lute pelo banimento completo desse produto no Brasil. Não queremos fechar as indústrias, mas que elas troquem as tecnologias sujas por limpas, como já acontece nos países europeus", defendeu o ministro.

Como alternativas ao uso do amianto na produção de caixas-d'água, lonas e pastilhas de freio de carro, telhas e pisos, tinta e tecidos antichamas, entre outros, estão as fibras minerais e sintéticas.

O utilização do amianto é proibida em 48 países, e em sete estados brasileiros. Segundo Minc, o Ministério da Saúde deve ser o próximo a tomar a mesma iniciativa.
Tags: amianto, ANA, asbestos, asbestose, Bauru, Brasil, Brazil, Campinas, câncer de pulmão, Carlos Minc, Fórum Social Mundial, Goiás, Hazardous Substances, Health Ministry, IBAMA, ICMBio, JBRJ, lung cancer, Mato Grosso do Sul, MDIC, mesotelioma, MMA, MME, Mogi Mirim, Osasco, Ribeirão Preto, Rio de Janeiro, Rio Grande do Sul, São Caetano do Sul, São Paulo, substâncias perigosas, sustancias peligrosas
Subscribe to My Comments Feed
Leave a Reply