« Exchanging Refrigerators and Air Conditioners to Combat Climate Change | Home | Cleaning Up the Bogotá River »
By Keith R | July 9, 2007
Topics: Health Issues | No Comments »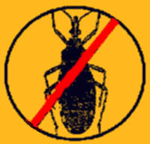 From the Pan American Health Organization (PAHO):
Global Partners Launch Renewed Battle Against Chagas The "Kissing Bug" Disease

Strategy Set Out to Eliminate Disease

A new effort to eliminate Chagas disease by 2010 has been launched at a World Health Organization (WHO) meeting of disease experts and partners. The strategy is designed to answer key questions about the treatment and control of Chagas disease, and to coordinate global efforts toward the prevention of transmission through a new Global Network for Chagas Elimination.

"The establishment of the WHO Global Network to combat Chagas disease occurs in the broader context of the WHO's renewed fight against neglected tropical diseases. The prospects for reducing the burden caused by these diseases have changed dramatically in the past few years. While Chagas disease is controlled in many countries in the Americas, commitment must be strengthened as elimination of the disease is now attainable. Cases identified in non-endemic countries have demonstrated the need to globalize our efforts. "said Dr Margaret Chan, WHO Director-General.

Chagas disease is a serious, potentially life-threatening illness caused by a protozoan parasite called T. cruzi. Early symptoms can include fever, fatigue, swollen glands and heart pain, but in later years the infection can lead to chronic debilitation caused by progressive destruction of the heart muscle. It occurs mainly in Latin America where, during the 1980s, over 20 million people were thought to be infected. Since then, Latin American countries have made enormous efforts to control the infection, such that current estimates suggest that less than 8 million people remain infected. However, the infection is no longer confined to the Americas because of blood transmission and organ transplantation. Cases have been identified in non-endemic countries in Europe, and in Canada and the United States.

"Remarkable success has been achieved in the Region of the Americas in eliminating vectorial transmission of Chagas. Much remains to be done, however, to reduce the risk of transmission to recipients of blood or blood products obtained from migrants from Chagas endemic areas, and to ensure screening and diagnosis of congenital Chagas disease", said Dr Mirta Roses, Director of the Pan American Health Organization and Regional Director of the WHO Americas Region. The Pan American Health Organization (PAHO) has worked with the countries on sub-regional initiatives to prevent, control and treat Chagas with key partners, including Japan International Cooperation Agency (JICA), Agence Canadienne de Développement International (ACDI), Agencia Española de Cooperación Internacional (AECI), Médecins sans Frontières (MSF), International Development Research Centre (IDRC) and others.

"The Pan American Health Organization's successes in Chagas' control are a significant contribution to the global strategy to eliminate this debilitating disease," said Dr David L. Heymann, WHO's Assistant Director-General for Communicable Diseases. "The new WHO Global Network for Chagas Elimination will ensure we leverage and expand upon the successes in Latin America."

The parasite that causes Chagas disease is called T. cruzi and is mainly transmitted by large blood-sucking insects, sometimes known as 'kissing bugs', that often colonise the homes of poorer rural communities in Latin America. But the parasite can also be transmitted by blood transfusion or organ transplant from infected donors, and occasionally by transplacental passage from infected mother to new-born baby. In some regions, particularly in the Southern Cone countries of South America, the chronic infection can also give rise to severe intestinal problems requiring complex corrective surgery.

Comprised of expert-led technical groups, the WHO Global Network will focus on several key aspects of the Chagas problem including:

strengthening epidemiological surveillance and information systems;
preventing transmission by blood transfusion and organ transplantation in endemic and non-endemic countries;
identifying a diagnostic test(s) for screening and diagnosis of infections;
expanding secondary prevention of congenital transmission and case management of congenital and non-congenital infections;
Promoting a consensus on adequate case management.

In keeping with the goal of eliminating Chagas disease by 2010, the WHO Global Network will develop a five pillar strategy before the end of this year. The efforts to eliminate Chagas disease are enhanced by the pharmaceutical industry which is providing financial support to the Network, along with donations of one of the two drugs known to be effective for the treatment of the disease.

Earlier this year, WHO Director-General Margaret Chan – together with partners from across the public, private and non-governmental sectors — launched a campaign to address neglected diseases. An estimated 1 billion people are affected by one or more of these diseases, very often the victims are among the poorest populations.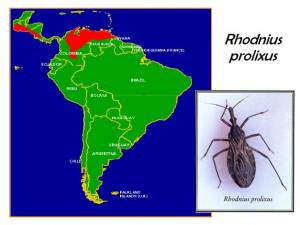 Desde la Organizacion Panamericana de Salud (OPS):
Nuevo esfuerzo global para eliminar el mal de Chagas

Socios delinean un plan estratégico para acabar con la enfermedad

Un nuevo esfuerzo para eliminar el mal de Chagas para el 2010 fue presentado en una reunión de socios y expertos en la Organización Mundial de Salud (OMS). La estrategia está diseñada para dar respuesta a preguntas clave sobre el tratamiento y control de la enfermedad de Chagas, y para coordinar los esfuerzos globales encaminados a la prevención de su transmisión gracias a la nueva Red Global para la Eliminación de Chagas."El establecimiento de la Red Global de la OMS para combatir el mal de Chagas se produce en el contexto más amplio de la renovada lucha de la OMS contra enfermedades tropicales descuidadas. Los pronósticos para una reducción de la carga causada por estas enfermedades han cambiado dramáticamente en los últimos años. Aunque la enfermedad de Chagas está controlada en muchos países de las Américas, se debe fortalecer el compromiso porque la eliminación de la enfermedad es algo que ahora se puede lograr. Casos identificados en países no endémicos han demostrado la necesidad de globalizar nuestros esfuerzos", dijo la Dra. Margaret Chan, Directora General de la OMS.

El mal de Chagas es una enfermedad seria y potencialmente mortal causada por un parasito llamado T. cruzi. Los síntomas iniciales pueden incluir fiebre, fatiga, hinchazón de glándulas y dolor en el corazón, pero en años posteriores la infección puede llevar a una debilitación crónica causada por la progresiva destrucción de los músculos del corazón. Ocurre principalmente en América Latina donde, en los años de la década de 1980, se estimaba que más de 20 millones de personas estaban infectadas. Desde entonces, los países de América Latina han realizado enormes esfuerzos para controlar la infección. Tanto es así, que los estimados actuales sugieren que cerca de 8 millones de personas permanecen hoy infectadas. No obstante, la infección no se limita sólo a las Américas debido a la transmisión sanguínea y a los transplantes de órganos. Se han identificado casos en países no endémicos en Europa, y en Canadá y los Estados Unidos.

Éxito extraordinario

"Se ha logrado un extraordinario éxito en la Región de las Américas para la eliminación de la transmisión vectorial de Chagas. Mucho queda por hacer, sin embargo, para reducir el riesgo de su transmisión a receptores de sangre o de productos derivados obtenidos de migrantes precedentes de áreas endémicas de Chagas, así como para asegurar el tamizaje y diagnostico de los casos de Chagas congénito", dijo la Dra. Mirta Roses, Directora de la Organización Panamericana de la Salud (OPS) y Directora Regional para la Región de las Américas de la OMS.

La OPS ha trabajado con los países en iniciativas subregionales para prevenir, controlar y tratar Chagas con socios clave, incluidos la Agencia de Cooperación Internacional de Japón (JICA), la Agencia Canadiense para el Desarrollo Internacional (ACDI), la Agencia Española de Cooperación Internacional (AECI), Médicos sin Fronteras (MSF), y el Centro para el Desarrollo de la Investigación. (IDRC).

"Los éxitos de la OPS en el control de Chagas son una significativa contribución a la estrategia global para eliminar esta debilitadora enfermedad", dijo el Dr. David L. Heymann, Director General Adjunto de la OMS para Enfermedades Transmisibles. "La nueva Red Global de la OMS para la Eliminación de Chagas se asegurará de que se nivela y expande en virtud de los éxitos en América Latina".

El parásito T. cruzi, causante de Chagas, se transmite principalmente por insectos o vinchucas que se conocen como "insectos asesinos", succionan sangre y a menudo colonizan los hogares de empobrecidas comunidades rurales en América Latina. Pero el parásito también se puede transmitir por transfusiones de sangre o por transplantes de órganos procedentes de donantes infectados y, ocasionalmente durante el parto de una madre a su recién nacido, a través de la placenta. En algunas regiones, particularmente en los países del Cono Sur de Sudamérica, la infección crónica también puede llevar a problemas intestinales severos que requieren una compleja cirugía correctiva.

Compuesta por grupos técnicos de expertos, la Red Global de la OMS para la Eliminación de Chagas se enfocará en algunos aspectos clave del problema que incluyen:

Fortalecimiento de la vigilancia epidemiológica y de los sistemas de información;
Prevención de la transmisión por transfusiones de sangre y por transplantes de órganos en países endémicos y no endémicos;
Identificación de una/s prueba/s de diagnóstico para el tamizaje y diagnóstico de infecciones;
Expansión de la prevención secundaria de la transmisión congénita y manejo de casos de infecciones congénitas y no congénitas; y
Promoción de un consenso respecto al manejo adecuado de casos.

Con vistas a la meta de la eliminación del mal de Chagas en el 2010, la red desarrollará una estrategia sobre cinco pilares antes del fin del presente año. Los esfuerzos para la eliminación del mal de Chagas están reforzados por la industria farmacéutica, que está facilitando soporte financiero a la Red así como donaciones de una de las dos medicinas que se sabe son eficaces para el tratamiento de la enfermedad.

Anteriormente en este año, la Dra. Chan –junto a socios entre los sectores públicos, privado y no gubernamental– lanzó una campaña destinada a responder a las enfermedades descuidadas. Se estima que más de 1 billón de personas están afectadas por una o más de estas enfermedades. Muy a menudo, las víctimas proceden de las poblaciones más pobres.
Tags: ACDI, AECI, Americas, Chagas disease, congenital transmission, enfermedad de Chagas, IDRC, insectos asesinos, JICA, kissing bugs, mal de Chagas, Médecins sans Frontières, OMS, OPAS, OPS, PAHO, pharmaceutical industry, public health, salud pública, saude, T. cruzi, transmisión congénita, tropical disease, WHO
Subscribe to My Comments Feed
Leave a Reply