« Alcohol Consumption in Brazil I: Overview of Adult Drinking | Home | Regional Economic Integration and Consumer Protection »
By Keith R | October 11, 2007
Topics: Food/Beverage Issues, Health Issues | 1 Comment »
Back at the end of 2005, Latin America and the Caribbean (LAC) resolved to undertake a regional effort to combat alcohol consumption under the guidance of the Pan American Health Organization (PAHO). As they do, they'll likely study the efforts of Brazil to take the lead on the issue. This past spring Brazil adopted a national policy and not long thereafter issued its initial spate of public service announcements on the topic.
Then at end-August Brazil's National Anti-drug Secretariat (SENAD) released the results (in Portuguese) of a nationwide survey on that country's alcohol consumption and linked social problems that it is using to shape and justify its anti-alcohol program. It's also likely to be a model for similar surveys to be undertaken by other LAC nations. I also suspect that its data will be studied by alcohol and advertising industry executives just as much as it will by public health officials…
Given the wealth of information the survey provides, I am treating it here on The Temas Blog in four parts. In Part I I examined the general data on consumption by adults (18 or older). Here in Part II, I look at a special focus of the Brazilian policy and survey: "binge drinking." SENAD defines "binge drinking" as having five or more doses* at one drinking session for men, four or more for women. In Part III I'll examine drinking among Brazilian adolescents.
Overview
The survey showed that 28% of Brazil's adult population — 33 million — have engaged in binge drinking some time in the past year. Among Brazil's adolescents (under 18), the average is 16% (as high as 21% for underage boys and 12% for girls). This rate falls to 20% for adults age 45-59, and 10% thereafter. There seems to be an inverse relationship between binging and abstinence from drinking — that is to say, as the rate for abstinence rises among age groups, the rate for binge drinking falls.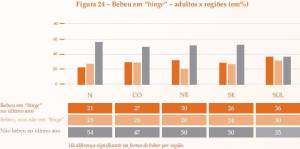 Curiously enough, while the South region (Rio Grande do Sul, Paraná, Santa Catarina) has the highest binge index (36%), it is the Center-West region (Goiás, Mato Grosso, Mato Grosso do Sul, Distrito Federal) that reports the most physical, social or familial problems associated with binge drinking (57%). While many different factors can influence what problems come and how they manifest during binge drinking (accidents, violence, etc.), studies of the phenomenon in other countries suggest that while binging may be more sporadic, it often brings higher social and health costs than does continued use and dependence on alcohol.
Drink Favored by Bingers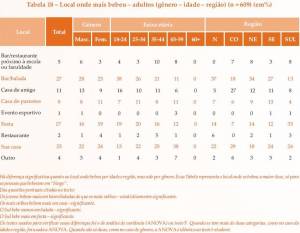 There's a reason that the opening to this post has a cool glass of beer: nationally 73% of adults the binge do it with beer (82% in the South). Nationally distillates come in second with 13%. [It's noteworthy, though, that distillates rise high as 27% as binge drink of choice in the Northeast — Alagoas, Bahia, Ceará, Maranhão, Paraíba, Pernambuco, Piauí, Rio Grande do Norte, Sergipe]. Nationally wine third at 12% and "ice drinks"** last with only 1%.
Where Do Brazilians Drink?
Where do Brazilians drink most? Nationally, the lead spot are bars at 27%, 23% in their own home, 17% at a party/festive event, 11% in the house of a friend and 9% at the house of relatives. In other words, 43% drink in someone's home, not in commercial establishments.
There are important regional variations, though. In the South, for example, people are far more likely to drink at festas (35%) than any other single place; their bar drinking is only half the national average. By contrast, in the North (Acre, Amapá, Amazonas, Pará, Rondônia, Roraima, Tocantins) drinkers are far more likely to be at bars — 37%.
The greatest drink-in-a-home region: Center-West, at 62%.
There were also some differences among age groups. Young adults (18-24) are more likely to drink at bars (38%), whereas older adults (45-59) were most likely to drink in their own home (38%).
Where do Brazilians binge? Of the people who answered that they had binged at least once last year, an average of 23% said that they did so in their own home.
Frequency of Binge Drinking

While nationwide 48% of Brazilians admitting to binge drinking claim that they do so less than once a month, nearly a quarter (22%) say they do so once a week. This once-a-week figure is highest among adults age 35-44 (28%), those living in the Northeast (26%) and the upper middle-class (27%).
______________________________
Desde a Secretaria Nacional Antridrogas (SENAD) do Brasil:
33 milhões de brasileiros já extrapolaram ao beber álcool

Levantamento inédito que a Secretaria Nacional Antidrogas (Senad) revela que 28% da população adulta no País já bebeu além do limite.

O estudo da Senad revela o perfil do consumo de álcool no País e aponta que 33 milhões de brasileiros já beberam em "binge", o que significa beber de forma abusiva em um curto espaço de tempo. O termo "binge drinking", é estipulado internacionalmente em 5 doses para homens e 4 para mulheres. Este levantamento traz os resultados do excesso em adultos e adolescentes, a freqüência com que se bebe acima desta média, o local, o tipo de bebida associada ao binge e os problemas mais citados por quem extrapola nas doses.

O resultado é alarmante: entre os adultos, 33 milhões ou 28% da população já beberam em binge, contra uma média de 16% dos adolescentes (21% meninos e 12% meninas). A pesquisa traz dados curiosos, como o exemplo do Sul, onde há o maior índice de binge, 36% da população masculina, mas é na região Centro-Oeste onde aparecem os maiores índice de problemas relacionados ao binge, com 57% dos pesquisados afirmando ter tido algum problema físico, social ou familiar após consumir álcool em excesso.

Beber nessas quantidades, ou acima delas, pode levar a intoxicações freqüentemente associadas a uma série de problemas. Os efeitos do beber em binge podem ser agravados de acordo com o peso da pessoa, a idade, a rapidez com que consome, o fato de ter-se alimentado ou não e o número de doses que consumiu. Fatores sociais e psíquicos podem contribuir para esse agravamento, como o desemprego, a falta de perspectiva – especialmente entre os mais jovens – e conflitos familiares e de relacionamento. Em quase todos os países onde esse fenômeno foi estudado, o beber em binge, mesmo que esporádico, causa maiores custos sociais e de saúde do que o uso contínuo e dependente de álcool.

Dois tipos de problema, acidentes e violência, são os mais comuns em relação ao binge. Dentre os acidentes merecem destaque os de carro, quedas, atropelamentos, afogamentos. Vários tipos de violência estão relacionados ao binge, como homicídios, roubo, violência doméstica, agressões físicas, violência sexual.

Adultos em binge

Contra os 28% da população adulta que já bebeu em "binge" pelo menos 1 vez no último ano, apenas 24% dos que consomem bebida alcoólica não beberam em "binge". Os homens são os que mais bebem em "binge": 40% da população masculina, enquanto entre as mulheres são 18%.

O beber em grandes quantidades é um fenômeno que diminui com a idade. Enquanto 40% dos jovens de 18 a 24 anos já beberam em "binge", este número cai para 20% entre aqueles com 45 e 59 anos, e desce para 10% entre os mais velhos. Existe uma relação inversa entre as taxas de abstinência e as taxas de "binge", ou seja, a abstinência aumenta com a idade e o "binge" diminui.

Tipo de bebida, freqüência e local do binge

A cerveja é a bebida mais consumida entre os que bebem grandes quantidades. De todas as doses consumidas por aqueles que beberam em binge no último ano, 73% foram de cerveja. Os destilados vêm em segundo lugar, com 13%, e o vinho com 12%. As bebidas "ice" representam somente 1%.

Para os bebedores em binge na fase adulta, 27% deles optaram pelo consumo em bares ou locais fora de casa. Os jovens beberam mais quando estavam no bar e na "balada", enquanto os mais idosos estavam em casa. Os do Sul bebem menos no bar ou "balada" (13%) e mais em festas (35%). A casa foi o segundo local mais utilizado pelas pessoas na vez que mais beberam. Na média, 23%, ou quase um quarto daqueles que beberam em binge no último ano, tomaram sua maior bebedeira na própria casa. Para mais de 20% desses bebedores, a freqüência é maior do que semanal.
* a dose is 10-12 grams of alcohol, which in the Brazilian context on average equals a 350 ml beer or draft, 90 ml of wine, 30 ml of a destillate or a small bottle of an "ice" drink.
** "ice drinks" are distillates mixed with either soft drinks or processed juices that are served chilled. Brazilians are expected to consume 22,400 liters of ice drinks in 2007, with the market growing at 10-20% per annum.
Tags: Acre, Alagoas, alcohol consumption, alcoholic beverages, alcoholism, alcoolismo, Amapá, Amazonas, Bahia, bars, beber em binge, bebidas alcoólicas, bebidas ice, beer, binge drinking, Brasil, Brazil, Ceará, cerveja, cerveza, destilados, distillates, Distrito Federal, Federal District, festas, Goiás, ice drinks, Maranhão, Mato Grosso, Mato Grosso do Sul, OPAS, OPS, PAHO, Pará, Paraíba, Paraná, Pernambuco, Piauí, Rio Grande do Norte, Rio Grande do Sul, Rondônia, Roraima, Santa Catarina, SENAD, Sergipe, spirits, survey, Tocantins, vinho, vino, wine
One Response to "Alcohol Consumption in Brazil II: Binge Drinking"
Toni Says:
February 7th, 2011 at 16:32

Esto necesita cambiarse, no es aceptable.
Leave a Reply