« The Outlook for Biodiesel in Central America | Home | Apoio de R$22.9 milhões para cooperativas de catadores »
By Keith R | October 14, 2007
Topics: Food/Beverage Issues, Health Issues | No Comments »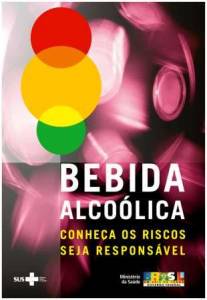 At end-2005, Latin America and the Caribbean (LAC) resolved to undertake a regional effort to combat alcohol consumption under the guidance of the Pan American Health Organization (PAHO). As they do, they'll likely study the efforts of Brazil to take the lead on the issue. This past spring Brazil adopted a national policy and not long thereafter issued its initial spate of public service announcements on the topic.
Then at end-August Brazil's National Anti-drug Secretariat (SENAD) released the results (in Portuguese) of a nationwide survey on that country's alcohol consumption and linked social problems that it is using to shape and justify its anti-alcohol program. It's also likely to be a model for similar surveys to be undertaken by other LAC nations. I also suspect that its data will be studied by alcohol and advertising industry executives just as much as it will by public health officials…
Given the wealth of information the survey provides, I am treating it here on The Temas Blog in four parts. In Part I I examined the general data on consumption by adults (18 or older). In Part II, I looked at "binge drinking." In Part III I examined drinking among Brazilian adolescents. Here in Part IV I look at what the survey found about drinking-related problems — especially drunk driving — as well as public support for possible policy measures to address the alcohol issue.
Overview
Of the 52% of Brazilians adults that drink, 29% claim that they have no problems associated with their alcohol consumption, vs. 23% that say that they do.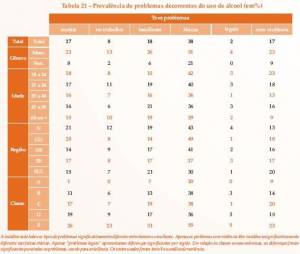 38% of those interviewed admitting to drinking problems say that they have physical problems linked to their alcohol consumption. This is cited most often by men (51%, more than twice the rate for women), and by residents of the Center-West (Goiás, Mato Grosso, Mato Grosso do Sul, Distrito Federal) (49%), North (Acre, Amapá, Amazonas, Pará, Rondônia, Roraima, Tocantins) (43%) and North-East (Alagoas, Bahia, Ceará, Maranhão, Paraíba, Pernambuco, Piauí, Rio Grande do Norte, Sergipe) (41%).
Family problems came in second at 18%. The groups citing this type of problem are men (26%), people aged 45-59 (21%) and residents of the South (Rio Grande do Sul, Paraná, Santa Catarina) (21%).
Tied for third are social problems and problems involving violence. On the former, the segments acknowledging such problems the most are the poorest ("class E") (26%), men (23%), and the North (21%) and Center-West (20%).
As for violence, certain groups stick out immediately with their 23%: men, the poorest, and young adults (18-24).
9% of the respondents that drink say that they are dependent, meaning that apart from any excessive drinking they might do, they feel the need to drink and even withdrawal when they don't. 3% admit to toxic levels of consumption, such that it is prejudicing their physical, psychological or social well-being. These prevalence figures are consistent with past studies of Brazilian drinking that utilized different methodologies.
Drinking and Driving
Of the respondents that both drink alcohol and drive, 61.6% say they never mixed the two during the prior year. It's even higher among brasileiras (86.4%). Among men nearly half (46.5%) admit that they did drink and drive in the prior year.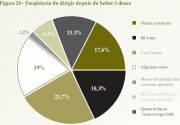 10.3% said that they drove after drinking 2-3 times during the prior year (12.3% among men), 9.4% "several times" (11.5% among men) and 8.4% just once during the year (9.9% among men). 6.4% said that they drove nearly every time they drank in the prior year (8.2% among men).
Those who indicated that they had drank and driven were asked how often they had driven after consuming three doses*, which would put them clearly above Brazil's legal limit (i.e., they could be arrested as "driving under the influence" — DUI). Around two-thirds (64.1%) indicated that they had done so at least 2-3 times. Around 20% said that they did so over half the times that they drank, and 13.3% said they did so every time they drank.
Drunk driving does not affect only the driver, though. 34% of the survey respondents said that they have been the passenger in a car driven by someone under the influence.
Even though this is frequent behavior, an overwhelming majority of survey respondents favored crackdowns on drunk drivers. 93% said that such drivers should be fined, 81% thought that they should have their driver's license suspended, and 63% thought that they should be imprisoned.
When asked where they consumed their alcoholic beverage just before driving DUI (with three or more doses*), 26% replied bars, 20% a friend's house, 17% said a festival (festa) and 14% a friend's house.
What Kind of Alcohol Control Measures Would the Public Support?
The survey also asked people what sort of measures they would support from list of options. Their responses were:
Free but obligatory alcohol treatment programs at public hospitals, clinics, health posts: 95.7%
Greater enforcement of establishments regarding sales to minors: 94.8% (94.3% of all survey respondents said that, despite being prohibited by law, it is relatively easy for minors to buy alcoholic beverages)
Ads for alcoholic beverages should carry warning boxes about the risk of consumption: 93.8%
Warning messages (beyond the current "drink in moderation") about risks on the labels of all alcoholic beverages: 93%
Establishments should make greater efforts to stop serving drunk clients: 89.2%
Restrictions on the hours of sale for alcoholic beverages: 76.2%
Prohibition on the sale of alcoholic beverages in bakeries, pastry shops and grocery stores: 74.1%
Ban on television advertising for alcoholic beverages, including wines, cachaça, beer, whiskey, rum, vodka and other types of distillates and fermented drinks: 67.9%
Ban sponsorship of cultural and sporting events by alcoholic beverage manufacturers: 55.2%
The survey also asked if the the government should:
Increase alcohol prevention programs in schools: 92.2%
Increase alcohol treatment programs: 91.4%
Increase government public service messages about the risks of drinking and of drinking and driving: 86.2%
Increase taxes on alcoholic beverages: 56%
Raise the minimum legal age for buying alcoholic beverages: 54.5%
I would not be surprised if most of these elements (perhaps minus the tax and minimum legal age hike, since support for them was softer) appeared in a bill sent to Congress by the federal executive, or one introduced on their behalf by a friendly Senator or Federal Deputy in the near future.
______________________________
From a Secretaria Nacional Antridrogas (SENAD) do Brasil:
Problemas relacionados com a bebida

38% dos entrevistados que bebem disseram ter problemas físicos decorrentes do álcool. Os problemas familiares vêm em segundo lugar, citados por 18%.

O grupo de 52% da população adulta que bebe, 29% disse beber sem problemas, contra 23% que afirma ter tido problemas relacionados ao álcool. Os problemas físicos aparecem como os mais citados por todos os segmentos. Do total de entrevistados, 38% disseram ter problemas físicos decorrentes do álcool. Os problemas familiares vêm em segundo lugar, citados por 18% dos entrevistados. Problemas com violência foram mencionados por 23% da população mais jovem, de 18 a 24 anos.

Já 12% da população disse fazer uso nocivo ou ser dependente. Dos entrevistados 9% afirmaram serem dependentes, ou seja, ter um padrão de consumo de álcool onde além do consumo excessivo apresenta várias manifestações como sintomas de abstinência do álcool e necessidade de beber. Em relação ao uso nocivo – consumo de álcool considerado prejudicial do ponto de vista físico, psicológico ou social – 3% disseram ter esse tipo de problema.

Álcool e direção – Da população que consome álcool e que dirige, uma grande parte já misturou álcool com direção. Cerca de dois terços dessa população (indivíduos adultos que dirigem alcoolizados) já beberam depois de consumir 3 doses de álcool ao menos 2 ou 3 vezes no último ano, ou seja, daqueles que declararam ter dirigido sob o efeito do álcool, a maioria bebeu mais do que o limite legal do Brasil que é de 0,6 gramas por litro.

Mesmo os que não bebem e dirigem acabam se expondo aos motoristas intoxicados, pois 34% afirmaram já ter pegado carona em um veículo no qual a pessoa que dirigia tinha bebido demais. Embora esse seja um comportamento comum, a maioria da população é favorável à aplicação de penalidades para os que são pegos dirigindo embriagados. 93% acha que os motoristas alcoolizados têm que pagar multas, já 81% dos entrevistados disseram que este motoristas deveriam ter a carteira de habilitação suspensa e 63% apóia a condenação à prisão nesses casos.

Políticas Públicas – O levantamento também mostrou o que o brasileiro pensa sobre as políticas públicas relacionados ao álcool. A imensa maioria da população (92%) apóia o aumento de programas preventivos ao uso do álcool em escolas, 91% apóiam programas de tratamento para o alcoolismo e 86% são favoráveis às campanhas governamentais de alerta sobre os riscos do álcool. Além disso, mais da metade da população (56%) defende o aumento dos impostos sobre as bebidas alcoólicas.

Medidas polêmicas, como restrição à propaganda e não servir bebidas para pessoas já alcoolizadas também tiveram apoio da população. 76% dos entrevistados defendem as restrições do horário de venda de bebidas, já 89% concordam que os estabelecimentos não deveriam servir bebidas alcoólicas para clientes que já estivessem bêbados e 55% são a favor do aumento da idade mínima de 18 anos para a venda de bebidas alcoólicas. Em relação à propaganda de bebidas, 94% acha que estas deveriam reservar um espaço para mensagens de alerta sobre os riscos e os problemas causados pelas bebidas alcoólicas e 68% aprova a proibição da propaganda de bebidas alcoólicas na televisão, incluindo vinho, cachaça, cerveja ou chope e outros tipos de fermentados e destilados.
* a dose is 10-12 grams of alcohol, which in the Brazilian context on average equals a 350 ml beer or draft, 90 ml of wine, 30 ml of a destillate or a small bottle of an "ice" drink.
Tags: Acre, advertising, Alagoas, alcohol consumption, alcohol treatment programs, alcoholic beverages, alcoholism, álcool, alcoolismo, Amapá, Amazonas, Bahia, bakeries, bars, bebidas, beer, binge drinking, Brasil, Brazil, cachaça, Ceará, cerveja, chope, destilados, distillates, Distrito Federal, drunk driving, DUI, escolas, escuelas, Federal District, fermented drinks, Goiás, grocery stores, labeling, Maranhão, Mato Grosso, Mato Grosso do Sul, motoristas alcoolizados, OPAS, OPS, PAHO, Pará, Paraíba, Paraná, pastry shops, Pernambuco, Piauí, public service messages, Rio Grande do Norte, Rio Grande do Sul, Rondônia, Roraima, rotulagem, rum, Santa Catarina, schools, SENAD, Sergipe, spirits, sponsorship, taxes, televisão, television advertising, Tocantins, vinho, vino, vodka, whiskey, wine
Subscribe to My Comments Feed
Leave a Reply