« Promoting Tourism in Brazil's National Parks | Home | Brazil Adopts New Battery Rules »
By Keith R | September 12, 2008
Topics: Advertising/Promotion, Food/Beverage Issues, Health Issues | No Comments »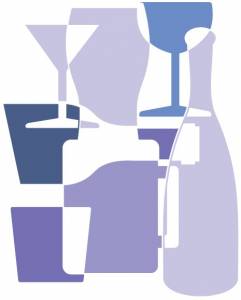 Uruguay's National Drug Board (Junta Nacional de Drogas – JND), Inter-sectoral Coordinator on Alcohol Policies (CIPA) and Ministry of Public Health (MSP) recently presented to the press and public an unusually tough (for a Latin American nation, at least) alcohol control bill that they are sending to the national legislature.
A Law, Not a Decree
JND Secretary Milton Romani took pains to explain that the measure was being introduced as a bill instead of a decree because the Vázquez Administration wanted to ensure a full citizen and parliamentary debate.  [The tobacco control measures taken by President Tabaré Ramón Vázquez Rosas were in the form of decrees, with a bill codifying them later sent to Parliament.  Arguably the President could have done likewise here, but chose instead to build public consensus first.]
Basis for the Proposal
Romani also was careful to explain that the bill would not violate Article 10 of the Uruguayan Constitution, which in essence says that judges cannot touch private actions of private individuals that do not harm public order or third parties.  For this reason the focus of the bill is those aspects of alcohol sale, promotion and consumption that affect public health or the rights of third parties.
Assistant Secretary for Public Health, Miguel Fernandez Galeano made the public health case for the bill.   40% of fatal traffic accidents in Uruguay involve alcohol abuse, and it is the number one cause of death for youths aged 18-29.  Studies show kids taking their first drink at an earlier age, and 4 out of 10 kids under age 18 have had a drink within the last 15 days.  In Uruguay's last Household Survey, 230,000 Uruguayans admitted to alcohol dependency.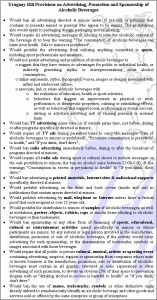 The Bill's Main Features
Much of the bill is based on the recent alcohol policy recommendations of the World Health Organization (WHO) and Pan American Health Organization (PAHO) [I'll be doing a separate blog entry on those].  It appears for the moment, however, that Uruguay will not be following Brazil's example by dealing directly with driving while intoxicated.
The primary focus of the bill appears to be minors (those under the age of 18).  For example, the long section on advertising, promotion and sponsorship (see summary in box – click to enlarge) is devoted mostly to protecting minors from any exposure to marketing of alcoholic beverages. The provisions would restrict TV ads to certain hours, and restrict ads for alcoholic beverages to media (print, TV, radio, mail, Internet, etc.) that are not directed at minors or do not involve minors.  Advertising, promotion or sponsorship would be banned from cultural, sport or entertainment events involving minors, and not within 500 meters of such events and not for two hours before and two hours after the events.  Merchandising (provision of caps, t-shirts, etc.) involving brands, logos, symbols etc. associated with alcoholic beverages would be banned.
Some of Uruguay's departments (their sub-national political divisions, akin to small states or large cities) already have some of these restrictions; this bill largely seeks to harmonize them at the national level.
The centerpiece of the bill's sales restriction provisions is a ban on sales to minors.  The bill also would ban alcohol sales in  kiosks, service stations, pool halls, bowling alleys and certain entertainment centers (video game centers, for instance) as well as sales by ambulatory vendors.
The bill would require registration of all who supply or distribute alcohol, and permits for all establishments seeking to sell it.  It also contains (fairly standard) provisions on prevention, education and treatment.
Will It Become Law?
I suspect that it will, but probably not without a fight first from the alcoholic beverage, advertising, restaurant and entertainment sectors.  I do not underestimate Dr. Vázquez's ability to sell legislators and the public on the need for this measure as he did for the tobacco controls, however.  As a medical doctor, the President can make a credible public health pitch for the bill.  And it helps that the bill omits tought measures on drunk driving, that the advertising/promotion measures are limited to those areas that might affect minors (although that could conceivably be expanded at a later date) and that some of the measures have already been imposed by a couple of department governments (intendencias).  ¡Vamos a ver!
________________________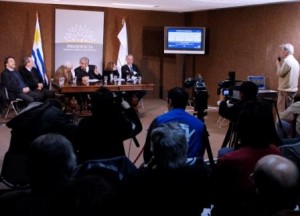 Desde la Presidencia de la República Oriental del Uruguay:
Proyecto de ley sobre prevención de consumo de alcohol, regula oferta, promoción y venta

La Junta Nacional de Drogas y la Coordinadora Intersectorial sobre Políticas de Alcohol, presentaron el Proyecto de Ley Nacional de Prevención del Consumo Abusivo de Alcohol, Regularización de la Oferta, Promoción, Venta y Expendio de Bebidas Alcohólicas. En la oportunidad, el Secretario de la Junta Nacional de Drogas, Milton Romani señaló que no se trata de una veda ni de una ley seca.

El Poder Ejecutivo remitió al Parlamento este documento que coloca las primeras bases de una política pública sobre bebidas alcohólicas integrada a la Estrategia Nacional del Problema Drogas.

Desde la creación, en el año 2006, de la Coordinadora Intersectorial para Políticas de Alcohol, se realizaron varias iniciativas y acciones tendientes a sensibilizar y prevenir las secuelas del consumo problemático de alcohol.

Por su parte, la JND elaboró este proyecto sobre la base de Recomendaciones de la Organización Mundial de la Salud y de la Organización Panamericana de la Salud. Unificó normas e incorporó enfoques técnicos propios.

El objetivo de este proyecto es proponer al debate parlamentario y ciudadano, medidas regulatorias en cuanto a la venta y la promoción, así como establecer las bases de la prevención en los distintos niveles de la sociedad.

El documento deja sentados guarismos que ilustran los daños a la salud, sociales y económicos a los que conduce el consumo abusivo del alcohol. En este sentido, se explicita que los siniestros de tránsito, con un 40% de casos fatales por ingesta abusiva de alcohol, son la primera causa de muerte en jóvenes entre 18 y 29 años. También revela que el inicio del consumo es a edades cada vez más tempranas y que 4 de cada 10 jóvenes menores, declara una intoxicación alcohólica en los últimos 15 días. Por su parte, la última Encuesta de Hogares de 2006, 230.000 uruguayos admiten problemas de abuso o dependencia.

El consumo abusivo de alcohol está asociado a casos de violencia doméstica, de riñas y otros episodios de convivencia y seguridad ciudadana. En algunas áreas laborales, también es responsable del ausentismo y los accidentes laborales.

El Secretario de la JND, Milton Romani, explicó que en cuanto a los derechos y garantías de los ciudadanos, se aclara que el Proyecto basa su enfoque, principalmente en el Art. 10 de la Constitución de la República, que sostiene que las acciones privadas de las personas, que no atacan el orden público ni perjudican a un tercero, están exentas de la autoridad de los magistrados.

Desde la JND, se explica que el escrito no es un decreto, sino un proyecto de ley destinado a su discusión en el Parlamento. Agrega que su intención no es lesionar derechos ni garantías, sino velar por el derecho de terceras personas y por la salud pública. Propone un marco regulatorio y no persigue a consumidores ni a comerciantes debidamente habilitados, mediante un registro que no existe en la actualidad. Recalca que tanto consumidores como comerciantes, serán favorecidos por el futuro ordenamiento.

Dentro de los derechos y garantías, se dice que los permisos de expendio serán otorgados por las intendencias en forma precaria y existirán excepciones que habilitarán la venta y expendio en situaciones especiales. Asimismo prohíbe taxativamente algunos espacios comerciales y unifica criterios para espectáculos deportivos o musicales que ya existen.

En cuanto a las limitaciones a la venta, expendio y consumo de bebidas alcohólicas, Romani señaló que se prohíbe la venta, expendio o suministro a cualquier título, en los quioscos, estaciones de servicios y anexos, en los puestos de venta ambulante o cualquier otro local comercial que no esté especialmente registrado y autorizado para dicha venta o expendio. Tampoco se podrá vender bebidas alcohólicas en locales de espectáculos, y/o entretenimientos de tipo de juegos electrónicos y pool entre otros.

En referencia a los eventos deportivos o espectáculos culturales, la prohibición alcanza a la zona de influencia con un radio de 500 metros, dos horas antes y dos horas después del evento, salvo autorización expresa de autoridad competente.

En cuanto a la publicidad, promoción y patrocinio de bebidas alcohólicas, el jerarca dijo que se deja constancia que todos los artículos están referidos a la protección de los menores de 18 años como receptores o como actores de mensajes publicitarios sobre bebidas alcohólicas. Incluyen restricciones en horarios centrales de televisión e incorporan la obligación de dedicar un 25% de todo espacio promocional, con mensajes de tipo preventivo.

En la presentación del Proyecto de Ley, el Subsecretario de Salud Pública, Miguel Fernández Galeano destacó especialmente la prevalencia, en términos de mortalidad y morbilidad, la relación existente entre siniestros de tránsito y consumo problemático de alcohol.

El jerarca también subrayó la preocupación que genera en las autoridades de gobierno, los datos que muestran que el inicio en el consumo de alcohol se da cada vez más precozmente. Fernández Galeano alertó del corrimiento que existe en el consumo de alcohol por parte de jóvenes y adolescentes. Agregó que estos datos, revelan que esos individuos, podrán experimentar comportamientos adictivos y problemáticos de alcohol en su vida futura.
Tags: advertencia, advertising, alcohol consumption, alcoholic beverages, alcoholism, bebidas alcohólicas, billards, bowling, CIPA, dependencia, espectáculos, estaciones de servicio, estilos saludables de vida, etiquetas, eventos deportivos, futbolito, grado alcohólico, JND, juegos electrónicos, Junta Nacional de Drogas, labeling, merchandising, MSP, OMS, OPS, PAHO, patrocinio, promoción, promotion, public health, publicidad, quioscos, salud pública, sponsorship, t-shirts, Tabaré Vázquez, television, video games, violencia doméstica, WHO
Subscribe to My Comments Feed
Leave a Reply