« Federal Prosecutor Pressures Fast-Food Chains to Suspend Offering Toys with Meals | Home | Parana to Tetra-Pak: Fulfill Your Commitments »
By Keith R | March 3, 2009
Topics: Advertising/Promotion, Food/Beverage Issues, Health Issues | 1 Comment »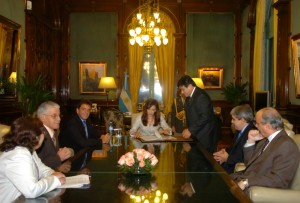 President Cristina Fernandez issued an implementing decree for the 12-year old Alcohol Act, deepening restrictions on alcohol beverage advertising and consumption and obliging social security services to treat the social consequences of its consumption.
The signing ceremony was attended by the Ministers expected to implement the rules: Health, Graciela Ocaña; Labor, Carlos Tomada; Justice, Anibal Fernandez; and Education, Juan Carlos Tedesco.
Why did Cristina decide to sign a decree for a 12-year old law when six Presidents before her (including her own husband) had not bothered?  [Temas Note: As I have said here before, most Latin American nations do not fully implement and enforce a law until its implementing decree has been issued.  Thus ignoring decree issuance for so long suggests willful neglect at best.] The Casa Rosada attributes the decision to issue the decree to a recent survey of Argentine middle school children commissioned by the Secretariat for Programming for the Prevention of Drug Addiction and the Fight Against Drug Trafficking (Secretaría de Programación para la Prevención de la Drogadicción y la Lucha contra el Narcotráfico – SEDRONAR), which found that 60% admitted that they had consumed alcohol within the previous month.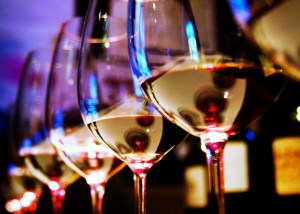 Health Minister Ocaña told a press conference that the law deepens existing restrictions on advertising and provides for specific ways for communicating the sale of alcohol.  For example, whereas Article 6 of the Law simply specified that all ads include the advisory messages "Sale to minors prohibited" and "Drink in moderation," the implementing decree requires that radio or audio ads not include background music when the warning is included.
Other changes include:
whereas Article 6 of the law simply specifies that the advisory messages be included, the implementing decree specifies that in audiovisual messages either these should be at the bottom of the message throughout, or in a still message at the end, white letters on black background, for no less than five seconds.  For graphic ads, whether in periodicals or static or mobile billboards, the advisory messages must occupy at least 3% of the total space.  [This latter rule will not apply to free promotional items — cups, napkins, caps, shirts, watches, umbrellas, etc. — handed out with an alcoholic beverage brand or logo.]
the decree makes it clear that ads on programs or signals from outside Argentina (via cable or satellite television) must also comply with the ad rules inside Argentina.
whereas Article 6(a) of the law simply says that advertising and "incentive" to alcohol consumption cannot be directed at those under 18 years of age, the implementing decree makes it clear that this applies to indirect and non-traditional advertising, as well as radio and TV programming during the hours for child protection, films and print media aimed at children, and public sports, artistic and cultural events with open access to minors.
whereas Article 6(b) of the law just says that advertising cannot depict minors drinking, the implementing decree, the decree clarifies that the prohibition also applies to indirect and non-traditional advertising, radio and TV programming, and films, and that advertisers must provide an affidavit certifying that all children in such programs are not depicted consuming alcohol.
Article 6(c) of the law says that advertising should not suggest that consuming alcohol improves physical or intellectual performance; the decree expands on this to prohibit using association or relationship with well-known athletes, intellectuals, scientists or professionals or any other famous person with special skills whose emulation may suggest that alcohol consumption improves performance.
Ocaña also stressed that the new rules provide that social security services must address the social pathologies arising from alcohol abuse.
At the signing ceremony it was revealed that the government will create a commission to coordinate government efforts to discourage the irresponsible consumption of alcohol and that the Federal Broadcasting Commission (Comité Federal de Radiodifusión – Comfer) and the Film Institute (Instituto Nacional de Cine y Artes Audiovisuales – INCAA) will oversee the advertising restrictions.
_____________________
Desde la Presidencia de Argentina:
Reglamentan la denominada Ley del Alcohol

La presidenta Cristina Fernández reglamentó hoy la Ley del Alcohol, que profundiza las restricciones al consumo y la publicidad de bebidas alcohólicas y obliga a la seguridad social a tratar las consecuencias de su consumo.

Mediante un acto administrativo realizado en el Despacho Presidencial de Casa de Gobierno, la presidenta Cristina Fernández reglamentó hoy la Ley del Alcohol, que profundiza las restricciones al consumo y la publicidad de bebidas alcohólicas y obliga a la seguridad social a tratar las consecuencias de su consumo.

Del acto participaron además los ministros que intervendrán en la aplicación de la ley: de Salud, Graciela Ocaña; de Trabajo, Carlos Tomada; de Justicia, Aníbal Fernández y de Educación, Juan Carlos Tedesco.

Según explicó la ministra Ocaña en conferencia de prensa ofrecida con posteridad, la ley profundiza medidas vigentes que restringen la publicidad y establece modos específicos de comunicar la venta de alcohol, por ejemplo, no se podrá adosar música en las publicidades audiovisuales a la advertencia "prohibida su venta a menores. Beber con moderación".

En tanto, el ministro Aníbal Fernández, también presente en la conferencia, agregó que tampoco se podrá usar en las publicidades personajes "famosos o exitosos, entre comillas, para alentar la identificación del consumidor con esa situación".

Ocaña destacó por su parte que como novedad la normativa establece que la seguridad social deberá tratar las patologías derivadas del consumo abusivo de alcohol, una obligatoriedad que hasta hoy no tenía.

La voluntad política de reflotar una norma sancionada hace doce años tuvo como base una encuesta encargada.

Además, el Gobierno creará una comisión que coordinará los esfuerzos para desalentar el consumo irresponsable de alcohol y el Comfer y el Instituto de Cine controlarán las restricciones publicitarias.
Tags: advertencia, advertising, alcohol, alcohol consumption, alcoholic beverages, Argentina, artistic events, bebidas alcohólicas, billboards, brandname, cable TV, Comfer, consumo de alcohol, Cristina Fernández, cultural events, cups, espectáculos públicos, films, Graciela Ocaña, INCAA, Ley del Alcohol, logo, magazines, marketing, minors, movies, napkins, películas, periodicals, periódicos, programas cinematográficos, promoción, promotion, publicidad, publicidad gráfica, publicidades audiovisuales, restricciones publicitarias, revistas, satellite television, SEDRONAR, seguridad social, sports, trademark, umbrellas, watches
One Response to "Argentina Deepens Restrictions on Alcohol"
Jeri Durfey Says:
June 14th, 2017 at 9:30

I really loved what you had to say, and more than that, how you presented it. Too cool!
Leave a Reply