« Draft ISO Standard on Corporate Social Responsibility Published | Home | The Time is Ripe for Energy Efficiency Focus in LAC / Es la hora en LAC para potenciar la eficiencia energética »
By Keith R | September 15, 2009
Topics: Health Issues | No Comments »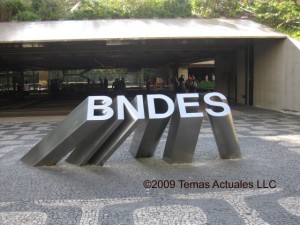 From the Brazilian Development Bank (BNDES):
BNDES approves R$ 6.6 million in financing to stem-cell research centers

The Brazilian Development Bank (BNDES) approved financial support in the amount of R$ 6.6 million to two projects related to the Brazilian Network for Cell Therapy. The non-reimbursable funding is from the BNDES Technology Fund (BNDES Funtec) and will be applied to structure the Cell Therapy Technology Centers of the Hemocentro de Ribeirão Preto Foundation (FUNDHERP), R$ 3.57 million, and of Pontifícia Universidade Católica do Paraná (PUC/PR), R$ 3.04 million.

After the centers are structured, FUNDHERP and PUC/PR will develop stem-cell culture and handling technologies and make these cells available to research at the Brazilian Network for Cell Therapy. In this way, both projects will foster the development of national skills and qualification in this new therapeutic field.

FUNDHERP will provide mesenchymals stem cells, and PUC/PR, mesenchymals and endothelial progenitor stem cells. The mesenchymal cells are very promising as a therapeutic tool. They are believed to have an important role in healing, blood vessel reconstitution and bone formation. They are categorized into several types of cells. The endothelial progenitor cells, on the other hand, are categorized as endothelial cells, specific for blood vessels (endothelium) and, therefore, are relevant to regeneration.

The Ministries of Health and of Science and Technology organized the Brazilian Network of Cell Therapy as a government strategy to develop such a field of knowledge. These steps are essential, considering the advancement achieved by Brazilian science in the cell therapy area, and the importance of regenerative medicine to public healthcare.

BNDES Funtec was created to support projects of strategic interest to the country, with the purpose of encouraging technologic development and innovation. Aware of the importance of cell therapy to development of the Brazilian health industry, the BNDES, together with Finep/MCT, is engaged in supporting the cell technology centers.

FUNDHERP – The foundation conducts research on hematology and hemotherapy, and produces basic blood derivatives and other support products for its research areas. Its purpose is to provide care in the hemotherapy area, while supporting the development of activities at the Regional Center of Hemotherapy of the Clinic Hospital of Faculdade de Medicina de Ribeirão Preto of Universidade de São Paulo.

FUNDHERP is a reference center in collecting, processing and distributing blood and hemocomponents in its region. Since 2000, it has been developing research focused on the stem-cell properties, modifications and genome studies, aimed at creating diagnosis and treatment devices in the cell therapy field. The foundation is specialized in developing clinical protocols in the area, as well.

PUC/PR – The team responsible for the project is part of Cell Cardiomioplasty, connected to PUC/PR's Cellular Engineering and Transplant Laboratory. The group performs studies with stem cells, ranging from basic research and preclinical testing (on animals) to developing and producing cells for clinical processes (on humans).

The Cell Cardiomioplasty Division started its studies in 1999, using fetal cells of rats to recover the heart ventricular function in rats that suffered a heart attack. The results were positive and research started developing techniques with human stem cells, mainly mesenchymal, taken from bone marrow, and endothelial progenitor, from umbilical cord blood. PUC/PR is currently producing mesenchymal stem cells suitable for clinical testing, as well as endothelial progenitor to preclinical testing.
______________
Desde o Banco Nacional de Desenvolvimento Econômico e Social (BNDES):
BNDES aprova R$ 6,6 milhões a centros de pesquisa com células-tronco

O BNDES aprovou apoio financeiro no valor de R$ 6,6 milhões a dois projetos ligados à Rede Nacional de Terapia Celular. Os recursos não reembolsáveis são do BNDES Fundo Tecnológico – BNDES Funtec e serão empregados na estruturação dos Centros de Tecnologia para Terapia Celular da Fundação Hemocentro de Ribeirão Preto (FUNDHERP), R$ 3,57 milhões, e da Pontifícia Universidade Católica do Paraná (PUC/PR), R$ 3,04 milhões.

Com a estruturação dos centros, a FUNDHERP e a PUC/PR têm como objetivos desenvolver tecnologias de cultivo e manipulação de células-tronco e disponibilizar essas células para pesquisas da Rede Nacional de Terapia Celular. Dessa forma, os dois projetos irão promover desenvolvimento de competência e capacitação nacional no novo campo terapêutico.

A FUNDHERP irá disponibilizar células-tronco mesenquimais e a PUC/PR, células-tronco mesenquimais e progenitoras endoteliais. As primeiras são muito promissoras como ferramenta terapêutica. Acredita-se que tenham papel importante em cicatrização, reconstituição de vasos sanguíneos e formação de ossos. São capazes de se diferenciar em vários tipos de células. Já as progenitoras endoteliais se diferenciam em células endoteliais, específicas da parede dos vasos sanguíneos (endotélio) e, portanto, têm papel relevante em regeneração.

Os Ministérios da Saúde e da Ciência e Tecnologia constituíram a Rede Nacional de Terapia Celular em uma estratégia governamental de fomento a esse campo de conhecimento. Medidas como essa são fundamentais, tendo em vista o avanço alcançado pela ciência brasileira na área de terapias celulares e a importância que a medicina regenerativa ocupará no cenário da saúde pública.

O BNDES Funtec destina-se a apoiar projetos de interesse estratégico para o País, que tenham por objetivo estimular o desenvolvimento tecnológico e a inovação. O BNDES está ciente da importância do campo de terapias celulares para o desenvolvimento da indústria da saúde no Brasil e por isso dividiu com a Finep/MCT a responsabilidade no apoio aos centros de tecnologia celular.

FUNDHERP – A Fundação executa pesquisas em hematologia e hemoterapia e produz hemoderivados básicos e outros produtos afins às suas áreas de pesquisa. Tem como objetivos prestar serviços de assistência na área de hemoterapia e apoiar o desenvolvimento das atividades do Centro Regional de Hemoterapia do Hospital das Clínicas da Faculdade de Medicina de Ribeirão Preto da Universidade de São Paulo.

A FUNDHERP é um centro de referência na coleta, processamento e distribuição de sangue e hemocomponentes em sua região. Desenvolve desde o ano de 2000 pesquisas com foco nas propriedades das células-tronco, suas modificações e estudos de genoma, visando à criação de instrumentos de diagnóstico e tratamento no campo da terapia celular. Possui também experiência com o desenvolvimento de protocolos clínicos na área.

PUC/PR – A equipe responsável pelo projeto faz parte do Núcleo de Cardiomioplastia Celular, ligado ao Laboratório de Engenharia e Transplante Celular da PUC/PR. O grupo realiza estudos com células-tronco, desde pesquisa básica e ensaios pré-clínicos (em animais), a desenvolvimento e produção de células para protocolos clínicos (em humanos).

O Núcleo de Cardiomioplastia Celular iniciou seus estudos em 1999, utilizando células fetais de ratos para recuperação da função ventricular de corações de ratos enfartados. Os resultados foram positivos e os pesquisadores começaram a desenvolver técnicas em células-tronco humanas, principalmente mesenquimais retiradas da medula óssea e progenitoras endoteliais do sangue de cordão umbilical. Atualmente, são produzidas na PUC/PR células-tronco mesenquimais com qualidade para testes clínicos e progenitoras endoteliais para testes pré-clínicos.
Tags: BNDES, Brasil, Brazil, cell cardiomioplasty, cell therapy, células-tronco, clinical testing, endothelium, FINEP, FUNDHERP, hematology, hemotherapy, medicina regenerativa, mesenchymals, Paraná, PUC-PR, regenerative medicine, research, Ribeirão Preto, stem cells, terapia celular
Subscribe to My Comments Feed
Leave a Reply