« Wal-Mart to Reduce Phosphates in Detergents, Promote Sustainable Packaging in Americas / Compromiso de Wal-Mart reducir fosfatos en detergente, promover envase más sustentables en las Américas | Home | Trade in Used Cars in the Americas: Good for the Environment? »
By Keith R | January 26, 2009
Topics: Health Issues | No Comments »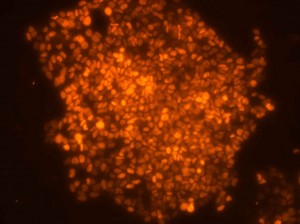 Brazil's Health Ministry is sponsoring Brazilian research that has led to the production of the first line of induced pluripotent stem cells.  Pluripotent stem cells are able to transform into any cell type.  They are similar to embryonic stem cells but do not need to be obtained from embryos.  Brazil becomes the fifth (and the first Latin American) country to produce pluripotent stem cells from non-embryonic cells — China, Germany, Japan and the US have already done so.  Brazil hopes that this development will help led to breakthroughs on diseases such as Parkinson's, muscular dystrophy, Down syndrome and some types of heart disease.
The research, coordinated by neuroscientist Stevens Rehen of the Federal University of Rio de Janeiro's (UFRJ) Institute of Biomedical Sciences (ICB), and biomedical researcher Bonamino Martin of Brazil's National Cancer Institute (INCA),  was announced last Saturday (24th).   The scientists indicated that the Ministry's funds were crucial in getting the lab equipment, reagents and research team assembled to make the results possible.  The Ministry gave the project R$200,000 in 2005 and has announced that it will provide R$3 million during 2009.
Rehen is one of the researchers belonging to the National Network of Cellular Therapy (RNTC) coordinated by the Health Ministry that promotes the transfer of knowledge and experiences as well as technology cooperation in the field of cell therapies for health care.  In addition to encouraging pre-clinical and clinical research, the RNTC supports the development of infrastructure for the derivation of Brazilian strains of stem cells, but under conditions following generally accepted good manufacturing practices (GMP).   The Ministry has earmarked R$30 million in funding for RNTC this year.
The research methodology developed by the research team is available on website http://www.anato.ufrj.br/ips .  It provides information which is generally not shared by foreign researchers who have already mastered the technique.  The intention is to stimulate the use of technology by other laboratories in Brazil. The stem cells developed — called the i-Rio-1 and iPS293 — are freely available to the scientific community associated with the RNTC.
To get to the discovery Rehen used human kidney cells. The cells were reprogrammed with the aid of virus produced by the INCA team. The field of cell reprogramming offers Brazil the possibility of immediate creation of novel models for studying diseases such as Parkinson's, schizophrenia, heart disease, and genetic diseases such as Down's syndrome and muscular dystrophy.
____________________
Desde o Ministério da Saúde:
Ministério da Saúde financia estudo sobre células-tronco inédito no Brasil

País gera primeira linhagem de células-tronco que podem se transformar em qualquer tipo de célula e são semelhantes às células-tronco embrionárias

O Ministério da Saúde é um dos financiadores do estudo que levou à primeira linhagem de células-tronco pluripotentes induzidas. Elas são capazes de se transformar em qualquer tipo de célula. São semelhantes às células-tronco embrionárias, mas não necessitam de embriões para serem obtidas. O Brasil passa a ser o quinto país a produzir células-tronco pluripotentes a partir de células não-embrionárias. Os primeiros foram Japão, Estados Unidos, Alemanha e China.

A pesquisa coordenada pelo neurocientista Stevens Rehen, do Instituto de Ciências Biomédicas da Universidade Federal do Rio de Janeiro (UFRJ), e pelo biomédico Martin Bonamino, do Instituto Nacional do Câncer (Inca), foi divulgada no último sábado (24). "O financiamento do Ministério foi crucial. Com a primeira chamada para pesquisas na área de terapia celular, puderam ser adquiridos vários equipamentos de laboratório, reagentes, além de investimentos na montagem de equipe", ressaltou o cientista.

Rehen é um dos pesquisadores da Rede Nacional de Terapia Celular (RNTC), coordenada pelo Ministério da Saúde. A rede promove a transferência de conhecimentos e tecnologias na área de terapias celulares para assistência à saúde. Além de fomentar pesquisas pré-clínicas e clínicas na área, a RNTC apóia o desenvolvimento de infra-estrutura para a derivação de linhagens brasileiras de células-tronco em condições de Boas Práticas de Fabricação (GMP).

INVESTIMENTOS – O grupo de pesquisa da UFRJ recebeu do Ministério da Saúde R$ 200 mil, em 2005, e deve receber mais R$ 3 milhões, em 2009, para continuar seus estudos. Ao todo, o Ministério da Saúde investirá R$ 30 milhões na RNTC neste ano. A rede visa a integrar os principais grupos de pesquisa em terapia celular em atividade no país, para a troca de experiências e colaboração científica e tecnológica.

A metodologia da pesquisa desenvolvida pela equipe está disponível no site http://www.anato.ufrj.br/ips e traz informações que normalmente não são compartilhadas por pesquisadores estrangeiros que já dominam a técnica. A intenção é estimular a utilização da técnica por outros laboratórios do país. As células tronco desenvolvidas – chamadas de i-Rio-1 e iPS293 – estarão disponíveis gratuitamente para a comunidade científica brasileira associada à RNTC.

Para chegar à descoberta Rehen utilizou células de rim humano. As células foram reprogramadas com o auxílio de vírus produzidos pela equipe do Inca. O domínio da reprogramação celular garante ao Brasil a possibilidade imediata de criação de modelos inéditos para o estudo de doenças como Parkinson, esquizofrenia, cardiopatias, além de doenças genéticas como Síndrome de Down e distrofia muscular.
Tags: Alemanha, Brasil, Brazil, cardiopatías, células-tronco, células-tronco embrionárias, células-tronco pluripotentes, China, distrofia muscular, doenças genéticas, Down's syndrome, esquizofrenia, Estados Unidos, genetic diseases, GMP, Health Issues, Health Ministry, health research, heart disease, INCA, Japan, Japão, Ministério da Saúde, Ministerio de Salud, muscular dystrophy, Parkinson, Parkinson's disease, pluripotent stem cells, pre-clinical research, RNTC, saude, schizophrenia, Síndrome de Down, terapia celular, UFRJ
Subscribe to My Comments Feed
Leave a Reply