« Dengue on the Rise Again / Dengue Avance de Nuevo | Home | Brazil Mulls Introducing Anti-pneumococcal Vaccine »
By Keith R | October 12, 2007
Topics: Health Issues, Tobacco Control | No Comments »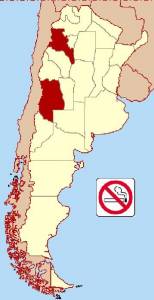 Two more Argentine provinces recently passed tobacco control laws, bringing to five the number of provinces (added to Córdoba, Santa Fe and Tucumán) plus the Autonomous City of Buenos Aires (CABA) that have adopted tough "smoke-free environment" laws, and leading many Argentines to question why the national legislature remains unable to do the same.
After months of stalling, Mendoza's legislature in September amended its 1988 smoking law to ban smoking in public buildings (hospitals, schools, provincial offices, etc.) as well any other enclosed area with public access, such as bars, pubs, shops, restaurants, discotheques, etc. Smokers in such spots will be subject to a fine (25-100 pesos), as will the owners of the establishments (500-2,000 pesos) or their legal representative listed on the local permit. If an establishment is repeatedly found in violation, it can be closed.
There are some specific exceptions to the smoke-free environment rule, though, such as psychiatric facilities, prisons, casinos and party lounges booked for private events.
One of the reasons the bill was in limbo so long was a dispute between the two legislative chambers about who would enforce the new law. The provincial Senate wanted to give it to the provincial Health Ministry, whereas the Chamber of Deputies wanted to put it in the hands of municipalities. In the end the two compromised, giving the Ministry and municipalities joint authority. Just how (and how well) that will work in practice remains to be seen.
The new Mendoza law also outlaws tobacco product sales to minors.
Catamarca also recently promulgated an anti-tobacco law that requires all dependencies of the three branches of the provincial government to be smoke-free, as well as all enclosed spaces in private establishments that attend the public or provide service to the public. That includes bars, restaurants, hotels, cyber-cafes, theaters, cinemas, shopping malls, cafes, all recreation places for kids, etc. Specifically excluded are open-air spaces, terraces and balconies. Some bars, resturants and cafes can also allow smoking, but only if they set aside a specific area for it and comply with standards that require things like separate ventilation.
The Catamarca law also sets new restrictions on advertising, promotion and sales.
Tags: advertising, Argentina, bars, Catamarca, cigarettes, cinemas, cyber-cafes, discotheques, hotels, Mendoza, promotion, pubs, restaurants, shopping malls, shops, tabaco, tabagismo, tabaquismo, theaters, Tobacco Control
Subscribe to My Comments Feed
Leave a Reply