« A New Sustainable Energy Program for the Caribbean / Un programa nuevo para energía sostenible en el Caribe | Home | A Symbolic Ban of Asbestos »
By Keith R | January 29, 2009
Topics: Health Issues, Pharmaceutical Issues | No Comments »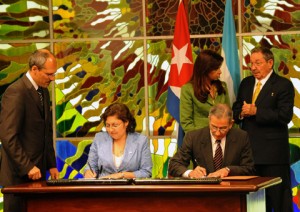 Argentina's Health Minister Graciela Ocaña has just signed an agreement with Cuba where the latter will aid the former in researching and producing antiretroviral medicines (ARVs), cancer drugs, vaccines and other treatments for diseases prevalent in Argentina.
Last year, shortly after assuming her post, Ocaña established the Program for the Public Production of Medicines, Vaccines and Medical Products with the aim of increasing access to treatment through public production of key drugs and vaccines.  The Cuban agreement involves the transfer of technology from Cuba for producing drugs and vaccines in Argentina.
Last year Argentina purchased vaccines, diagnostic reagents and cancer drugs worth $15 million, including 3.5 million doses of pentavalent vaccine to treat diphtheria, tetanus, whooping cough, hepatitis B and Haemofilus influenzae type B (Hib).  Prior to this latest agreement Argentina and Cuba had already concluded accords for the latter to assist Argentina in producing medicines derived from blood, to implement a national system to diagnose genetic diseases in newborns, and to digitize the student health evaluations performed under Argentina's School Health Program (PROSANE).
___________________
Desde el Ministerio de Salud (MSal):
ARGENTINA PRODUCIRÁ CON CUBA MEDICAMENTOS ONCOLÓGICOS Y ANTIRRETROVIRALES

Graciela Ocaña firmó un importante convenio de salud en La Habana

El Ministerio de Salud de la Nación, en conjunto con Cuba, investigará y producirá fármacos oncológicos, antirretrovirales y para tratar enfermedades prevalentes en la Argentina. El plan para producir medicamentos es fruto del extenso convenio sobre salud firmado la semana pasada en La Habana por la presidenta Cristina Fernández y la ministra Graciela Ocaña, para profundizar la colaboración sanitaria entre ambos países.

"Cuba es uno de los países de la región que más experiencia tiene en el desarrollo público de medicamentos, por eso el convenio que firmamos para colaborar en este campo es estratégico para la Argentina", explicó la ministra Ocaña.

El año pasado, a poco de asumir al frente de la cartera sanitaria, Ocaña creó en el ámbito del Ministerio de Salud de la Nación, el Programa para la Producción Pública de Medicamentos, Vacunas y Productos Médicos, con el objetivo de facilitar el acceso de la población a los tratamientos que necesita. La colaboración con Cuba permitirá desarrollar esta área fundamental para la salud, al mismo tiempo que promoverá la transferencia de tecnología cubana para la producción de ciertos fármacos y vacunas en la Argentina.

El convenio, firmado durante la reciente gira presidencial a Cuba, contempla además la asistencia técnica cubana para mejorar la calidad de la atención primaria de la salud, además de la cooperación en donación y trasplante de órganos.

"Hemos firmado acuerdos para fortalecer la investigación conjunta en el campo de la salud, y especialmente en el campo de las neurociencias", señaló Ocaña.

La ministra de Salud destacó el aumento de la colaboración sanitaria entre Argentina y Cuba en los últimos meses. Antes del flamante convenio, se había acordado intercambiar tecnología para producir medicamentos derivados de la sangre (hemoderivados) e implementar en el país un sistema para diagnosticar enfermedades genéticas en recién nacidos. También se había convenido con Cuba, en noviembre del año pasado, la digitalización de las evaluaciones realizadas por el Programa de Sanidad Escolar (PROSANE) de la Argentina.

Durante 2008, el Ministerio de Salud de la Nación también adquirió vacunas, medicamentos oncológicos y reactivos diagnósticos por valor de 15 millones de dólares a Cuba. Argentina recibió, entre otros insumos, 3.500.000 dosis de vacuna pentavalente, que sirve para prevenir la difteria, el tétanos, la tos convulsa (pertussis), la hepatitis B y la meningitis causada por Haemofilus influenzae tipo b.

El nuevo y extenso convenio firmado por la ministra Graciela Ocaña y su par cubano, José Ramón Balaguer Cabrera, profundiza la cooperación argentino-cubana en vigilancia, prevención y control de la salud, así como en investigación y tratamiento de enfermedades graves que afectan a los argentinos.
Tags: antiretroviral medicines, Argentina, ARVs, blood products, Cuba, diagnostics, difteria, diphtheria, enfermedades genéticas, fármacos, fármacos oncológicos, genetic diseases, Haemofilus influenzae tipo b, hemoderivados, hepatitis B, Hib, medicamentos, medicamentos antiretrovirales, medicines, meningitis, organ donations, organ transplants, pertussis, pharmaceuticals, primary health care, PROSANE, reactivos diagnósticos, recién nacidos, technology transfer, tétanos, tos convulsa, transferencia de tecnología, trasplante de órganos, vaccines, vacuna pentavalente, vacunas, whooping cough
Subscribe to My Comments Feed
Leave a Reply