« The Real Significance of the OAS Declaration of Panama on Energy | Home | World Bank Approves US$30 Million for Water & Sanitation in Honduras / Banco Mundial aprueba US$39 millones para agua y saneamiento »
By Keith R | June 23, 2007
Topics: Health Issues | No Comments »
TB Steps Out of the Shadows
I suspect that until the recent much-publicized case of the young American lawyer infected by drug-resistant tuberculosis (TB) flying in Europe and the US without safeguards, most Americans had all but forgotten TB the disease. After all, it had all but disappeared in the US with modern drug therapies. right? (Not quite!) Or at least seriously dwindled here and dwindling elsewhere too? (Here, maybe, elsewhere, actually growing.)
It never disappeared from my radar for three reasons. The first is my father. It was his generation that saw the first mass vaccinations against TB, and as a family practice doctor he had some insights to share about TB and he made sure we kids got tested regularly.
The second is César, a doctor in my wife's family in Santo Domingo. One day he was giving me a tour through a nice clinic built by JICA, greeting and chatting with all the patients as we went along. I often asked after we left each group what their malady was when I could not discern it myself. After meeting one such group that seemed a bit more removed from the others, he told me that they were TB positive and I recoiled because we had taken no special precautions. How prevalent is TB in the Dominican Republic, I asked. Much more than is reported, he responded.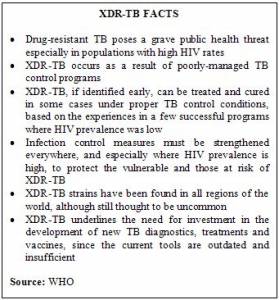 The third is my coverage of public health issues. I knew that TB was resurging. I knew that in some places — particularly Africa — TB was hitting hardest among HIV/AIDS patients whose immune systems could not fight it. I knew that TB was becoming increasingly drug-resistant, and that few new treatments were in the pipeline. I knew about Médecins Sans Frontières' pleas/demands for governments to get serious about combating TB and industry developing a new therapy. I knew about the World Health Organization's Stop TB Initiative, about the formation of the Stop TB Partnership housed at WHO, and about the decision to add TB to the mandate of the Global Fund. I had, in fact, earlier this year put it on my list of health topics to blog about (preferably on World TB Day in March, but I missed that deadline) and had done a preliminary outline and list of questions. But with the announcement today by WHO and the Stop TB Partnership, there probably is no better time to blog about it than the present.
Why It Matters to Latin America and the Caribbean (LAC)
Most people working on, or heavily concerned about, TB tend to focus on other regions, particularly Africa and Asia and parts of formerly communist Eastern Europe. Rightly so, because of the higher number of cases there, and the worrisome growth and drug resistance there.
But LAC is by no means immune. According to WHO, in 2005 (the last year of full stats) LAC nations had a TB incidence (new cases arising in a given period) of 336,682, a prevalence (number of cases existing during that period) of 436,411, and 47,814 died of TB in LAC that year. Nearly a third of each of those statistics belongs to Brazil alone, making it one of WHO's global "high burden" countries for TB. [Interesting, though, in that Bolivia, Dominican Republic, Ecuador, Guyana, Haiti and Peru have far higher prevalence when expressed as cases per 1,000 people — 280, 116, 202, 194, 405 and 206, respectively, compared to Brazil's 76.] If you want to read more of the latest TB stats for LAC, download this WHO document.
As if that wasn't bad enough on its own, there have now been cases of multiple drug resistant TB (XDR-TB**) reported in Argentina, Brazil, Chile, Ecuador, Mexico and Peru (and the US and Canada).
In these days of growing air travel into, out of, and within the Western Hemisphere, TB is a public health problem we ignore at our peril. The recent incident with the TB-infected American lawyer was a wake-up call to all nations. The announcement below indicates that Geneva has heard it. Have all LAC's capitals?
— Keith R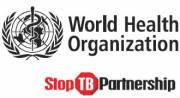 From the World Health Organization (WHO):
New plan to contain drug-resistant TB

WHO, Stop TB Partnership release two-year response plan

Hundreds of thousands of cases of drug-resistant tuberculosis (TB) can be prevented and as many as 134 000 lives saved through the implementation of a two-year response plan, published/launched today by the World Health Organization (WHO) and the Stop TB Partnership.

The Global MDR-TB and XDR-TB Response Plan 2007-2008 2007-2008 sets out measures needed now to prevent, treat and control extensively drug-resistant TB (XDR-TB)* and multidrug-resistant TB (MDR-TB)**. The plan also sets in motion actions to reach a 2015 goal of providing access to drugs and diagnostic tests to all MDR-TB and XDR-TB patients, saving the lives of up to 1.2 million patients.

"XDR-TB is a threat to the security and stability of global health. This response plan identifies costs, milestones and priorities for health services that will continue to have an impact beyond its two-year time line," said WHO Director-General Dr Margaret Chan.

The plan emphasizes the urgent need to boost basic TB control and target investment in key areas, including: strengthening programmes to treat drug- resistant TB; building capacity in diagnostic laboratories; expanding infection control and surveillance; and funding research into new and improved diagnostics, drugs and vaccines.

The plan lays out a strategy for sufficiently increasing the number of fully equipped TB laboratories in countries with high levels of TB to achieve a ten-fold increase in detection of MDR-TB cases. If fully implemented, the plan will also increase by ten-fold the number of MDR-TB and XDR-TB patients being treated and cured under WHO guidelines.

"We have sounded the alarm on the potential for an untreatable XDR-TB epidemic. Today we issue our response on behalf of all patients and communities whose lives are most at risk. It is an ambitious plan that must be fully supported if we are to keep a stranglehold on drug-resistant TB," said Dr Mario Raviglione, Director of the WHO Stop TB Department.

The world first became aware of XDR-TB in March 2006 after researchers reported on an emerging global threat of highly resistant TB strains. Concerns were heightened six months later by a cluster of 'virtually untreatable' XDR-TB cases in an area of South Africa with high prevalence of HIV. All but one of the 53 patients died in an average of 25 days after samples were taken for drug resistance tests. Last month, the case of an air passenger from the United States infected with XDR-TB also focused attention on the need to address the TB epidemic as an immediate international priority.

"A highly important element of the plan is a steady supply of quality drugs to treat MDR-TB and XDR-TB in underserved countries," said Dr Marcos Espinal, Executive Secretary of the Stop TB Partnership. "The Partnership's Global Drug Facility is ensuring supply of these drugs to a growing number of countries, after our Green Light Committee has verified that applicant countries meet its technical standards and will use the drugs correctly."

The Global MDR-TB and XDR-TB Response Plan 2007-2008 2007-2008 details activities to be carried out in all six WHO regions. Its eight main objectives are those recommended by the WHO Global Task Force on XDR-TB, which met in October 2006.

The total budget for the two-year plan is US$ 2.15 billion, of which 80% is for country-specific needs. US$ 102 million is for essential support functions to fight TB drug resistance by international partners, including WHO and the Stop TB Partnership, at global, regional and national levels.
* MDR-TB is a form of TB that does not respond to the standard treatments and is defined as TB resistant to the main first-line drugs, isoniazid and rifampicin. There are an estimated 424 000 new cases of MDR-TB every year. Multidrug resistance emerges when there is mismanagement of drugs and under-investment in quality TB control. It can also be spread from one person to another. The cost of treating MDR-TB can be 1000 times more than treating standard TB.
** XDR-TB occurs when there is resistance to all of the most effective anti-TB drugs, and is defined as TB with MDR-TB resistance as well as resistance to any one of the fluoroquinolone drugs and to at least one of the three injectable second-line drugs, amikacin, capromycin and kanamycin. Extensive drug resistance emerges through mismanagement of MDR-TB and can also spread from one person to another. There are an estimated 25 000 to 30 000 new cases of XDR-TB every year. So far, 37 countries have confirmed cases of XDR-TB.
Tags: Argentina, Bolivia, Brasil, Brazil, Chile, Dominican Republic, Ecuador, GFATM, Guyana, Haiti, incidence, isoniazid, JICA, Margaret Chan, MDR-TB, Médecins sans Frontières, Mexico, multidrug resistance, OMS, Peru, prevalence, public health, República Dominicana, rifampicin, salud pública, Santo Domingo, saude, Stop TB Initiative, Stop TB Partnership, tuberculosis, WHO, XDR-TB
Subscribe to My Comments Feed
Leave a Reply