« Two More World Bank Carbon Facilities | Home | Catamarca & Mendoza Gain New Anti-Tobacco Laws »
By Keith R | October 12, 2007
Topics: Health Issues | No Comments »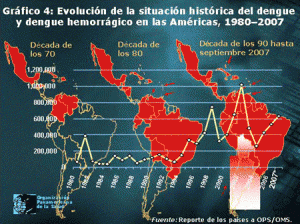 If you've ever had dengue before, you can testify to its agony. My wife got it from a mosquito while we lived in Santo Domingo in the late 1990s, and for a week she experienced fiery pain in every joint and muscle, a steady headache and fever that will not respond to any medicines. She just had to suffer through "breakbone fever" (one of its nicknames) until it passed.
She was lucky. The more virulent form, dengue hemorrhagic fever (DHF) can kill you.
Between 2001 and 2006, dengue and DHF are documented as having killed 983 people in the Americas and inflected 3.4 million (including 79,644 cases of DHF). For 2007, up through the end of September, there have been 630,356 dengue cases reported, 12,147 of which are DHF, with 183 reported deaths.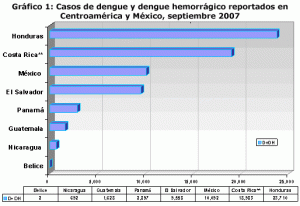 That's only the cases properly diagnosed and reported. The real numbers may be higher.
For several years after the turn of the century, reported dengue and DHF cases dropped rapidly in LAC, leading some to hope it was under control. But in the last three years, the reported cases have risen steadily, and perhaps more important, the geographic spread of the disease has increased (click on map/chart to view larger version).
Reporting to this year's Pan American Sanitary Conference (CSP), the ministerial governing body for the Pan American health Organization (PAHO), now underway, PAHO's chief of Sanitary Vigilance, characterized dengue/DHF as "without a doubt one of the biggest threats facing the region."
60% of the dengue cases in the Americas come from the so-called Southern Cone sub-region (Argentina, Brazil, Chile, Paraguay, Uruguay), with Brazil reporting the most cases (94% of the total for the Cono Sur). They are followed by the Andean subregion (particularly Colombia and Venezuela) with 19%.
A better indicator of the risk may be the incidence rate, or number of cases per 100,000 people, since raw data may present a picture skewed by the big differences in population among the LAC nations. In 2007, this statistic is 1,732 for French Guiana, 899 for Guadalupe, 585 for Costa Rica, 499 for Paraguay, 450 for Martinique, 361 for Honduras and 318 for Bolivia.
The Andean subregion has reported 5,821 DHF cases this year (mostly in Colombia and Venezuela — Colombia is the top DHF country this year), 48% of the regional total. They are followed by the Central America and Mexico sub-region (5,212 cases, or 42.9% of the regional total). In the latter, most of the cases are in Costa Rica, Honduras and Mexico.
PAHO and the region's health ministries have been taking steps to combat dengue/DHF, they have not sufficed, In the aforementioned report to the CSP, PAHO asked all to step up their efforts. PAHO particularly complains about the "instability and rotation" of the trained human resources needed to combat the disease properly, particularly in key areas such as entomology and vector control. PAHO asked for strategy to ensure that health officials have steady supplies of both the funds and personnel needed to do the job.
They also suggested more efforts to control littering and improper disposal of scrap tires, plastic containers and open-air trash dumps, all of which are good breeding grounds for the mosquitoes that carry the four forms of virus that cause dengue and DHF.
In a recent "editorial," though, PAHO Director Dr. Mirta Roses warns that the dengue/DHF situation in LAC is "complex" and not easy to solve in short order, but that the foundation exists for actions that can halt and reverse its spread if PAHO and health officials act soon and decisively.
______________________________
Desde la Organizacion Panamericana de Salud (OPS):
Dengue en las Américas: mayor respuesta necesaria

Expertos de la Organización Panamericana de la Salud (OPS) están analizando la situación panamericana en la lucha contra el dengue, enfermedad que causó 982 muertes y más de 3.4 millones de casos en la Región entre el 2001 y el 2006.

El Gerente del Área de Vigilancia Sanitaria y Atención a las Enfermedades de la OPS, Dr. Jarbas Barbosa da Silva, afirmó en la Conferencia Sanitaria Panamericana, reunión de Ministros de Salud de las Américas, que el dengue es sin duda una de las grandes amenazas a la región.

La OPS subrayó que los avances y esfuerzos contra el dengue en la Región son alentadores pero insuficientes. Por ello, la entidad hemisférica pedió que en las Américas se preste una mayor atención al sector salud para lograr mayores alcances en la respuesta de los países a esta seria enfermedad. La OPS/OMS emitió en febrero del 2007 una alerta en toda la Región para extremar las acciones de prevención y control.

La sub-región del Cono Sur refiere el 60% de todos los casos de dengue en las Américas. Brasil reporta en mayor número de notificaciones. Le siguen la sub-región andina, con un 19%, donde Colombia y Venezuela registran el mayor número de notificaciones y las mayores tasas de incidencia. La OPS considera que entre los problemas más graves que están restando fuerza a los esfuerzos emprendidos por los países destaca la limitación en recursos humanos técnicos y profesionales en áreas clave como entomología y control de vectores.

El delegado representante de Cuba afirmó que la actual epidemiología del dengue en la Región de las Américas demuestra claramente la enorme seriedad de un desafío sanitario que, matizó, debe requerir en su respuesta de dos elementos principales y esenciales: multi-sectorialidad y participación ciudadana. Otros delegados coincidieron en la apreciación al recordar que esta enfermedad hace parte de un conjunto de patologías cuyo control y vigilancia no puede ser responsabilidad única y exclusiva del sector salud.

"Es muy frecuente la inestabilidad y la rotación de recursos capacitados a otras dependencias, especialmente privadas", señala un informe de la OPS discutido por todas las delegaciones presentes en la conferencia "Se necesita una política y una estrategia que valore e incentive la estabilidad al personal capacitado".

En el informe de la OPS se explica que la sostenibilidad de las acciones ejecutadas también está siendo afectada por la existencia de leyes, reglamentos y normas sanitarias frecuentemente incumplidas. "En ocasiones son insuficientes las legislaciones existentes o simplemente su aplicación no lleva a la solución del problema para el cual fue creada", puntualiza el informe.

En su identificación de los problemas existentes, la OPS también señala que existen factores externos a los ministerios de Salud que están asimismo incorporando elementos de complejidad asociada a la respuesta contra el dengue en las Américas.

"Los profundos y desestabilizadores cambios climáticos que hoy ocurren, como el calentamiento global, los fenómenos de El Niño/Oscilación del Sur (ENOS) y de La Niña (AENOS) influyen en la intensidad y duración de las temporadas de lluvias y huracanes o provocan intensas sequías y daños a la biodiversidad. Estos cambios causan alteraciones en los ecosistemas y se crean las condiciones ideales que facilitan la expansión y diseminación de organismos patógenos y sus vectores".

La OPS subraya el efecto que también están teniendo el crecimiento demográfico sin precedentes, la presencia del dengue en grandes centros urbanos y mega-ciudades, la urbanización no controlada ni planificada, y el crecimiento de las migraciones, del tráfico internacional y del turismo. También se ha reiterado con preocupación la falta de control al aumento de neumáticos inservibles, sin un destino adecuado, o de recipientes plásticos no biodegradables que inundan las comunidades y los vertederos a cielo abierto y que hacen que se conviertan en criaderos potenciales del vector.

La Estrategia de Gestión Integrada (EGI) para la prevención y control del dengue en la Región de las Américas encuentra un antecedente directo en el Consejo Directivo de la OPS del año 2001. Fue entonces cuando se adoptó una resolución que proponía la adopción de una nueva generación de programas contra el dengue. Este impulso encontró continuidad en el 2003, con la adopción del modelo de trabajo EGI-dengue, diseñado por los países con la participación del Grupo Técnico de Dengue Internacional (GT-dengue internacional) y expertos nacionales en epidemiología, entomología, atención al paciente, laboratorio, comunicación social y medio ambiente.

"Los países que han implementado la EGI-dengue han mantenido un intercambio constante entre las áreas técnicas y los responsables de toma de decisiones en los ministerios y municipios", explica la OPS en su informe. Esto "ha permitido generalizar y difundir experiencias y lecciones aprendidas". También se observa una mayor apertura del personal del sector salud a utilizar respuestas más allá de la exclusiva intervención vectorial.

En respuesta a las numerosas intervenciones de los delegados ministeriales en su debate sobre el informe de prevención y control del dengue en las Américas, el Dr. Barbosa da Silva explicó que la vigilancia epidemiológica no consiste únicamente en un conteo de casos. El que no se reporte ni un solo caso no significa absolutamente nada, afirmó el experto de la OPS, argumentando que ello puede ser apenas un indicativo de que los mosquitos transmisores están creciendo e incubándose para luego ser los causante de un masivo brote de enfermedad.

En un editorial de este año aparecido en la Revista Panamericana de Salud Pública, la Directora de la OPS, Dra. Mirta Roses, y la Dra. María G. Guzmán, del Instituto de Medicina Tropical Pedro Kourí, de Cuba, afirman que la situación del dengue en nuestra Región es compleja (pero que) existen las bases para detener y revertir la tendencia creciente.

"Las condiciones creadas y la estrategia establecida pueden y deben permitir alcanzar la meta de detener la expansión creciente del dengue en la Región y progresivamente comenzar a reducir la morbilidad, la mortalidad y el impacto social y económico de la enfermedad en las Américas".
Tags: Americas, Bolivia, Brasil, Brazil, Colombia, Costa Rica, dengue, dengue hemorrhagic fever, French Guiana, Guadalupe, Honduras, litter, Martinique, Mexico, OPAS, OPS, PAHO, Pan American Sanitary Conference, Paraguai, Paraguay, scrap tires, trash dumps, vector control, Venezuela, vertederos, vigilancia sanitaria
Subscribe to My Comments Feed
Leave a Reply