« CNPq to Invest R$22 million in Biofuel Research | Home | A Sustainable Energy Strategy for Central America »
By Keith R | November 5, 2007
Topics: Health Issues | No Comments »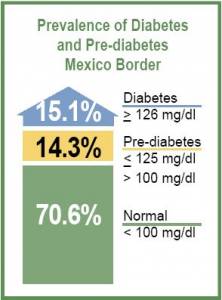 Pop Quiz: What's the leading cause of death in Mexico and the third leading cause of death among Mexicans living along the US border? Diabetes, more specifically, type 2 diabetes.
Don't worry. I didn't know the answer either (blush) until I read this just-released report from the US Centers for Diasease Control (CDC), the Mexican Health Ministry (SSA) and the Pan American Health Organization (PAHO).
The report, the first phase of a joint US-Mexican project to prevent and control diabetes along their common border, analyzes data from a survey of 4,027 individuals (1,905 on the US side, 2,122 on the Mexican side) conducted February 2001 – October 2002 in 16 US counties and 28 Mexican municipalities. For some reason not explained in the report, 70% of the survey participants were women [Temas Observation: Couldn't this possibly skew the results?].
The survey had 65 questions about diabetes, general health, access to health care, hypertension, physical activity, diet, eating habits, tobacco use, alcohol consumption, reproductive health, sociocultural aspects, education, work history, etc. Anthropometric (height, weight, waist and hip circumference) and blood pressure measurements were taken, as well as a fasting blood sample.
You may see some news pieces about the US side of the study, or perhaps even some about both sides of the border (and what they have in common). This is the Temas Blog, though, so I'll stick to the Mexican results.
Until this study was done, most of what was known about diabetes along the border was mortality data, namely: (1) 1980-2001 the national mortality rate in Mexico for type 2 diabetes more than doubled, from 20 deaths per 100,000 inhabitants to 50 per; (2) 6 out of 14 Mexican border municipalities report higher mortality rates than the national level.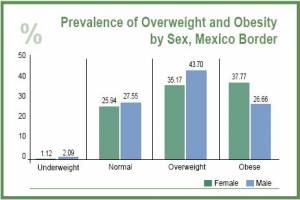 These include:
Half a million Mexicans along the border have diabetes (vs. 700,000 on the US side), meaning a prevalence rate of 15.1%. 8.5% had been told by a health professional that they had diabetes; the other 6.6% found out through the study.
Along the border 14.3% of the Mexicans surveyed were pre-diabetic, meaning that they had blood glucose levels between 100 and 125 mg/dl.
Using body mass index (BMI) measurements, it was determined that 39.4% of the Mexicans surveyed were overweight. Men were more so than women (43.7% vs. 35.1%).
One million Mexicans along the border (32.2%) are estimated to be obese (vs. 1.5 million obese Americans along the border). Interestingly enough, the gender proclivity toward obesity was the opposite of that of the overweight: women were much more so than men (37.8% vs. 26.7%)
The obese Mexicans along the border have a 2.2 times greater risk of having type 2 diabetes than individuals with normal weight (vs. the obese border Americans facing a 2.8 times greater risk).
In the next phase of this joint US-Mexican project, a pilot study will be undertaken to "determine the effectiveness of an intervention model aimed at improving the self-management of diabetes among those individuals living with type 2 diabetes, and to prevent or delay the onset of diabetes among those at high risk."
______________________________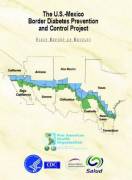 From the Pan American Health Organization (PAHO):
Diabetes Increasing along U.S.-Mexico Border

Diabetes has become the leading cause of death in Mexico and the third-leading cause of death among those living along the U.S. side of the border, health officials from the United States and Mexico said today in presenting the results of a new study coordinated by the Pan American Health Organization (PAHO).

Analyzing data from both sides of the U.S.-Mexico border, the study finds that type 2 diabetes is increasing throughout border area, along with risk factors for the disease. Some 1.1 million border residents 18 and older suffer from type 2 diabetes, and 836,000 are pre-diabetic. Nearly 22 percent of those with type 2 diabetes are unaware they have the disease.

"It is a serious problem when nearly a quarter of border residents who have diabetes do not know their health status. It means they cannot take the basic steps to prevent the progression of the disease and its complications," said Dr. María Teresa Cerqueira, Chief of PAHO's U.S.-Mexico Border Office.

The findings of the study were presented today at a Community Forum in El Paso, Texas, by representatives of PAHO's U.S.-Mexico Border Office, the Centers for Disease Control and Prevention (CDC), the Secretariat of Health (SSA) of Mexico, and more than 130 local and state governmental and nongovernmental organizations concerned about the growing public health burden of type 2 diabetes. The study is based on data collected between 2000 and 2002 in 16 U.S. counties and 28 Mexican municipalities.

According to survey data in the study, only four in 10 residents with type 2 diabetes monitored their blood sugar levels during the 12 months prior to the study.

"Poor disease management and control produce higher rates of complications from diabetes, leading to lowered quality of life, physical disability and earlier mortality," said Dr. Agustin Lara, Director of the Elderly Health Program of Mexico's Secretariat of Health.

Dr. Rosalba Ruiz, coordinator of the PAHO Diabetes Project, noted that in 2002, health care for people with diabetes cost some $13,243 per capita per year. "Considering that diabetes alone represents 11 percent of U.S. health care expenditures, there is a very serious concern that in a short period of time the health systems in both countries will be overwhelmed by the needs of those who suffer from this disease."

Among other findings, the study shows that 90 percent of border residents suffering from diabetes are overweight or obese: 3 out of 10 are overweight, and 6 out of 10 are obese.

"Obesity and overweight are among the most important risk factors of type 2 diabetes, which is a preventable condition," said Dr. Cerqueira.

The study also finds that 1.8 million border residents overall suffer from hypertension, and among people with diabetes, 36 percent suffer from hypertension.

About 61 percent of diabetes sufferers in the border region have at least one other family member with the disease, according to the study. Family history of diabetes is an important risk factor, noted Dr. Cerqueira, and people with such a history should self-monitor their health status and seek advice during routine health checkups to detect subclinical stages of the disease.

PAHO and the World Health Organization recommend primary disease prevention, good nutrition, and physical activity as part of a healthy lifestyle that can prevent or delay the development of diabetes and reduce the need for health care services to treat its complications.

The border diabetes research project is the first to analyze the U.S.-Mexico border region as a single epidemiological unit. Researchers selected a representative sample from the entire population 18 years and older on both sides of the border. The study included a survey with 65 questions and clinical measures for weight, height, waist circumference, blood pressure, and blood glucose levels.
______________________________
Desde la Organización Panamericana de la Salud (OPS):
Se agrava problema de la diabetes en la frontera entre México y EE.UU.

La diabetes tipo 2 se ha convertido en la primera causa de mortalidad en México y en la tercera en el lado estadounidense de la frontera con ese país, de acuerdo con información de los Departamentos Federales de Salud de ambos países.

Los datos de un estudio pionero sobre la diabetes en la frontera entre México y los Estados Unidos coordinado por la Organización Panamericana de la Salud (OPS) revelan un incremento de los casos de diabetes tipo 2 en la frontera y de los factores de riesgo asociados a la enfermedad. Los residentes con diabetes tipo 2 eran obesos o con sobrepeso en un 90%; el 36% padecían hipertensión; y el 61% tenía al menos un familiar con una historia asociada con la enfermedad.

Los resultados del estudio fueron presentados en un Foro Comunitario celebrado hoy en El Paso, Texas. Los participantes subrayaron su preocupación por el creciente problema de salud pública que representan la diabetes tipo 2 y sus actuales y futuras consecuencias. En el Foro han estado representados la Oficina para la Frontera México-Estados Unidos de la OPS/OMS; el Centro para Control y Prevención de Enfermedades de los Estados Unidos (CDC); la Secretaría de Salud de México (SSA). También han tomado parte delegados de más de 130 instituciones fronterizas locales, estatales, gubernamentales y no-gubernamentales que igualmente participaron del estudio.

De acuerdo con los resultados presentados, más de un millón (1.1) de residentes mayores de 18 años a lo largo de la frontera sufrían diabetes tipo 2. De estos, el 21.8% desconocía su problema de salud.

"Es muy serio que casi un cuarto de la población en la frontera con diabetes no conozca su problema de salud porque entonces no se están tomando los cuidados básicos de salud necesarios para prevenir la progresión de la enfermedad y la aparición de complicaciones", dijo la Dra. María Teresa Cerqueira, Jefa de la Oficina Frontera México-Estados Unidos de la OPS/OMS.

La Dra. Rosalba Ruiz, Coordinadora del Proyecto Binacional de Diabetes de la OPS, dijo por su parte que un análisis más profundo de los datos obtenidos del estudio binacional llevado a cabo entre el año 2000 y 2002 en 16 condados de la frontera estadounidense y 28 municipios mexicanos colindantes, muestra que en la región fronteriza 1.804.333 personas sufrían de hipertensión al momento del estudio. Un 36% de la población fronteriza mayor de 18 años, sufre ambas enfermedades.

La Dra. Ruiz explicó además que más de 836.000 habitantes de la frontera tenían pre-diabetes al momento del estudio. "Considerando que sólo la diabetes representa el 11% del gasto en salud en los Estados Unidos (donde el costo anual per-capita de la atención a personas con diabetes en el 2002 fue de US$13,243), el alto porcentaje de personas que desconocen su condición es altamente preocupante ya que a corto plazo los sistemas de salud de ambos países podrían verse rebasados por la demanda de atención".

El estudio muestra que el 90% de la población que sufre diabetes tenía un peso anormal. Tres de cada 10 personas tenían sobrepeso y 6 de cada 10 eran obesas.

Al enfatizar que la obesidad y el sobrepeso son dos de los factores de riesgo más importantes para la diabetes tipo 2, y que estas son condiciones enteramente prevenibles, la representante de la OPS/OMS indicó que urge la implementación de políticas públicas que promuevan la prevención primaria de la enfermedad, la nutrición adecuada, la actividad física y que, en general, promuevan y faciliten estilos de vida saludables que contrarresten la epidemia.

Las poblaciones susceptibles se verían beneficiadas con esas políticas para reducir o retardar el desarrollo de la enfermedad y la necesidad de servicios de salud para atender las complicaciones de la diabetes, matizó la Dra. Cerqueira.

El estudio binacional sobre la diabetes reveló además que por lo menos un 61% de la población en la frontera con diabetes tenía al menos un miembro de la familia con antecedentes de la enfermedad. Los expertos en el Foro Comunitario indicaron hoy que este dato es un gran marcador poblacional a la hora de centrar los esfuerzos hacia la prevención entre personas con antecedentes familiares para monitorear su salud y para la realización de revisiones periódicas capaces de detectar las etapas tempranas de la enfermedad.

El Dr. Agustín Lara, Director del Programa de Salud del Adulto y el Anciano de la Secretaria de Salud de México dijo que apenas 4 de cada 10 personas en la frontera que sufren diabetes reportaron haber medido sus niveles de azúcar en la sangre durante los 12 meses previos al estudio. "La falta de manejo y control de la enfermedad -aseguró el Dr. Lara- provoca un rampante incremento de las complicaciones por la enfermedad como son deterioro de la calidad de vida, discapacidad física y mortalidad temprana".

El referido estudio binacional es considerado único. Los investigadores seleccionaron una muestra representativa del total de la población mayor de 18 años residentes de 16 condados y 28 municipios de ambos lados de la línea fronteriza. El estudio incluyó una encuesta conformada por 65 preguntas, un examen clínico de peso, estatura, talla de la cintura y presión sanguínea, así como un análisis de laboratorio sobre los niveles de glucosa en la sangre.

La OPS fue establecida en 1902 y es la organización de salud pública más antigua del mundo. Es la Oficina Regional para las Américas de la Organización Mundial de la Salud y trabaja con los países para mejorar la salud y elevar la calidad de vida de sus habitantes.
Tags: actividad física, alcohol consumption, anthropometric measurements, blood pressure, body mass index, calidad de vida, CDC, diabetes, factores de riesgo, glucosa, Health Ministry, hipertensión, hypertension, Mexico, mortality rate, nutrición, nutrition, obesidad, obesity, OMS, OPS, overweight, PAHO, physical activity, public health, qualidade de vida, quality of life, reproductive health, risk factors, salud pública, saude, sobrepeso, survey, tobacco use, Type 2 diabetes
Subscribe to My Comments Feed
Leave a Reply