« The Challenge of Land Degradation / El desafio de la degradación del suelo | Home | Greening Pizzerias? »
By Keith R | July 8, 2008
Topics: Health Issues | No Comments »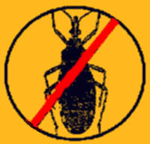 The newspaper La Nacion had an interesting report last week about Argentina's fight against Chagas disease. The San Luis-based Universidad de La Punta (ULP) organized a meeting of 40 health officials from 10 provinces concerned with Chagas control with an eye to digitizing sanitary surveillance and control of the disease.
Chagas disease is a serious, potentially life-threatening illness caused by a protozoan parasite called Trypanosoma cruzi. Early symptoms can include fever, fatigue, swollen glands and heart pain, but in later years the infection can lead to chronic debilitation caused by progressive destruction of the heart muscle. It occurs mainly in Latin America.
The ULP meeting brought together officials from Catamarca, Córdoba, Jujuy, La Rioja, Mendoza, Neuquén, Río Negro, San Juan, San Luis and Santa Fe. The officials hope are looking to create digital maps of the places where the transmitting vector can be found in Argentina and of the progression of Chagas in the country.  The maps will be matched with geo-referenced epidemiological data using common protocols that would allow health officials to readily exchange information.  All this would enable health officials to track the current spread of the disease — not actually in realtime, but at least closer to it than traditional epidemiological tracking systems — and identify the populations most at risk.
Tags: Argentina, Catamarca, Chagas disease, Córdoba, digital maps, enfermedad de Chagas, Jujuy, La Rioja, mal de Chagas, Mendoza, Neuquen, public health, Rio Negro, salud pública, San Juan, San Luis, Santa Fe, saude, Trypanosoma cruzi, ULP, vigilancia epidemiológica
Subscribe to My Comments Feed
Leave a Reply