« An Environmental Agenda for the Andes | Home | IDB Contemplates Changes in its Water/Sanitation Sector Lending »
By Keith R | January 30, 2007
Topics: Advertising/Promotion, Health Issues, Tobacco Control | 1 Comment »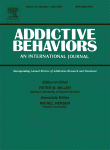 In the most recent print edition of the international scientific journal Addictive Behaviors is an article* by researchers at the Federal University of São Paulo (Unifesp) about the impact of advertising on the smoking behavior of Brazilian youth aged 11-18. [An electronic version of the article was posted in November.] Although the researchers caution that the study does not offer conclusive proof of a causal link, they imply that it does suggest that Brazil's December 2000 broad media ban on cigarette advertising (Law 10,167) is leading to a reduction in teenage smoking.
The article is based on a 2004 survey done of 21,712 middle-school (grades 5-8) and high school (grades 9-12) students in Brazil's ten largest cities, using the same methodology and questionnaire as in a 1997 survey of 15,501 students of the same age group in the same 10 cities. In other words, two snapshots, one three years before the ad ban, the other nearly four years after the ban was adopted.
The survey utilized the self-administered questionnaire developed by the World Health Organization's (WHO) Research and Reporting Project on the Epidemiology of Drug Dependence. Participants were asked about sociodemographic data (gender, age, school grade, socioeconomic status, etc.) and use patterns for several addictive substances (tobacco, marijuana, cocaine, etc.). The ten cities surveyed were: Belém (Pará), Belo Horizonte (Minas Gerais), Brasilia, Curitiba (Paraná), Fortaleza (Ceará), Porto Alegre (Rio Grande do Sul), Recife (Pernambuco), Rio de Janeiro, Salvador (Bahia), São Paulo. In both 1997 and 2004 the greatest block of respondents were in middle school (65.2% in 1997, 71% in 2004), and in each a thin majority were female (54.2% in 1997, 50.5% in 2004).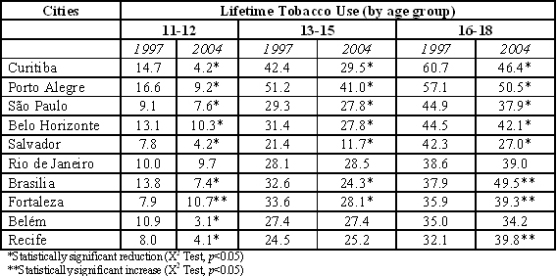 The researchers defined "lifetime tobacco use" as at least once in an individual's lifetime. The 2004 survey found an overall drop in lifetime use from 32.7% in 1997 to 25.02% in 2004, with significant across-the-board drops in seven of ten cities (see chart). Fortaleza saw spikes in tobacco use among 11-12 and 16-18 year olds, while Brasilia and Recife saw increases in just the latter category (substantial increase in the case of Brasilia). Rio saw little change (i.e., no substantial reduction or increase).
Does It Really Show What I Think it Shows?
A few cautions about being too quick and sweeping in interpreting this study. First, it is possible that any downturn in youth smoking in Brazil is due to more than just the ad ban. The two surveys took place roughly equidistant before and after the ad ban, true, but that was hardly the only public anti-smoking influence during the period under study. For example, during that period Brazil's federal government also banned the use of tobacco product brandnames and logos on non-tobacco products, enforced the ban on sales to minors, banned tobacco sponsorship of sporting and cultural events, stepped up public education efforts against smoking, and made cigarettes bear tougher anti-smoking messages and images. Some of the states in this survey even went further.
Furthermore, it is not clear what degree of exposure to cigarette advertising and promotion the various respondents had before the ban. Did the respondents in Belém, at the mouth of the Amazon, really receive as much exposure to such persuasion as did the students in cosmopolitan Rio, one of Brazil's advertising and media poles? Probably not, and if that is the case, then why did the bigger contrast between pre- and post-ban in Rio's media market not result in a significant decline in smoking, if advertising was the key determinant?
It is also worth mentioning that the period in question also represents the principal years for the release and publicizing of the tobacco industry papers due to US litigation, the public concession by major tobacco firms that there is indeed a link between their products and health problems, and the negotiation and conclusion of the WHO Framework Convention on Tobacco Control (FCTC) and the accompanying international attention and debate.
Thus it is difficult to prove that Brazil's federal ad ban was the sole or even main cause of the change.
Second, the survey only covered kids in school — not necessarily those smoking most and most at risk of trying and getting addicted to tobacco. There is still a sizable segment of Brazilian youth, particularly among the low-income population, that drop out of school early and therefore are not reflected here.
Third, there was no control group to compare the results to — i.e., no survey of another country (preferably one with similar sociodemographic characteristics) that did not ban ads during a comparable period. Would a control have shown no downturn (thus suggesting the ad ban was a key determinant), or might it have shown similar reduction trends?
So what can we say about this study? Well, that it provides a rare look at teen experimentation with smoking before and after an ad ban; that it hints that advertising/promotion and such experimentation are linked; but, in the final analysis, further, more finely-tuned study is needed before we can say with any certainty that such advertising bans actually contribute significantly to a decline in smoking.
* Galduroz, J. C. F., Fonseca, A. M., Noto, A. R., & Carlini, E. A. Decrease in tobacco use among Brazilian students: A possible consequence of the ban on cigarette advertising? Addictive Behaviors, In Press, Corrected Proof.
Tags: addiction, advertising, ban, Belém, Belo Horizonte, Brasil, Brasilia, Brazil, Curitiba, drug dependence, FCTC, Fortaleza, health warnings, Porto Alegre, promotion, Recife, Rio de Janeiro, Salvador, São Paulo, smoking, sponsorship, tabagismo, tabaquismo, teenagers, UNIFESP, WHO
One Response to "Do Tobacco Ad Bans Reduce Smoking Among Youth? Results of a Brazilian Study"
drugrehabjohn Says:
September 30th, 2007 at 8:03

American studies on youth, advertising an alcohol attitudes show advertising influencing a significant influence over attitudes and perceptions of harm; and I'd guess that a similar effect carried over for any drug of use and abuse. (source) http://www.troubleblog.com/society/2007133/ and I think the Brazilians are to be credited for at the very least taking some positive steps to better understand the problem.
Leave a Reply