« Bush Asks Senate to Ratify Caribbean Pact on Marine Pollution | Home | Combatting Deforestation I: How Bad Is It in LAC? »
By Keith R | March 14, 2007
Topics: Health Issues, Pharmaceutical Issues | No Comments »
Have you ever bought medicine at a pharmacy in Latin America and the Caribbean (LAC)? I'm not talking about the big, sophisticated ones you might find in Buenos Aires or Rio de Janeiro. I'm speaking of those small ones in places like Santo Domingo or small towns in the Central American countryside, which are often no more than converted homes. Where the person behind the counter dispensing may not be a trained and licensed pharmacist, and he/she may be selling that "prescription-only" pharmaceutical by the individual pill or capsule or one blister pack out of a box of four. Where the "pharmacy" is rarely, if ever, subjected to unannounced inspection by national sanitary officials.
Under such circumstances, can you honestly be certain that the "prescription" medicine just sold to you is actually made by the manufacturer whose brand it seems to carry, much less that it contains the proper mixture and potency of the active ingredients you need?
No.
The World Health Organization (WHO) estimates that these days 10-30% of all medicines sold in developing nations are fakes. I'm not talking about no-name generics or off-brand but bioequivalent imitators. I'm talking about medicines that are made to look like a well-known and trusted brand, but have none of its quality and/or safety and may even contain deadly substitutes to the medicinal ingredients the consumer needs or is seeking.
The pharmaceutical manufacturing industry has worried about this issue for decades and has asked repeatedly for WHO to organize national drug regulatory authorities to combat it. I can remember such requests as far back as the 1980s. For years WHO officials publicly professed to believe it was a serious concern, but rarely found room for a serious response in WHO's budget and programming. Informally they suggested it might be more a concern for developed nation markets and primarily in so-called "lifestyle drugs" such as those to treat erectile dysfunction (Viagra), since this clearly was the most lucrative market for counterfeiters. [To be fair, WHO officials were not alone in this — many national health officials and NGOs took this view and discounted industry's concerns as mostly an indirect attack on generics and parallel imports.]
No longer.

WHO surveys have suggested that as much 60% of known (probably only a fraction of the real number) counterfeit drug cases occurred in developing nations, including LAC. They also found that counterfeit drugs were hardly limited to lifestyle drugs, but also included expensive medicines for life-threatening conditions such as cancer, AIDS, meningitis, tuberculosis (TB) and malaria. After the recent avian influenza ("bird flu") scare caused a worldwide rush to buy the anti-flu drug Tamiflu, fake Tamiflu shipments were discovered in Spain and the Netherlands.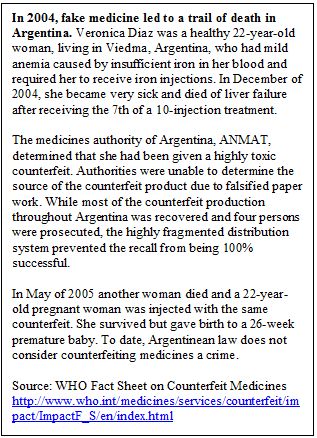 And it is not just a question of flour or corn starch poured into a capsule and passed off as an antibiotic. Some fakes have been found to contain toxic substances, such as antifreeze. Yes, antifreeze! In 1995 89 children died in Haiti from fake paracetamol cough syrup prepared with diethylene glycol (the main ingredient in antifreeze).
A WHO FAQ on counterfeit drugs in English can be found at this link.
As the press release from WHO reproduced below indicates, the Organization is now spearheading an international task force to combat this problem that includes industry (including the Asociación Latinoamericana de Industrias Farmaceuticas), Interpol, the World Trade Organization (WTO), the Commonwealth Secretariat, the OECD, World Bank, health agencies and customs officials. At the moment they are discussing technological approaches for preventing, detecting and tracking counterfeits, but the coalition's work is also looking into new legislation (in Argentina it is not yet a crime to counterfeit drugs!) and regulatory approaches; training, cooperation and information exchange among enforcement officials (including customs); and new surveillance systems for health systems.
All of which is good and necessary, but what is not being discussed enough is who is going to pay for such things in a region such as LAC? The health systems of Argentina, Brazil, Chile, Mexico and perhaps Costa Rica might have or be able to marshal the regulatory, surveillance and enforcement infrastructure and resources in place to implement all these programs, but not the poorer and smaller nations, or even the not-so-small and not-so-poor like Peru and Colombia.
From WHO:
WHO-led anti-counterfeiting coalition examines technologies to prevent fake drugs

13 MARCH 2007 | PRAGUE/GENEVA — More than twenty technology companies are responding to a call to support the fight against counterfeit medicines spearheaded by the International Medical Products Anti-Counterfeiting Taskforce (IMPACT) set up by the World Health Organization (WHO) and partners. They will join the IMPACT Working Group on Technology today for a one-day meeting in Prague to assess technologies which could improve the global prevention, tracking and detection of counterfeit medicines.

"Technologies can speed up health results in all sorts of ways," said Dr Howard Zucker, Assistant Director-General for Health Technology and Pharmaceuticals at WHO and Chair of IMPACT. "In the case of anti-counterfeiting, the challenges we face are finding technologies that cannot themselves be counterfeited and transferring them to resource poor settings at an affordable cost. While technology alone cannot solve the problem, some of these solutions could greatly enhance the ability to detect and deter the distribution of counterfeit medicines."

"Technology can help to contain counterfeiting, but it is not a magic bullet that will stop this problem on its own," said Dr. Harvey Bale, Director General of the International Federation of Pharmaceutical Manufacturers & Associations and Chair of the IMPACT Technology Working Group. "In looking at these technologies, we will need to assess carefully their applicability in developing countries and their potential synergy with other approaches to stop this criminal activity which can and does result in the deaths of patients."

Counterfeit medicines are on the rise in most countries but are particularly widespread and dangerous in developing regions. IMPACT's most recent figures estimate counterfeits at around 1% of sales in developed countries to more than 10% in developing countries. However, in parts of Africa, Asia and Latin America, more that 30% of the medicines on sale can be counterfeit, while in some former Soviet republics, counterfeits make up more than 20% of the market.

Different technological approaches, ranging from the simple to the more complex, are available or in development. Overt verification tools, including holograms or colour-shift inks, are cheap but relatively easily copied. Covert tools, such as invisible printing and digital watermarks, are more expensive and require special devices to check.

Forensic technology, essentially chemical or biological tags built into medicines packaging, are even more secure against copying but significantly more costly and provide no visible reassurance to customers. Serialization or track/trace systems, using technologies such as bar codes and radio frequency identification (RFID), help provide authentication by allowing a medicine to be tracked through the supply chain. These require an expensive technical infrastructure and are not completely immune to "hacking".

However, these technologies cannot by themselves stop counterfeiting. Computer and technological illiteracy, lack of infrastructure and cost may limit the ability of technology to deliver solutions, especially in the poorer parts of the world where the threat posed by counterfeiting is greatest.

"Technology needs to be combined with other measures including tough legislation and regulations against counterfeiting, rigorous enforcement, stiffer penalties, and diligent surveillance on the part of the authorities and healthcare providers," said Dr Valerio Reggi, coordinator of the IMPACT secretariat at WHO. "IMPACT recognizes this and has complementary working groups looking at how each of these areas can be strengthened and made to work together in harmony."

In assessing existing and emerging technologies, the Prague meeting will examine a) cost; b) scalability; c) specific country needs and situations; d) feasibility; and e) regulatory implications. The meeting will also look at mechanisms to facilitate exchange of information on technologies and their implementation; disseminate information and recommendations on the merits and limitations of technologies; and demonstrate the benefit of chosen technological approaches to the end user – the patient.
Tags: AIDS, avian influenza, Banco Mundial, bar codes, biological tags, bird flu, cancer, chemical tags, Commonwealth Secretariat, cough syrup, counterfeit drugs, counterfeit medicines, counterfeiting, forensic technology, generic drugs, Haiti, IFPMA, IMPACT, Interpol, malaria, medicamentos, medicinas, medicines, meningitis, OCDE, OECD, OMS, paracetamol, parallel imports, pharmaceuticals, RFID, Tamiflu, tuberculosis, WHO, World Bank, WTO
Subscribe to My Comments Feed
Leave a Reply