« A Cell Phone Recycling Deal for Chile | Home | GEF Funds Project to Protect Caribbean Sea from Pesticides »
By Keith R | April 25, 2007
Topics: Health Issues, Pharmaceutical Issues | 1 Comment »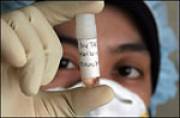 From the World Health Organization (WHO):
WHO facilitates vaccine technology transfer to developing countries

As part of a concerted effort to ensure more equitable access to a potential pandemic influenza vaccine, six developing countries are being awarded grants to establish in-country manufacturing capacity for influenza vaccine. The countries are Brazil, India, Indonesia, Mexico, Thailand and Viet Nam.

Up to US$ 2.5 million from the governments of Japan and the United States of America will go towards each of the six countries as immediate funding to begin the process of acquiring the needed technology. Japan has provided US$ 8 million and the United States US$ 10 million for technology transfer.

"It is imperative that the global community works collectively to ensure more equitable access to a vaccine and other health measures in the event of an influenza pandemic. We all have a responsibility to protect global public health security," said Dr David L. Heymann, WHO Assistant Director-General for Communicable Diseases. "Global public health security can only be realized if developing countries are assisted in developing the capabilities to access pandemic vaccines and protect their populations."

"With increased developing country flu vaccine production, there is a dual life-saving benefit. Countries will be able to protect their populations against seasonal influenza, which causes up to half a million annual deaths worldwide, as well as millions of cases of severe illness. In addition, should a pandemic emerge, production lines at these facilities can be converted to manufacture vaccine based on the pandemic strain," said Dr Marie-Paule Kieny, Director of the WHO Initiative for Vaccine Research.

The grants are part of the implementation of the Global Pandemic Influenza Action Plan, which aims to close the influenza vaccine production gap of several billion doses.

"The current global influenza vaccine manufacturing capacity is far short of the capacity needed to protect the world's 6 billion people in the event of an influenza pandemic," said United States Secretary of Health and Human Services Mike Leavitt. "These grants are an important step forward in the global effort to prepare for an influenza pandemic, and I am proud the United States was able to contribute to the support of this funding. I commend the WHO for its continued leadership in guiding these efforts, but much more needs to be done by all of us as global partners to ensure we are better prepared tomorrow than we are today."

It will take a minimum of three to five years for the grant recipient countries to begin producing vaccine locally. Until then, these countries will require support in the shorter term to ensure they can access vaccine to protect their populations. In this context, WHO is hosting a meeting on 25 April to examine options. The meeting will bring together representatives of countries with human H5N1 infections, donor countries, and vaccine manufacturers in developed and developing countries.
Desde la Organización Mundial de la Salud (OMS):
La OMS facilita la transferencia a los países en desarrollo de tecnologías para la fabricación de vacunas antigripales

Como parte de un esfuerzo concertado por asegurar un acceso más equitativo a una potencial vacuna contra la gripe pandémica, seis países en desarrollo (Brasil, India, Indonesia, México, Tailandia y Viet Nam) van a recibir subvenciones para que puedan adquirir la capacidad de producir vacunas antigripales.

Cada uno de esos países recibirá del Japón y de los Estados Unidos de América una suma de hasta US$ 2,5 millones como financiación inmediata para iniciar el proceso de adquisición de la tecnología necesaria. El Japón y los EE.UU. han aportado US$ 8 millones y US$ 10 millones, respectivamente, para transferencia de tecnología.

«Es imperativa una labor colectiva de la comunidad mundial para asegurar un acceso más equitativo a las vacunas y a otras medidas sanitarias en caso de que se produzca una pandemia de gripe. La responsabilidad de proteger la seguridad mundial en materia de salud pública es de todos», ha dicho el Dr. David L. Heymann, Subdirector General de la Organización Mundial de la Salud (OMS) para Enfermedades Transmisibles. «La seguridad mundial en materia de salud pública sólo se puede lograr si los países en desarrollo reciben asistencia para desarrollar capacidades que les permitan acceder a las vacunas contra la gripe pandémica y proteger así a su población.»

«Con el aumento de la producción de vacunas antigripales por los países en desarrollo se obtiene un doble beneficio. Por una parte, los países podrán proteger a su población de la gripe estacional, que cada año causa en todo el mundo hasta medio millón de muertes y varios millones de casos de enfermedad grave. Además, si se produjera una pandemia, las líneas de producción podrían pasar a fabricar vacunas basadas en la cepa pandémica», ha dicho la Dra. Marie-Paule Kieny, Directora de la Iniciativa OMS para la Investigación de Vacunas.

Las subvenciones forman parte de la aplicación del Plan de Acción Mundial de la OMS contra la Gripe Pandémica, cuyo objetivo consiste en reducir el déficit de la producción de vacunas, que asciende a varios miles de millones de dosis.

«En la actualidad, la capacidad mundial de fabricación de vacunas antigripales es muy inferior a la necesaria para proteger de una eventual pandemia de gripe a los 6000 millones de habitantes del planeta», ha dicho Mike Leavitt, Secretario de Salud y Servicios Sociales de los EE.UU. «Estas subvenciones son un gran paso adelante en el esfuerzo mundial de preparación para una pandemia de gripe, y estoy orgulloso de que los EE.UU. hayan podido contribuir a su financiación. Elogio a la OMS por su liderazgo continuo en esta materia, aunque todos los asociados mundiales tenemos que hacer mucho más para asegurar que mañana estemos mejor preparados que hoy.»

Serán necesarios al menos 3 a 5 años para que los países subvencionados empiecen a producir vacunas localmente. Hasta entonces, necesitarán un apoyo a más corto plazo para asegurar su acceso a la vacuna y la protección de su población. En este contexto, la OMS albergará el 25 de abril una reunión en la que se examinarán las opciones existentes. La reunión contará con la participación de representantes de los países que han sufrido casos humanos de infección por virus H5N1, de los países donantes y de los fabricantes de vacunas de los países desarrollados y en desarrollo.
Tags: Brasil, Brazil, flu vaccine, India, Indonesia, influenza, Japan, Japón, Mexico, OMS, pandemia, public health, salud pública, saude, Tailandia, technology transfer, Thailand, transferencia de tecnología, vaccine, vacuna, vacunas antigripales, Viet Nam, WHO
One Response to "Flu Vaccine Technology to Be Transfered to Brazil, Mexico"
CIT2 News Wire » Blog Archive » Flu Vaccine Technology to Be Transfered to… Says:
April 25th, 2007 at 16:24

[…] read full story […]
Leave a Reply