« Energy Efficiency Grant for Argentina / Donación para eficiencia energética en Argentina | Home | The Carbon Footprint of Biofuels »
By Keith R | June 27, 2008
Topics: Corporate Social Responsibility, Health Issues | 1 Comment »

If you happen to be in Anguilla, Antigua & Barbuda, Barbados, Dominica, St. Lucia, St. Kitts & Nevis, St. Maarten or Jamaica tomorrow, Friday 27 June, stop by the local branch of Scotiabank.

Why? Because Scotiabank, in cooperation with the local health authorities and members of the Caribbean Broadcast Media Partnership on HIV/AIDS (CBMP), is hosting private, voluntary on-site HIV testing and counseling. As I mentioned last year, 27 June is HIV Test Awareness Day. The Scotiabank/CBMP event has been fully endorsed by the Pan Caribbean Partnership against HIV and AIDS (PANCAP).
If you need or want testing, here's your opportunity. If you have engaged in risky sexual behavior, have a partner you're unsure of, want to reassure your current or prospective partner, or have received a blood transfusion you have nagging questions about, you only have two basic choices: test and know, or wait and pray.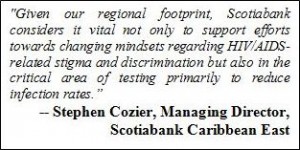 Even if you don't want/need to be tested, stop by to thank the local Scotiabank manager for making it possible. It's a very socially responsible thing for them to do, and not necessarily an easy one given the stigma HIV/AIDS still has in many parts of the Caribbean. It's also not cheap to do.
But very much needed. The Caribbean is second only to Sub-Saharan Africa in terms of HIV prevalence, but far too under-tested and under-treated.
I hope that Scotiabank and CBMP soon carry through with this initiative in the rest of Scotiabank's branches throughout the Caribbean, namely the Bahamas, Belize, Cayman Islands, the Dominican Republic, Grenada, Guyana, St. Vincent and the Grenadines, Trinidad and Tobago, and Turks & Caicos.

Loading ...
Tags: AIDS, Anguilla, Antigua and Barbuda, Barbados, Caribbean, Caribe, CBMP, diagnostics, Dominica, HIV, HIV Test Awareness Day, PANCAP, public health, salud pública, Scotiabank, SIDA, St. Kitts and Nevis, St. Lucia, St. Maarten, VIH
One Response to "Get Tested, Caribbean"
Barbados Free Press Says:
June 27th, 2008 at 13:48

[…] … read the rest including testing in other countries at Temas Blog (link here) […]
Leave a Reply