« Paraná Seeks to Cut Pesticide Use | Home | Deadline Near for Long Neck Beer Bottles »
By Keith R | August 5, 2008
Topics: Hazardous Substances, Health Issues | No Comments »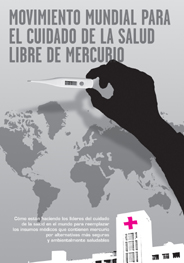 In July the Autonomous City of Buenos Aires (CABA) proudly announced that all public hospitals within city limits had eliminated their inventory of old fashioned mercury thermometers and replaced them with digital ones.
Why is that significant?
A 2006 study done by CABA's Environmental Health office found that the City's public hospitals emitted about 40 kg of mercury into the environment every year. [It has been estimated that all the hospitals and clinics in Argentina together may emit as much as one metric ton of mercury every year.] Mercury is a toxic, bioaccumulative heavy metal that can harm the human nervous system if breathed in vapor form.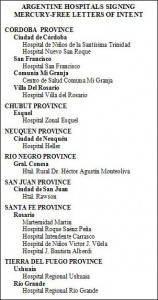 As a result of the finding, CABA's Health Minister signed in July 2006 a Letter of Intent to Eliminate Mercury promoted by the coalition of nongovernmental organizations (NGOs) known as Health Care Without Harm (Coalición Salud Sin Daño). Now that CABA has eliminated its mercury thermometers, it is focusing on doing likewise with its sphygmomanometers (blood pressure monitors), replacing them with aneroid versions.
The Coalition (whose Latin American office is based in Buenos Aires) counts CABA's action as one of its big achievements in LAC. The Argentine provinces of Chaco, Jujuy and La Rioja, as well as several individual hospitals in other provinces (see box), also have signed similar letters of intent and are in the process of eliminating mercury-containing instruments in their hospitals.
The movement is spreading, with 92 hospitals in São Paulo, Brazil and a handful of hospitals in Mexico City joining in, and the Government of Costa Rica announcing that it will phase out all mercury instruments in its hospitals and clinics by year-end.
Tags: Argentina, blood pressure monitors, Buenos Aires, Chaco, Costa Rica, Hazardous Substances, Health Without Harm, heavy metals, hospitals, mercurio, mercury, metales pesados, Mexico City, public health, salud pública, Salud Sin Daño, São Paulo, sphygmomanometers, sustancias peligrosas, tensiómetros, termómetros, thermometers, toxicos, toxics
Subscribe to My Comments Feed
Leave a Reply