« Recycling Coconuts II: Need Anything Be Wasted? | Home | GEF Funds Climate Change Adaptation in Small Caribbean States »
By Keith R | November 2, 2006
Topics: Health Issues | No Comments »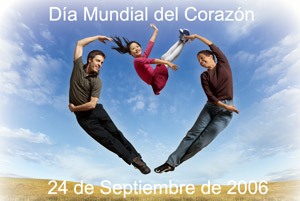 Did LAC Residents Celebrate World Heart Day?
September 24 was World Heart Day. Did you do anything to note its passage? Did you ever know it existed?
I didn't.
Oh, I guess intellectually I knew that one had to exist — after all, there is a "world something day" for almost everything nowadays. What probably started as a good idea to bring world public and media attention to particular causes or problems at least once a year — such as World Environment Day or World No Tobacco Day — has had its currency devalued by the flood of "days" for almost anything imaginable, whether important, somewhat important, mundane or downright trivial.
Which is a shame, but that is a rant for another day and another blog, since I did promise you that the Temas Blog would not devolve to yet another rant sheet (even though that tends to bring in the flood of readers!)
I didn't know and didn't observe World Heart Day, and my guess is that most of you didn't either. It does not seem to have been given much media play here in the US, which is frankly puzzling given the levels of heart disease here and the risks thereof that the lifestyle of the average American poses.
A look at the major press organs of Latin America and the Caribbean (LAC) finds a similar low level of media attention. A check of the websites of the Pan American Health Organization (PAHO) and the region's Health Ministries (see "Temas Tools" at right to find the links to the Health Ministries) finds no press releases or special events noted for World Heart Day 2006. In fact, on many of the event calendars of the Ministries the Day is not even noted. So if the LAC public overlooked the Day, they could probably be forgiven.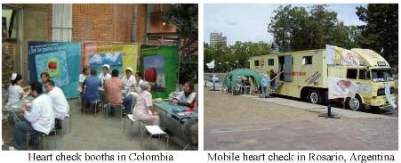 Did they overlook it? Not quite.
Events ranging from free health checks to walks to special lectures were held in 16 LAC nations (Argentina, Barbados, Brazil, Chile, Colombia, Cuba, Ecuador, Grenada, Honduras, Jamaica, Mexico, Panama, Paraguay, St. Vincent & the Grenadines, Uruguay, Venezuela), most sponsored by local affiliates of the Geneva-based World Heart Federation (WHF), the main sponsor of World Heart Day. WHF is a nongovernmental organization (NGO) comprising 189 member societies of cardiology and heart foundations from over 100 countries. WHF launched World Heart Day in 1999 with the help of the World Health Organization (WHO), the United Nations Educational, Scientific and Cultural Organization (UNESCO) and the UN's Office of Sport for Development and Peace.
But for the most part the events were low-profile with low turnout and minimal press coverage.
Strangely enough, WHF members and affiliates in Bahamas, Belize, Bolivia, Costa Rica, the Dominican Republic, El Salvador, Guatemala, Guyana, Nicaragua, Peru, St. Lucia, and Trinidad and Tobago did not sponsor World Heart Day events in 2006.
I'm not sure of all the why's and wherefore's for this, but know for certain that LAC is one region where greater awareness of cardiovascular disease and its risk factors is sorely needed. What is my basis for saying so? One glance at this pie chart of the major causes of death in LAC, put together by the experts working with the Disease Control Priorities Project (DCPP)*, should answer that:
I think for 2007's World Heart Day PAHO, national Health Ministries and national health services, the major hospitals, medical schools and cardiologists associations and colleges need to start planning now to make it a higher profile, higher impact event.
In Part II of "Hearts and Minds," I'll take a look at the international cardiovascular disease survey released on World Heart Day 2006 that first brought the Day to my attention.
— Keith R
* A project supported by the WHO, World Bank, US National Institutes of Health (NIH), the Bill and Melinda Gates Foundation, and the Population Reference Bureau (PRB).
Tags: Argentina, Barbados, Bill & Melinda Gates Foundation, Brazil, Chile, Colombia, Cuba, DCPP, Día Mundial del Corazón, Ecuador, Grenada, Honduras, Jamaica, Mexico, NIH, OMS, OPS, PAHO, Panama, Paraguay, PRB, St. Vincent & the Grenadines, UNESCO, Uruguay, Venezuela, WHF, WHO, World Bank, World Heart Day
Subscribe to My Comments Feed
Leave a Reply