« A Deal to Improve Bogotá's Air | Home | The Cost of Argentina's Missing National Tobacco Control Law »
By Keith R | July 26, 2007
Topics: Food/Beverage Issues, Health Issues, Tobacco Control | No Comments »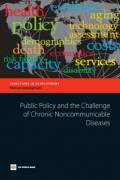 Last month the World Bank issued an interesting report on chronic non-communicable chronic diseases (NCDs) such as cardiovascular disease, cancer, diabetes, and chronic lung or kidney disease, which I am adding to the Temas Recommended Reading List section on health.
Perhaps by now you're thinking that I have some sort of obsession about NCDs, since I have touched on it several times in The Temas Blog, from World Heart Day in LAC, to the Interheart study, to PAHO's battle with trans-fat, to the many anti-tobacco initiatives in the region, to Argentina's pursuit of a healthier lifestyle, to Brazilian attitudes about cancer, to Uruguay's assessment of NCD risk factors.
Obsession, no. Legitimate concern, yes.
Until recently, most Latin American and Caribbean (LAC) nations did not regard NCDs as a high public health priority for their countries and did not address it adequately. In fact, I recall a health minister from a LAC nation at the end of the 1980s telling a group I was in that NCDs were "rich countries' concerns, lifestyle diseases that concern us poor countries less than malaria, Chagas and diarrheal disease…"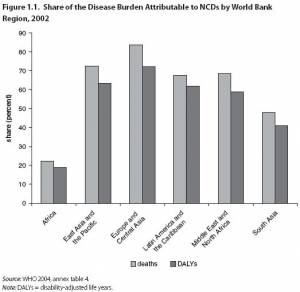 No more. The graphic at right, taken from the Bank report, shows that NCDs account for nearly 70% of deaths in LAC, and nearly as much disability (as measured in disability-adjusted life years – DALYs). The report emphasizes the importance of both, since it is not enough to just reduce mortality from NCDs, but also to reduce morbidity and promote "healthy aging."
The graphic (as does the Bank report) also makes it clear that LAC is far from alone among developing countries in this respect.
The burden on health care systems is considerable and growing. In LAC, the economic burden of diabetes alone is estimated about US$65 billion annually, or as much as 5% of GDP in many LAC nations.
Options for Nations
The report suggests that one option is for developing countries to work to identify their specific NCD risk factors (as Uruguay recently did) seek to reduce them, whether through legislation (such as cigarette taxes or nutrition labeling) and/or information/education campaigns and/or behavioral change interventions. Another is setting up NCD screening during regular medical check-ups and timely treatment as appropriate.
Options for the Bank
As for the Bank and its lending and programs? The report suggests a leading role for the Bank in helping generate the research to help developing countries plug key data gaps and aid in deciding appropriate policy options. In particular, the Bank can help answer key questions such as
What are the costs and benefits of treating NCDs?
What are the market failures and how should they be addressed?
Are public subsidies for treating NCDs through public health care systems more likely to benefit the rich or the poor?
The report also strongly recommends that the Bank support programs concerning (1) the long-term monitoring of households; (2) monitoring and impact evaluation of large-scale programs for NCD prevention and control.
The Bank can also co-sponsor (presumably with the WHO regional offices, such as PAHO) inter-sectoral forums to jointly address specific issues such as tobacco control (such as LAC's new RIACT), alcohol abuse, food and nutritional policies to prevent obesity, and programs to promote greater physical activity.
The Key Conclusion
Overall, the appropriate policy response will entail avoiding the looming NCD burden to the extent possible, for example, through public health interventions and improved health care, while simultaneously preparing to deal with the health system and cost pressures arising from the increase in NCDs resulting from demographic forces. Policy makers should be made aware of both issues. An exclusive focus on prevention may lead to unrealistic expectations of a disease-free future, and thus a lack of readiness for emerging challenges. An overemphasis on aging, however, could result in a mistaken belief that policy cannot make a difference. The case for the World Bank and its clients to respond with action on both fronts is compelling.
_____________________________________
From the World Bank:
Poor Countries Catching up with Rich Nations in Cancers, Diabetes, Heart Disease and Other Chronic Illnesses

A new World Bank report launched today warns that poor countries are catching up with wealthier nations in terms of cancer, diabetes, obesity, and heart disease, and that by 2015, these chronic illnesses will be the leading cause of death in developing countries. The report calls for actions to slow down the trend, and to prepare for subsequent heavy demand on health care budgets.

According to the new report—Public Policy and the Challenge of Chronic Non-communicable Diseases—rising life expectancy for all age groups, lower fertility rates, better control of infectious diseases, and changing lifestyles with more smoking, bad diets and lack of exercise, mean that poor countries face a future where non-communicable diseases (NCDs) become a major problem. The report says that countries need to promote healthy aging and avoid premature deaths. They will also need to adapt their health systems to cope with the growing numbers of elderly people who will require long-term care and request expensive treatment. The report says that in Indonesia, for example, private healthcare spending is projected to more than double by 2020, compared to 2005, as its elderly population grows in size, and needs treatment for chronic diseases.

NCDs are not restricted to older people and represent an important cause of illness and death among people of working age. Moreover, about three-quarters of the NCD disability burden in low- and middle-income countries occurs among those between the ages of 15 and 69, at the peak of economic productivity.

"Many studies tend to underestimate the real cost of non-communicable diseases to individual people and their families, which can cause a household to slip below the poverty line," says Joy Phumaphi, Vice President of the World Bank's Human Development Network, and a former Minister of Health in Botswana from 1999-2003. "When a family member falls sick with a chronic illness, families in developing countries often tap into their meager savings, or sell what they own to cover the costs of care and lost wages. Another way families cope is to have women and children care for their sick relatives, which can mean that children have to leave school during a health crises to care for a sick older relative, earn extra money, or use money put aside for their education to help cover medical costs. Although these effects of poor health are not unique to NCDs, the longer duration of chronic disease makes the financial costs heavier than in the case of acute illnesses."

At the national level, the reports say that the social and economic costs of NCDs can be very expensive. For example:

Cardiovascular disease (CVD) costs between 1 and 3 percent of GDP in most developed countries. The annual per capita burden of CVD is about US$4 to US$8 in China and India, US$15 to US$30 in Brazil and South Africa, and about US$70 to US$90 in Russia.
The direct costs of diabetes are between 2.5 to 15.0 percent of annual health care budgets, depending on local prevalence and the sophistication of available treatments. Among low- and middle-income countries, total diabetes-related costs were highest in Latin America and the Caribbean, where the economic burden of diabetes has been estimated at US$65 billion annually, or typically between 2 and 4 percent of GDP in most countries.

How can countries better respond to NCDs?

The report suggests that low and medium income countries have a number of broad options which could help them promote healthy aging and avoid premature deaths.

The first is achieving higher incomes through economic growth. Higher incomes can help households escape the vicious circle of poor health and poverty by reducing their vulnerability to falling ill and giving them treatment choices when they do become ill.
The second option is reducing NCD risk factors, for example, tobacco use, obesity, high cholesterol, and high blood pressure, outside the clinical setting. This could take the form of legislation, such as cigarette taxes or mandatory nutrition labeling, or it may entail the provision of information and behavior change interventions to address such factors as smoking, drinking, diet, and exercise in a range of settings, for instance, at the population, community, workplace, or school levels.
The third is screening people for NCDs during normal medical check-ups, and providing timely treatment.

Many NCD interventions are cost-effective for developing countries, especially cigarette taxes, for example, which are possibly the most effective intervention around for getting people to stop smoking, which in turns curbs cancer, heart disease, and other forms of chronic illness.

Tobacco control through tax increases often has the twin virtues of raising tax revenues as well as discouraging new smokers, and encouraging older ones to quit. Raising cigarette prices by as much as 33 percent would bring huge benefits to poor countries battling the social and economic costs of smoking-related illness. Banning advertising, providing health education information, and forbidding smoking in public places, are also relatively cost-effective in low-income countries and important components of any tobacco control program. Replacing dietary trans fat with polyunsaturated fat is likely to be effective where the intake of trans fat is high. Depending on the location, health centers and hospitals can provide early treatment to control high blood pressure, and low-cost treatments for heart attacks.

The report sends two messages to governments and policymakers: the appropriate response to the looming problem is to prevent as much of it as possible through public health interventions and medical care, and simultaneously to prepare for new pressures on their budgets and health systems. The authors stress that much can be done.

"An exclusive focus on prevention may lead to unrealistic expectations of a disease-free future, and a failure to prepare for emerging challenges. But an overemphasis on aging could result in a mistaken belief that policy cannot make a difference against these chronic diseases," says Olusoji Adeyi, the World Bank's Coordinator for Public Health Programs, who led the team that wrote the report. "We find a compelling case for actions on both fronts; avoiding much of the chronic disease burden, and preparing to deal with large demands on health budgets and systems."
Tags: advertising, alcohol abuse, América Latina, Banco Mundial, Brasil, Brazil, cancer, cardiovascular disease, Caribbean, Caribe, cholesterol, cigarette taxes, colesterol, DALYs, diabetes, diet, disability, disability-adjusted life years, enfermedades cardiovasculares, health care systems, high blood pressure, India, Latin America, non-communicable diseases, nutrition labeling, obesidad, obesidade, obesity, polyunsaturated fat, risk factors, Russia, smoking, South Africa, Tobacco Control, trans-fat, World Bank
Subscribe to My Comments Feed
Leave a Reply