« Uruguay Tightens the Screws on Tobacco | Home | Still Possible to Challenge Projects on Environmental Grounds in Trinidad »
By Keith R | June 17, 2009
Topics: Health Issues | No Comments »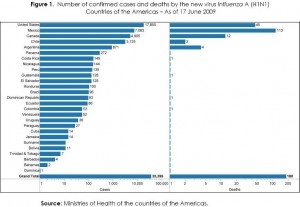 From the Inter-American Development Bank (IDB):
IDB provides support for prevention and control of the A(H1N1) influenza pandemic in Latin America, Caribbean

Japan top donor in Bank's contribution to project aimed at strengthening disease surveillance and improving response to public health emergencies, to focus initially in Central America

The Inter-American Development Bank approved today a $5 million grant for a program aimed at supporting prevention and control of the A(H1N1) influenza epidemic and other infectious diseases in Latin America and the Caribbean, with an initial focus on Central America.

Japan is the top donor country for this initiative, providing $2 million of the total $5 million through its Japan Special Fund.

The Bank's contribution to this program, developed in coordination with the Pan American Health Organization (PAHO) and the U.S. CDC Foundation, was initially announced by the IDB on May 1st, at the early stages of the A(H1N1) influenza outbreak. Today's approval confirms resource allocation days after the disease was declared a pandemic by the World Health Organization (WHO).

As of June 15, 2009, 76 countries had officially reported 35,928 cases of influenza A(H1N1) infection, according to the latest available WHO update. The disease has mainly affected the Western Hemisphere, with 90 percent of all confirmed cases. The latest PAHO update, dated June 16, 2009, reports almost 18,000 cases in the United States, over 6,000 in Mexico, over 4,000 in Canada, over 2,300 in Chile and 733 in Argenttina.

"The operation starts with Central America but it is not limited to Central America," said Amanda Glassman, a principal social development specialist at the IDB. "It builds on previous regional efforts to strengthen epidemiological surveillance through the Mesoamerica Epidemiological Surveillance Project, and it will also build on Mexico's experience to control spread of the disease."

The Central American epidemiological surveillance project was launched in 2006 with a $150,000 grant from the IDB, and the initial studies leading to the creation of such system, in 1999, were financed by the Bank as well.

The program includes the creation of a shared database of disease occurrence and patterns in Central American countries, to provide timely information that will enable national health authorities to take preventive action more effectively.

A regional public health laboratory network aims at confirming cases of infectious diseases with cross-border potential, while a regional public health emergency information, communication and response system will further assist authorities in analyzing surveillance data to guide disease prevention and control.

A regional meeting to share experiences and identify best practices is also anticipated.
____________________
Desde el Banco Interamericano de Desarrollo (BID):
BID brinda apoyo para la prevención y el control de la pandemia de gripe A(H1N1) en América Latina y el Caribe

Con decidido apoyo de Japón se materializó donación del Banco a un proyecto para fortalecer la vigilancia epidemiológica y mejorar la respuesta a emergencias de salud pública en la región, que se lanza inicialmente en Centroamérica

El Banco Interamericano de Desarrollo aprobó hoy una donación de US$5 millones para un programa de prevención y control de la pandemia de gripe A(H1N1) en América Latina y el Caribe, que se concentrará al comienzo en América Central.

El mayor donante individual de esta iniciativa fue Japón, con un aporte de US$2 millones provenientes del Fondo Especial Japonés.

El programa se desarrollará junto a la Organización Panamericana de la Salud (OPS) y la Fundación CDC de Estados Unidos. El BID había anunciado su aporte el 1 de mayo recién pasado, durante las etapas iniciales del brote de gripe A(H1N1). La aprobación de hoy ratifica la asignación de recursos pocos días después de que la enfermedad fuera declarada pandemia por la Organización Mundial de la Salud (OMS).

Al 15 de junio de 2009, se habían declarado 35,928 casos de gripe A(H1N1) en 76 países del mundo, según informa la última actualización de la OMS. Hasta ahora, la enfermedad ha afectado principalmente al continente americano, que concentra el 90 por ciento de los casos. La hoja de actualización de la OPS, con fecha 16 de junio, daba cuenta de casi 18.000 casos confirmados en Estados Unidos, más de 6.000 casos en México, más de 4.000 en Canadá, 2.300 en Chile y 733 en Argentina.

"La operación comienza en América Central pero no se limita a América Central", dice Amanda Glassman, especialista en desarrollo social del BID y jefa del equipo del proyecto. "Aprovecha los esfuerzos anteriores de la región a través del Programa Mesoamericano de Vigilancia Epidemiológica y aprovechará también de la experiencia de México para controlar la propagación de la enfermedad".

El Programa Mesoamericano de Vigilancia Epidemiológica se lanzó en 2006 con el apoyo de US$150.000 donados por el BID. En 1999, el Banco financió también los estudios iniciales que condujeron a la creación del sistema.

El nuevo programa incluye el desarrollo de una base de datos compartida sobre brotes y patrones de enfermedades en los países de América Central, dando a las autoridades de salud pública información oportuna para tomar medidas de prevención más efectivas.

El proyecto contempla la creación de una red de laboratorios de salud pública para confirmar casos de enfermedades contagiosas con riesgos de cruzar fronteras.

También el establecimiento de un sistema regional de información, comunicación y respuesta a las emergencias de salud pública, que facilitará el análisis de datos para la definición de medidas de prevención y control sanitarias. También se espera un encuentro regional para compartir experiencias e identificar mejores prácticas.
____________________
Desde o Banco Interamericano de Desenvolvimento (BID):
BID fornece apoio para prevenção e controle da pandemia de influenza A(H1N1) na América Latina e Caribe

O Japão é o principal doador na contribuição do Banco para um projeto destinado a fortalecer a vigilância sanitária e melhorar a resposta a emergências de saúde pública, com foco inicialmente na América Central

O Banco Interamericano de Desenvolvimento aprovou hoje uma doação de US$ 5 milhões para um programa destinado a apoiar a prevenção e controle da epidemia de influenza A(H1N1) e outras doenças infecciosas na América Latina e Caribe, com foco inicial na América Central.

O Japão está fornecendo US$ 2 milhões do total de US$ 5 milhões por meio de seu Fundo Especial do Japão; os US$ 3 milhões restantes vêm do capital ordinário do BID.

A contribuição do Banco para esse programa, desenvolvido em coordenação com a Organização Panamericana de Saúde (OPAS) e a CDC Foundation norte-americana, foi anunciada inicialmente pelo BID em 1º de maio, nos primeiros estágios do surto de influenza A(H1N1). A verba aprovada hoje confirma a alocação de recursos poucos dias depois de a doença ter sido declarada pandemia pela Organização Mundial de Saúde (OMS). Até 12 de junho de 2009, um total de 29.669 casos de infecção pelo vírus da influenza A(H1N1) haviam sido oficialmente notificados em 74 países, de acordo com as informações mais recentes disponíveis nas atualizações da OMS sobre a doença.

"A operação começa pela América Central, mas não é limitada a essa região", disse Amanda Glassman, especialista em desenvolvimento social do BID. "Ela amplia esforços regionais anteriores voltados a fortalecer a vigilância epidemiológica no âmbito do Programa Mesoamericano de Vigilância Epidemiológica e também fará uso da experiência do México para controlar a disseminação da doença."

O Programa Mesoamericano de Vigilância Epidemiológica foi lançado em 2006 com uma doação de US$ 150.000 do BID, que também financiou os estudos iniciais, em 1999, que levaram à criação desse sistema.

O programa inclui a produção de um banco de dados compartilhado de ocorrência e padrões de doenças nos países da América Central, para proporcionar informações atualizadas que permitirão às autoridades nacionais de saúde adotar ações preventivas de maneira mais eficaz.

Uma rede regional de laboratórios de saúde pública atuará na confirmação de casos de doenças infecciosas com potencial de cruzar fronteiras, enquanto um sistema regional de informação, comunicação e resposta a emergências de saúde pública proporcionará uma ajuda adicional às autoridades para analisar os dados da vigilância epidemiológica a fim de orientar a prevenção e o controle de doenças.

Prevê-se também a realização de uma reunião regional para compartilhar experiências e identificar as melhores práticas.
Tags: A(H1N1) influenza, América Central, BID, Central America, disease surveillance, IDB, Mesoamer, OMS, OPS, PAHO, public health, salud pública, saúde pública, vigilancia sanitaria, WHO
Subscribe to My Comments Feed
Leave a Reply