« São Paulo Launches Ambitious Research Program on Climate Change / São Paulo Lança Programa de Pesquisa sobre Mudanças Climáticas | Home | An E-Waste Bill for Santa Catarina / Projeto de Lei Sobre E-Lixo para Santa Catarina »
By Keith R | September 17, 2008
Topics: Health Issues | No Comments »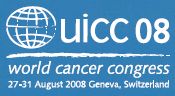 The World Cancer Congress recently concluded with by adopting the World Cancer Declaration (WCD), a global plan of action to combat cancer, particularly in developing countries such as those of Latin America and the Caribbean (LAC).
The Declaration has already been endorsed by hundreds of organizations, including many health ministries (such as Chile's) and other bodies in charge of their country's cancer policy (such as Brazil's National Cancer Institute – INCA), and it has the open support of World Health Organization (WHO) Margaret Chan.  Chances are good that its targets will be incorporated into WHO and Pan American Health Organization (PAHO) work on this issue as well as national policies regarding cancer.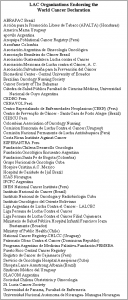 The Congress was hosted by the International Union Against Cancer (UICC), a Geneva-based nongovernmental organization (NGO) dedicated exclusively to the global control of cancer, with over 300 member organizations in more than 100 countries.  Among other things, over the decades UICC has been one of the strongest advocates for tobacco control and WHO's Framework Convention on Tobacco Controls (FCTC).
The Declaration sets a series of targets for 2020:
Sustainable delivery systems will be in place to ensure that effective cancer control programs are available in all countries;
The measurement of the global cancer burden and the impact of cancer control interventions will have improved significantly;
Global tobacco consumption, obesity and alcohol intake levels will have fallen significantly;
Populations in the areas affected by HPV and HBV will be covered by universal vaccination programs;
Public attitudes towards cancer will improve and damaging myths and misconceptions about the disease will be dispelled;
Many more cancers will be diagnosed when still localized through the provision of screening and early detection programs and high levels of public and professional awareness about important cancer warning signs;
Access to accurate cancer diagnosis, appropriate cancer treatments, supportive care, rehabilitation services and palliative care will have improved for all patients worldwide;
Effective pain control measures will be available universally to all cancer patients in pain;
The number of training opportunities available for health professionals in different aspects of cancer control will have improved significantly;
Emigration of health workers with specialist training in cancer control will have reduced dramatically;
There will be major improvements in cancer survival rates in all countries.
UICC is urging regional organizations and national governments to adopt their own declarations based on the WCD, preferably with more specific (quantitative) targets where possible. In all likelihood PAHO will do something along these lines, as will several LAC nations (I'm willing to bet at least Brazil, probably Argentina and Uruguay too).
UICC has pledged to report every two years on implementation of the Declaration.

From the International Union Against Cancer (UICC):
World Cancer Declaration sets ambitious targets for 2020

A summit of more than 60 high-level policymakers, leaders and health experts have adopted a global plan aimed at tackling the growing cancer crisis in developing countries

The plan, contained in the World Cancer Declaration, recommends a set of 11 cancer-busting targets for 2020 and outlines priority steps that need to be taken in order to meet them.  It was presented Sunday at the close of the World Cancer Congress in Geneva and offered as a global template for governments and other groups to tailor as they devise their own plans to guide local efforts.

"The rise of cancer in less affluent countries is an impending disaster," WHO director-general Dr Margaret Chan told delegates at the opening of the congress this week.  "The time is right to make cancer control a development priority."

Chan said she believed that several recent trends in public health make the international community especially receptive to the arguments made in the declaration and responsive to its call to action.

Former UN commissioner for human rights Mary Robinson, who chaired the summit, said cancer control is a human rights issue, tied to the right to health through access to an effective health system.

"Ultimately, it is a question of human rights and above all, it is a question of human dignity. Adoption of the World Cancer Declaration is another step in a real commitment – a vision – of how to tackle this huge world health issue," said Robinson, who is now president of Realizing Rights, a New York-based human rights organization.

Much can be done to tackle cancer in the developing world, the experts said. About one-third of cancer cases can be prevented and another third can be cured if detected early and treated properly.

Targets recommended in the declaration include significant drops in global tobacco consumption, obesity and alcohol intake; universal vaccination programmes for hepatitis B and human papilloma virus to prevent liver and cervical cancer; dramatic reduction in the emigration of health workers with specialist cancer training; universal availability of effective pain medication and the dispelling of myths and misconceptions about the disease.

During the summit, participants made several suggestions for how to meet the targets in the declaration and emphasized certain priorities. The importance of myth reduction and proper pain relief for cancer patients were emphasized. The idea of a global fund for cancer, similar to the Global Fund to fight AIDS, tuberculosis and malaria, was tabled as a possible goal, given that cancer kills more people than those three diseases combined.

Other highlights of the World Cancer Congress closing ceremony include an award to Raul Pitarque and Javier Bou, who won the prize for a symbol to designate smoke-free environments for children. Pitarque and Bou are tobacco activists in Argentina, and their simple but evocative design was judged to be widely useable, communicating effectively across cultures.

Also recognized at the ceremony were the winners from the Reel Lives film festival – the first ever devoted to the theme of cancer. Jan Gassmann from Switzerland was honoured for his film *Chrigu", a moving and surprising portrait of a young man who once had great plans for the future until, at the age of 21, an advanced-stage tumour was found in his neck.

Runners up were "The Truth about Cancer" (USA) for best reportage, The Art of Living (India) for best personal story, The Children of Avenir (Morocco) for best educational or organizational film, and "Hookah" (Israel) for the best public service announcement.

About 25 million people worldwide are living with cancer. It is the second leading cause of death worldwide, accounting for about 13% of all deaths. Last year, cancer killed about 7.9 million people, about 72% of whom were in developing countries. The World Health Organization (WHO) forecasts that by 2030, the annual global death toll will rise to about 11.5 million.

The World Cancer Summit was hosted by the International Union Against Cancer (UICC), the leading international non-governmental organization dedicated to the global control of cancer. The UICC holds a World Cancer Congress every two years. The next World Cancer Congress will meet in Beijing, 18-21 August 2010.
Tags: alcohol consumption, Argentina, Brazil, cancer, cervical cancer, Chile, FCTC, HBV, Health Ministry, health workers, hepatitis B, HPV, human papillomavirus, INCA, liver cancer, Margaret Chan, Mary Robinson, Ministerio de Salud, obesidad, obesity, OMS, OPS, PAHO, palliative care, tobacco consumption, Tobacco Control, UICC, Uruguay, WHO, World Cancer Declaration
Subscribe to My Comments Feed
Leave a Reply