« And Now, the Climate Investment Funds… | Home | BNDES Supports Cogeneration Using Sugarcane Waste »
By Keith R | July 4, 2008
Topics: Health Issues | 2 Comments »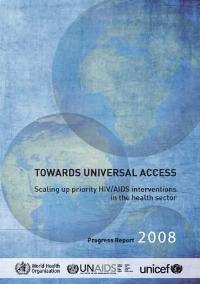 This is a few weeks delayed in being posted, but frankly folks, I only have so many hours in my day…
Everyone takes away something different from Towards Universal Access: Scaling Up Priority HIV/AIDS Interventions in the Health Sector – Progress Report 2008, the report released last month jointly by the World Health Organization (WHO), United Nations Programme on HIV/AIDS (UNAIDS) and the United Nations Children's Fund (UNICEF). WHO tends to stress the global and the positive, such as
finally achieving its goal of providing anti-retroviral treatment (ART) to three million people (albeit two years after its original target of 2005);
lower prices on first-line ART;
improved ART delivery systems.
UNICEF emphasizes the success in significantly reducing mother-to-child transmission through targeted diagnostic and ART programs.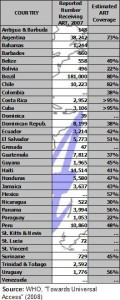 Some of the nations that have achieved very high ART coverage rates — such as Costa Rica (over 95%), Cuba (over 95%), Chile (92%) and Brazil (80%) among the Latin American and Caribbean (LAC) nations — trumpet their achievements. Brazil, for example, issued a press release declaring Brazil's ART policy to be a role model for other nations.
Health and AIDS activists tend to emphasize the much that needs to be done. Namely:
Only 31% of those estimated to be need ART received it by end-2007. With the notable exceptions of Bolivia (22%), Paraguay (22%) and Nicaragua (30%), LAC nations are above this global average, although in several cases not much above.
Most HIV-positive pregnant women in developing nations still do not receive antiretrovirals to prevent mother-to-child transmission. Among the Caribbean states the average that do receive treatment is about 32%, among the Latin American nations, 38%. Best coverage in LAC appears to be in Argentina at around 94%, but can be as low as 7-8% in Colombia, Guatemala and Mexico.
Serious difficulties remain in properly diagnosing HIV in infants;
HIV/AIDS testing is not yet practiced as widely as it should, so too many people find out their status too late. Data from 17 countries in Asia and Africa suggests that only 10-11% of adults have ever been tested, that only 20% of those already living with HIV knew their HIV status. I wonder how the rates in LAC compare or contrast? Unfortunately, data on this aspect of the issue is sorely lacking in LAC. We do know, though, that only 3% of Bolivia's health facilities offer testing and counseling, testing only 2 out of every 1,000 Bolivians. In Haiti 19% of the facilities offer testing, but they manage to test 48 out of every 1,000. In Guyana 41% of the facilities offer testing, but only test 26 out of every 1,000.
Poorly integrated health services for HIV and tuberculosis (TB), so TB remains the leading cause of death of those infected with HIV.
_________________________
From the World Health Organization (WHO):
Nearly three million HIV-positive people now receiving life-saving drugs

But access to prevention and treatment still lacking for millions

The close of 2007 marks an important step in the history of the HIV/AIDS epidemic. Nearly 3 million people are now receiving anti-retroviral therapy (ART) in low- and middle-income countries, according to a new report launched today by the World Health Organization (WHO), the Joint United Nations Programme on HIV/AIDS (UNAIDS) and the United Nations Children's Fund (UNICEF).

Towards Universal Access: Scaling Up Priority HIV/AIDS Interventions in the Health Sector also points to other gains. These include improved access to interventions aimed at preventing mother-to-child transmission of HIV (PMTCT), expanded testing and counselling, and greater country commitment to male circumcision in heavily affected regions of sub-Saharan Africa.

"This represents a remarkable achievement for public health," says WHO Director-General Dr. Margaret Chan. "This proves that, with commitment and determination, all obstacles can be overcome. People living in resource-constrained settings can indeed be brought back to economically and socially productive lives by these drugs."

Millions now accessing treatment

According to report authors, the close of 2007 saw nearly one million more people (950 000) receiving antiretroviral therapy—bringing the total number of recipients to almost 3 million. The latter figure was the target of the '3 by 5' initiative that sought to have 3 million HIV-positive individuals living in low-and middle-income countries on treatment by 2005. Although that target was not achieved until two years later, it is widely credited with jump-starting the push towards ART scale-up.

According to the report, the rapid scale-up of ART can be attributed to a number of factors, including the:

Increased availability of drugs, in large part because of price reductions;
Improved ART delivery systems that are now better adapted to country contexts. The WHO public health approach to scale-up emphasizes simplified and standardized drug regimens, decentralized services and judicious use of personnel and laboratory infrastructure;
Increased demand for ART as the number of people who are tested and diagnosed with HIV climbs.

Greater access: greater need

Report authors state that, overall, some 31% of the estimated 9.7 million people in need of ART received it by the end of 2007. That means that an estimated 6.7 million in need are still unable to access life-saving medicines.

"This report highlights what can be achieved despite the many constraints that countries face and is a real step forwards towards universal access to HIV prevention, treatment care and support," says Dr. Peter Piot, Executive Director of UNAIDS. "Building on this, countries and the international community must now also work together to strengthen both prevention and treatment efforts."

Preventing HIV in children

At the end of 2007, nearly 500 000 women were able to access antiretrovirals to prevent transmission to their unborn children—up from 350 000 in 2006. During that same time period, 200 000 children were receiving ART, compared to 127 000 at the end of 2006. The difficulty of diagnosing HIV in infants, however, remains a major impediment to progress.

"We are seeing encouraging progress in the prevention of HIV transmission from mother to newborn," says UNICEF Executive Director Ann M. Veneman. "The report should motivate us to focus and redouble our efforts on behalf of children and families affected by HIV/AIDS."

Tuberculosis, weak healthcare systems, hamper progress

Other obstacles to treatment scale-up include poor patient retention rates in many treatment programmes and the considerable numbers of individuals who remain unaware of their HIV status, or are diagnosed too late and die in the first six months of treatment.

Tuberculosis is a leading cause of death among HIV infected people worldwide, and the number one cause of death among those living in Africa. To date, HIV and TB service delivery is insufficiently integrated and too many people are losing their lives because they are unable to either prevent TB or access life-saving medications for both diseases.

Report authors warn that future expansion of access to ART is likely to be slowed owing to weak health systems in the worst-affected countries, in particular, the difficulty of training and retaining health-care workers. Health-care systems in regions hardest-hit continue to erode because of 'brain drain'—the migration of skilled health-care personnel to other occupations and to other countries—and to high mortality rates from HIV itself.
_________________________
Desde la Organización Mundial de la Salud (OMS):
CERCA DE TRES MILLONES DE PERSONAS VIH-POSITIVAS RECIBEN TRATAMIENTOS QUE PUEDEN SALVARLES LA VIDA

Pero sigue habiendo millones sin acceso a la prevención y tratamiento

El año 2007 marca un importante hito en la historia de la epidemia de VIH/SIDA. Según un nuevo informe publicado hoy por la Organización Mundial de la Salud (OMS), el ONUSIDA y el UNICEF, en la actualidad hay cerca de tres millones de personas de países de bajos y medianos ingresos en tratamiento con antirretrovíricos (TAR).

El informe, titulado Towards Universal Access: Scaling Up Priority HIV/AIDS Interventions in the Health Sector, también destaca otros avances, tales como la mejora del acceso a intervenciones de prevención de la transmisión maternoinfantil del VIH, la expansión de las pruebas de detección y el asesoramiento, o el aumento del compromiso de los países con la circuncisión masculina en las zonas más afectadas del África subsahariana.

«Esto representa un notable logro de la salud pública», ha dicho la Dra. Margaret Chan, Directora General de la OMS, «y demuestra que con compromiso y determinación se pueden superar todos los obstáculos. Con estos medicamentos es posible que las personas residentes en entornos con escasos recursos vuelvan a tener una vida económica y socialmente productiva.»

Hay millones de personas en tratamiento

Según los autores del informe, a finales de 2007 había en los países de bajos y medianos ingresos cerca de un millón más de personas (950 000) en tratamiento con antirretrovíricos, con lo cual la cifra total asciende a unos tres millones, meta que se había propuesto para el año 2005 la Iniciativa 3 millones para 2005. Aunque la meta sólo se alcanzó dos años después de la fecha prevista, a la Iniciativa le cabe el mérito de haber sido la impulsora de la expansión del TAR.

Según el informe, la expansión rápida del TAR es atribuible a varios factores, tales como:

La mayor disponibilidad de los medicamentos, en gran parte debido a la reducción de su precio.
La mejora de los sistemas de distribución del TAR, que en la actualidad están mejor adaptados a los contextos de los países. El enfoque de salud pública que le ha dado la OMS a la expansión del TAR hace hincapié en la simplificación y normalización de los regímenes, la descentralización de los servicios y el uso juicioso del personal y de la infraestructura de laboratorio.
El crecimiento de la demanda del TAR a medida que aumenta el número de personas sometidas a pruebas de detección y diagnosticadas de VIH.

Aumento del acceso: crecimiento de la necesidad

Los autores del informe señalan que a finales de 2007 estaban recibiendo TAR aproximadamente el 31% de los 9,7 millones de personas que lo necesitan. Esto significa que todavía quedan unos 6,7 millones sin acceso a estos tratamientos que pueden salvarles la vida.

«Este informe destaca los logros que se pueden alcanzar a pesar de las muchas limitaciones de los países, y refleja un importante avance hacia el acceso universal a los servicios de prevención, tratamiento, atención y apoyo relacionados con el VIH/SIDA», ha dicho el Dr. Peter Piot, Director Ejecutivo del ONUSIDA. «Partiendo de esta base, los países y la comunidad internacional deben seguir colaborando para fortalecer el tratamiento y la prevención.»

Prevención del VIH en los niños

A finales de 2007, cerca de 500 000 mujeres tuvieron acceso a los antirretrovíricos para prevenir la transmisión maternoinfantil del virus, en comparación con 350 000 en 2006. De finales de 2006 a finales de 2007, la cifra de niños tratados con antirretrovíricos también aumentó de 127 000 a 200 000. Sin embargo, las dificultades para diagnosticar la infección en los niños sigue siendo un importante obstáculo.

«Estamos asistiendo a avances alentadores en la prevención de la transmisión maternoinfantil del VIH», ha dicho Ann M. Veneman, Directora Ejecutiva del UNICEF. «Este informe debería motivarnos para redoblar nuestros esfuerzos en nombre de los niños y las familias afectadas por el VIH/SIDA.»

Los avances se ven dificultados por la tuberculosis y la debilidad de los sistemas de atención sanitaria

Otros obstáculos a la expansión del tratamiento consisten en las bajas tasas de retención de los pacientes en muchos programas de tratamiento y el considerable número de personas que siguen sin saber que son VIH-positivas o que son diagnosticadas demasiado tarde y mueren en los primeros seis meses de tratamiento.

La tuberculosis es una de las principales causas de muerte de los pacientes infectados por el VIH de todo el mundo, y la primera entre los africanos. Hasta la fecha, la integración de los servicios de VIH y tuberculosis es insuficiente, y muchos pacientes mueren porque no se consigue prevenir la tuberculosis o no se logra que tengan acceso al tratamiento para ambas enfermedades.

Los autores del informe advierten que la expansión futura del acceso al TAR probablemente se haga más lenta debido a la debilidad de los sistemas de salud en los países más afectados, y en particular a las dificultades para formar y retener a los profesionales sanitarios. Los sistemas de atención sanitaria de las regiones más afectadas siguen erosionándose por la migración de los profesionales sanitarios a otros países y otras ocupaciones, así como por las elevadas tasas de mortalidad del propio VIH.

Asimismo, destacan la necesidad de mejorar la recopilación, análisis y publicación de información crítica en materia de salud pública. Las cifras presentadas en este informe han sido aportadas por los países, los asociados internacionales y otras fuentes. A pesar de que no están exentas de limitaciones, constituyen las mejores y más recientes estimaciones de los diferentes elementos de la respuesta del sector de la salud al VIH/SIDA.
Tags: AIDS, anti-retroviral therapy, antiretroviral medicines, Argentina, Bolivia, Brasil, Brazil, Colombia, Costa Rica, Cuba, diagnostics, Guatemala, Guyana, Haiti, HIV, infants, Mexico, mother-to-child transmission, Nicaragua, OMS, ONUSIDA, Paraguay, pregnant women, public health, salud pública, saude, SIDA, terapia anti-retroviral, tuberculosis, UNICEF, universal access, VIH, WHO
2 Responses to "Improvements in HIV/AIDS Treatment in LAC"
Dagny Says:
July 7th, 2008 at 19:03

I just read in a post that circumcision in African males reduced the contraction of HIV/AIDS by up to 60 percent. Have you heard anything about that?

Dagny

Keith R Says:
July 7th, 2008 at 19:27

Well, it has reduced the heterosexually acquired HIV (an important qualifier to note) by 60% among sub-Saharan men. This is more an issue for Africa than for Latin America and the Caribbean.
Leave a Reply