« CVRD Opts for Railroad Ties of Recycled Plastic | Home | Toward a National Waste Exchange for Brazil »
By Keith R | October 4, 2007
Topics: Health Issues, Sanitation, Water Issues | No Comments »
Warning
: Illegal string offset 'src' in
/home/temasa5/public_html/temasblog/wp-content/plugins/vipers-video-quicktags-migrator/vipers-video-quicktags-migrator.php
on line
322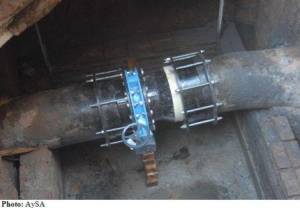 Not too long ago an Argentine think tank, the Center for the Implementation of Public Policies for Equity and Growth (Centro de Implementación de Políticas Públicas para la Equidad y el Crecimento – CIPPEC), released a report* analyzing the provision of potable water and sanitation services within Argentina.
The CIPPEC analysis demonstrates, to my mind, one of the pitfalls of relying too much on the type of "big picture" national data that dominated last year's WHO/UNICEF report on meeting the Millennium Development Goals (MDGs) for water and sanitation. When you stop gazing at the forest and start examining the trees instead, you realize just how much work there is yet to do.
In last year's MDG status update, Argentina was reported as having 96% of its population with "improved drinking water" and 91% with "adequate sanitation." Sounds pretty good for a developing country, right?
Ah, but look a bit closer at the data reported, and you see that at the national level, more than eight million Argentines (23%) resided in households not connected to the drinking water networks, and more than 21 million (57.5%) are not hooked up to sewage systems. When you break that down by urban/rural, you find that only 80% of the rural communities have any "improved water supply" at all, and only 45% have household connections. In sanitation it's worse: only 83% have some sort of "adequate sanitation," but only 5% have sewage network connections.
CIPPEC decided to check the data in other ways to see if there were other socioeconomic gaps than just the urban/rural one highlighted by WHO and UNICEF. Are there major differences between provinces? Have the improvements in drinking water and sanitation services been made where the social and public health needs were greatest? Did the massive privatization effort in the 1990s improve coverage where improvement was most needed? What about the impact of Argentina's decentralization push — from Obras Sanitarias de la Nación (OSN) in 1980 to provincial then to municipal in some jurisdictions — in the provision and oversight of these services?
The CIPPEC study relies on data from 1991 and 2001, since national data on this subject largely comes from the national census done every ten years.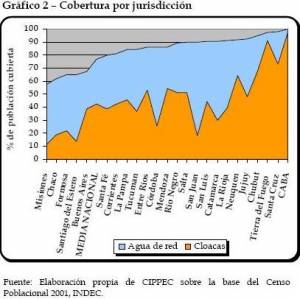 Differences Between the Provinces
This first graph (click to enlarge) shows the differences between the provinces and the Autonomous City of Buenos Aires (CABA) regarding drinking water and sanitation connections, as of 2001. The portion in blue is water, orange is sewer.
Only 10 provinces provide water connection coverage of 90% or more, and only CABA and Tierra del Fuego (TdF) provided such coverage for sanitation.
Not surprisingly, CABA is at the top in providing both (99.9% and 96.6%, respectively). It is, after all, the nation's capital and the largest population center in Argentina.
At the other end of the scale for both services is Misiones, with only 57.2% for water connections and 11.3% for sewer connections.
Who invested the most and the least in increasing coverage in the ten-year period covered by the analysis?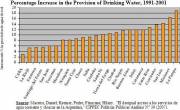 For water (click on the graph with orange bars to enlarge), although the national average increase was 10% during that period, two provinces (La Pampa and Misiones) registered around 19% increases, whereas three (Formosa, La Rioja, Santiago del Estero) only registered 5% improvements (note that first and third of these are among the provinces most needing better water connection coverage!).
As for sewage (click on graph with blue bars to enlarge), two provinces (Neuquén, Santa Cruz) improved as much as 20%, whereas two (Formosa, Santiago del Estero) only improved 3% (even though these two are among those with the worst coverage).
Water/Sanitation Going to Poor/Vulnerable?
The study looked at water/sanitation coverage, investment in coverage improvement in 1991-2001, and five socioeconomic indicators — child mortality, maternal mortality, life expectancy at birth (esperanza de vida al nacer – EVN), percentage of population with unsatisfied basic necessities (necesidades básicas insatisfechas – NBI), and population with formal health care coverage — to see whether or not those most in need where the ones receiving priority for new water/sanitation investment.
The analysis found that inequality does not seem to have markedly influenced the destination of investments in the water/sanitation sector — in fact, perhaps the opposite, in the sense that the poorer provinces with greater mortality and lower health care coverage benefited less from the extension of water/sanitation services during the 1991-2001 period.
For example, CABA has the lowest NBI, highest EVN and highest health care coverage, but also the highest water/sanitation coverage. [CABA's improvement rate was low not because of amounts invested, but rather because rates were so high in 1991 that investments made — even though bigger in peso terms than that of many provinces — constituted a lower percentage.]
By contrast, Formosa has the lowest health care coverage, poorest NBI and highest infant mortality rate — and some of the lowest water/sanitation coverage.
CIPPEC suggests that with the technical, human resource and financial tools already available to Argentina — especially international lenders and donors looking for such infrastructure projects with health, environment and MDG dividends — that there really is no excuse for Argentina not to focus more water/sanitation investment on significantly increasing service to the country's poorer and most health-vulnerable areas.
Public vs. Private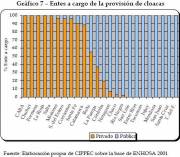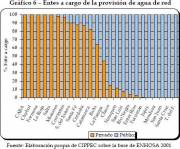 Argentina started privatization of water and sanitation services in the 1990s, earlier than many of its fellow LAC nations. Today across Argentina about 52% of all drinking water services are provided by public sector entities, 48% by private firms. In sewage services, the split is 54% and 46%, respectively.
The mix differs considerably between provinces, however (see charts at right — click to enlarge). CABA and four provinces (Chubut, Formosa, La Rioja, Salta) have completely privatized both water and sanitation. Five provinces (Jujuy, Mendoza, San Juan, Santa Cruz, Tierra del Fuego) have kept both water and sanitation entirely in public hands, while three (San Luis, Entre Rios and Tucumán) have allowed limited privatization in water supply but retained public control of sanitation. Everyone else falls somewhere in-between.
What impact has privatization had in terms of improving service coverage?
The CIPPEC analysis finds that while privatization tended to be most intense in the poorest jurisdictions, it showed little impact on the coverage of potable water and an inverse relationship regarding the provision of sewer network connections.
What Impact Decentralization?
In some provinces, responsibility for water and/or sanitation has been devolved from the provincial to the municipal level. Today 9 provinces have completely (100%) devolved public responsibilities for water and sanitation to municipalities, and Misiones has done so for water. Seven provinces plus CABA devolve nothing to municipalities for both water and sanitation, while Tucumán and Misiones do so only for sanitation.
The analysis here provides an interesting result that Argentine officials might do well to ponder (perhaps officials from other LAC nations should too): generally speaking, where municipalities are put in charge of water, coverage levels was most pronounced; for sanitation, however, service connections improved most under provincial control. CIPPEC speculates that the success in water coverage expansion under municipal control may be due to the fact that municipal governments have less money to invest and want priority, high-visibility impacts — secure drinking water connections are cheaper to make and are visible throughout the day to voters with household connections to municipal water lines.
* Maceira, Daniel; Kremer, Pedro; Finucane, Hilary. "El desigual acceso a los servicios de agua corriente y cloacas en la Argentina," CIPPEC Políticas Públicas Análisis N° 39 (2007).
______________________________
Good Video (in Spanish) from LaNacion released at time of the issuance of the CIPPEC report
Tags: agua potable, agua potável, Argentina, Buenos Aires, child mortality, Chubut, CIPPEC, decentralization, drinking water, Entre Rios, esperanza de vida al nacer, Formosa, Jujuy, La Pampa, La Rioja, life expectancy at birth, maternal mortality, MDGs, Mendoza, Millennium Development Goals, Misiones, OMS, potable water, privatization, public health, Salta, salud pública, San Juan, San Luis, saneamento, Sanitation, Santa Cruz, Santiago del Estero, sewage, Tierra del Fuego, Tucumán, UNICEF, WHO
Subscribe to My Comments Feed
Leave a Reply