« Climate Change May Slam the Caribbean | Home | LAC Environmental Trivia, Revisited »
By Keith R | June 19, 2008
Topics: Health Issues, Renewable Sources | No Comments »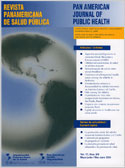 A recent issue of the Pan American Journal of Public Health, the scientific journal published by the Pan American Health Organization (PAHO), contained an article* that looks at the cost-effectiveness of universal rotavirus vaccination program in Brazil among children age five or younger. Brazil introduced such a vaccination program in March 2006 on purely public health grounds; this analysis confirms that the decision also made sense in economic terms.
The country study further seems to confirm the findings of a broader multi-country cost-effectiveness analysis published in the same journal last year (see below).
Rotavirus infection is the single most important cause of gastroenteritis, often leading to severe diarrhea and dehydration in children, sometimes resulting in hospitalization and even death. A recent analysis of eight diverse Latin American and Caribbean (LAC) nations suggested that for every 1,000 children born in those countries in 2003, rotavirus gastroenteritis resulted in an average 246 outpatient visits, 24 hospitalizations, 0.6 deaths and US$7,971 in direct medical costs during the first five years of life.
Since rotavirus infection persists as a problem in both developed and developing countries, public health experts think that merely improving sanitation will not suffice — that universal vaccination may be called for. [The World Health Organization (WHO) has actually advocated this.]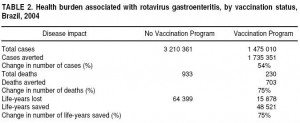 The Brazilian Case
The Brazilian study looked at a hypothetical annual cohort of about 3,300,000 newborns followed over five years, and possible clinical and economic impacts of rotavirus infection with and without routine vaccination. Probabilities and units costs were derived from national administrative data and published research.
The vaccination program was estimated to prevent approximately 1,735,351 (54%) of the 3,210,361 cases of rotavirus gastroenteritis and 703 (75%) of 933 rotavirus-associated deaths during the 5-year period. At a vaccine price of 18.6 Brazilian reais (R$) per dose, this program would cost R$121,673,966 and would save R$38,536,514 in direct costs to the public healthcare system and R$71,778,377 in direct and indirect costs to society. The program was estimated to cost R$1,028 and R$1,713 per life-years saved (LYS) from the societal and healthcare system perspectives, respectively.
The authors caution that these calculations may even underestimate the savings. The model does not account for reinfection rates (reinfection incidence is about 1.2 per child in Brazil), and it ignores (numerous) milder cases that do not require medical treatment. Together they may add up to significant costs from the societal perspective that are not accounted for.
Vaccine Price May Be Key
The study finds that changes in vaccine efficacy have little impact. Changes in vaccine price, however, have a great impact: a 25% difference in price results in a 32% to 55% change in the incremental cost-effectiveness ratio (ICER). From the point of view of society, a 50% decrease in price makes the Vaccination Program strategy cost saving. The authors note that, since the study was conducted, the currency conversion rate between Brazilian real and US dollars changed considerably, resulting in a 32% cost drop in local currency terms. They also noted that recent Brazilian negotiations for technology transfer agreements with vaccine manufacturers should drop prices still further.
Is the Same True for Other LAC Nations?
The Brazilian study would seem to confirm another** published in the same journal last year. Done by researchers at Emory University's Rollins School of Public Health and GlaxoSmithKline (GSK, a vaccine producer), the prior work attempted to estimate the costs, benefits and cost-effectiveness of rotavirus vaccination in eight diverse (different costs, health systems, demographics, etc.) LAC nations: Argentina, Brazil, Chile, the Dominican Republic, Honduras, Mexico, Panama and Venezuela.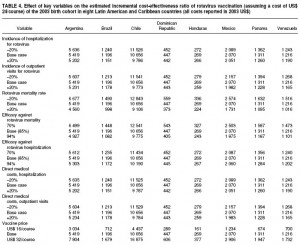 The economic model used national administrative and published epidemiological evidence, country-specific cost estimates, and vaccine efficacy data. The model was applied to the first five years of life for the 2003 birth cohort in each country. The main health outcome estimated was the disability-adjusted life year (DALY), and the main summary measure was incremental cost per DALY averted. A 3% discount rate was used.
The model found that vaccination would prevent more than 65% of the medical visits, deaths and treatment costs associated with rotavirus gastroenteritis in the eight LAC nations. If a two-dose vaccine costs US$24 per course, the ICER ranged from US$269 per DALY in Honduras to US$10,656 per DALY in Chile. The report concludes that rotavirus vaccination is cost-effective for these nations, although the authors admit that not all nations will have the financial resources readily available to them to add the rotavirus vaccine to their national immunization programs.
They also noted three potentially important limitations to their study: (1) delays in the timing of routine vaccinations may mean that some roatvirus-associated events may not be avoided by a vaccination program; (2) it is not known if vaccination coverage among those children most at risk of dying from roatvirus infection is as good as that of the general populace; (2) the potential indirect protective effect of "herd immunity" for persons not vaccinated was not taken into account.
_________________________
* de Soárez PC, Valentim J, Sartori AMC, Novaes HMD. Cost-effectiveness analysis of routine rotavirus vaccination in Brazil. Rev Panam Salud Publica. 2008;23(4):221–30.
** Rheingans RD, Constenla D, Antil L, Innis BL, Breuer T. Potential cost-effectiveness of vaccination for rotavirus gastroenteritis in eight Latin American and Caribbean countries. Rev Panam Salud Publica. 2007;21(4):205–16.
Tags: Argentina, Brazil, children, Chile, DALY, diarrhea, Dominican Republic, Emory University, gastroenteritis, GSK, herd immunity, Honduras, ICER, Mexico, OMS, OPAS, OPS, PAHO, Pan American Journal of Public Health, Panama, public health, República Dominicana, Rollins School of Public Health, rotavirus, salud pública, saneamiento, Sanitation, saude, technology transfer, vaccination, vaccines, vacunación, vacunas, Venezuela, WHO
Subscribe to My Comments Feed
Leave a Reply