« Is Childhood Vaccination Against Hepatitis A Cost-Effective? Results of a Chilean Study | Home | State of the North American Environment »
By Keith R | June 21, 2008
Topics: Health Issues | No Comments »
Which Latin American or Caribbean nation smokes or drinks the most? In which are you more likely to die from cancer than infectious diseases such as malaria or dengue? Which has the highest percentage of obese people? Which spends the most on the health of their citizens?
If you you've ever wondered about such questions, there's a place where you can find some of the answers you crave.
In late May the World Health Organization (WHO) released the latest edition of its annual World Health Statistics. The WHO annual provides a good basic set of comparable health data for all nations, including some not listed in the Pan American Health Organization's (PAHO) latest (2007) set of basic indicators, Health Situation in the Americas. The WHO annual also provides a picture of how the Americas stack up against other regions in the world.
There are some limitations to the WHO data set, however. Child mortality cause figures are from 2000, adult alcohol consumption data is from 2003, neonatal mortality figures from 2004, health expenditure data from 2005. Much of the health service coverage, health service resources, obesity and condom use data is missing for LAC states, and there are major gaps in some of the socioeconomic data such as adult literacy rates.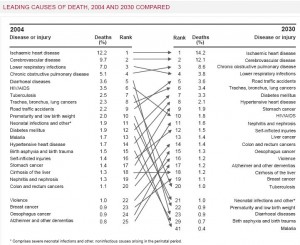 You can fill in some (but far from all) of these gaps through the national sources you'll find listed on the health data page in the new Temas Tool Section.
Ten Trends/Issues Highlighted by WHO
The WHO annual prefaces the pages of stats with discussion of what it calls "ten highlights" emerging from the global data. One of these deals only with Europe and two only with Africa, neither of which is a focus of The Temas Blog. [I must state for the record, though, that I was disappointed that the WHO discussion on malaria focused solely on Africa, when it remains a significant problem in LAC as well.] A fourth, the one that WHO chose to headline in its press releases (see below), is a global shift from deaths caused by infectious disease to those caused by chronic non-communicable disease (heart conditions, stroke, cancer, etc.). This is not news to longtime readers of The Temas Blog. A fifth, that tobacco consumption must be cut because it is the largest single cause of preventable death in the world today, also is not news to Temas Blog readers.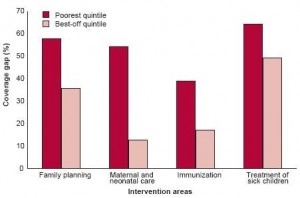 So what are the other five?
Maternal mortality is declining too slowly globally to fulfill Millennium Development Goal (MDG) #5 by 2015 (although WHO says LAC has made substantial progress on this front);
Significant gaps persist between observed and universal coverage in four key intervention areas: family planning, maternal and neonatal care, immunization and treatment of sick children;
The number of people living with HIV continues to rise but it is lower than previously estimated;
Less than a quarter of the world's women have had screening (mammography, etc.) for breast cancer;
The cost of health care, particularly catastrophic health care, is impoverishing many and preventing the poor from receiving proper care for severe illness or injury.
Factoid Gems from the Report
Okay, let's test your knowledge of health in LAC!
Who in LAC drinks the most? According to WHO stats, among those aged 15 or older consuming the most alcohol on a liter per person basis, it's Saint Lucia at 11.48, followed by Argentina (8.4), Haiti (8.3) and Dominica (7.5).
Who smokes the most? Among

adolescents

aged 13-15 during the 2000-2007 period, the "winner" is Chile at a whopping 35.5% (hence the need for their new classroom campaign!), followed by Colombia (32.8%), Mexico (28.6%), Paraguay (25.7%) and Ecuador (25.1%). [Frankly, these figures should alarm those governments.] Among

adults

(over age 15), using 2005 figures, we again find Chile in the lead at a very high 37.9%, but the line-up for the rest of the top five is different: Uruguay (32.6%), Argentina (30%), Venezuela (29.8%) and Mexico (24.7%).
Where are the highest percentages of overweight children under age 5? This answer is conditional, since many LAC nations did not provide data. Among those that did for the 2000-2006 period, Peru led at 11.8%, followed by Argentina at 9.9%, Uruguay at 9.4% and Bolivia at 9.2%.
How about obese female adults? Again, many LAC nations did not report, but among those that did for the 2000-2006 period, Mexico led at 28.1%, followed by Chile at 25% and Bolivia at 15.1%.
Who had the highest incidence of tuberculosis in 2006? Measured in terms of number of cases per 100,000 people, it was Haiti by far at 299, followed by Bolivia (198), then Guyana (164), Peru (162) and Ecuador (128).
Who had the highest prevalence of HIV in 2005? Measured in terms of number of cases per 100,000 people, it was Haiti by far at 3,377, followed by the Bahamas (2,807), Trinidad and Tobago (2,538), Belize (2,110) and Guyana (2,072). I have to say that these rankings surprised me.
Who has the highest maternal mortality ratio (death per 100,000 live births)? In 2005 , it was Haiti by far at 670, with Guyana a distant second at 470, followed by Bolivia and Guatemala at 290, and Honduras at 280. I was surprised that Guyana ranked so high — why is that?
Who spends the most in public funds on the health of their citizens? You can answer this various ways, but WHO provides several metrics. In terms of

health expenditures as a percentage of gross domestic product (GDP)

in 2005, the lead by far is held by Argentina at 10.2% (I had to double-check that figure, since I was surprised at its magnitude), followed by Nicaragua at 8.3% and Uruguay at 8.1%. If you look at it in terms of

public health expenditure per capita

(expressed in US$ using average exchange rates), the answer is the Bahamas at US$613, followed by Barbados (461), Antigua and Barbuda (339), St. Kitts and Nevis (301) and Cuba (281).
_________________________
From the World Health Organization (WHO):
Noncommunicable diseases now biggest killers

Chronic conditions like heart disease, stroke kill more, says WHO's World health statistics 2008

The global burden of disease is shifting from infectious diseases to noncommunicable diseases, with chronic conditions such as heart disease and stroke now being the chief causes of death globally, according to a new WHO report published today. The shifting health trends indicate that leading infectious diseases – diarrhoea, HIV, tuberculosis, neonatal infections and malaria – will become less important causes of death globally over the next 20 years.

World health statistics 2008 is based on data collected from WHO's 193 Member States. This annual report is the most authoritative reference for a set of 73 health indicators in countries around the world. These are the best available data and they are essential for painting the global picture of health and how it is changing.

"We are definitely seeing a trend towards fewer people dying of infectious diseases across the world," said Dr Ties Boerma, Director of the WHO Department of Health Statistics and Informatics. "We tend to associate developing countries with infectious diseases, such as HIV/AIDS, tuberculosis and malaria. But in more and more countries the chief causes of death are noncommunicable diseases, such as heart disease and stroke."

The statistical report documents in detail the levels of mortality in children and adults, patterns of morbidity and burden of disease, prevalence of risk factors such as smoking and alcohol consumption, use of health care, availability of health care workers, and health care financing. It also draws attention to important issues in global health, including:

Maternal mortality: in developed countries, nine mothers die for every 100 000 live births, while in developing countries the death rate is 450 and in sub-Saharan Africa it is 950.
Health-care costs: 100 million people are impoverished every year by paying out of pocket for health care.
Coverage of key maternal, neonatal and child health interventions: four out of 10 women and children do not receive basic preventive and curative interventions and at current rates of progress it will take several decades before this gap is closed.

World health statistics 2008 is the official record of data produced by WHO's technical programmes and regional offices in close consultation with countries and in collaboration with researchers and development agencies. In publishing these statistics, WHO underlines continuing health challenges and provides an evidence base for strategies to improve global public health.
________________________
Desde la Organización Mundial de la Salud (OMS):
Las enfermedades no transmisibles ya son las que más víctimas causan en el mundo

Las afecciones crónicas como las cardiopatías y el accidente cerebrovascular causan más víctimas, según las Estadísticas Sanitarias Mundiales 2008 de la OMS

La carga mundial de morbilidad está pasando de las enfermedades infecciosas a las enfermedades no transmisibles; las afecciones crónicas como las cardiopatías y el accidente cerebrovascular son hoy por hoy las principales causas de defunción en todo el mundo, según un nuevo informe de la OMS publicado hoy. Este cambio en las tendencias sanitarias indica que las principales enfermedades infecciosas (diarrea, VIH, tuberculosis, infecciones del recién nacido y paludismo) perderán importancia como causas de defunción a escala mundial durante los próximos 20 años.

Las Estadísticas Sanitarias Mundiales 2008 se basan en los datos recopilados en los 193 Estados Miembros de la OMS. Este informe anual es la referencia más autorizada respecto de un conjunto de 73 indicadores sanitarios en países de todo el mundo. Se trata de los mejores datos disponibles, indispensables para describir el panorama mundial de la salud y su evolución.

"No cabe duda de que se observa una tendencia hacia la disminución de la mortalidad por enfermedades infecciosas en todo el mundo," ha afirmado el Dr. Ties Boerma, Director del Departamento de Datos y Estadísticas de la OMS. "Tendemos a asociar a los países en desarrollo con las enfermedades infecciosas, como el VIH/SIDA, la tuberculosis y el paludismo, pero cada vez son más los países donde las principales causas de defunción son enfermedades no transmisibles como las cardiopatías y el accidente cerebrovascular."

El informe estadístico documenta en detalle los niveles de mortalidad en niños y adultos, las pautas de morbilidad y la carga de morbilidad, la prevalencia de factores de riesgo como el consumo de tabaco y alcohol, el uso de la atención sanitaria, la disponibilidad de personal de salud y la financiación sanitaria. También pone de manifiesto importantes aspectos de la salud mundial, entre ellos los siguientes:

Mortalidad materna en los países desarrollados, nueve madres mueren por cada 100 000 nacidos vivos, mientras que en los países en desarrollo la cifra correspondiente es de 450 y en el África subsahariana de 950.
Costos de la atención sanitaria: 100 millones de personas se empobrecen cada año al pagar la atención de salud de su propio bolsillo.
Cobertura de intervenciones clave en salud de la madre, el recién nacido y el niño: cuatro de cada diez mujeres y niños no reciben atención preventiva y curativa básica; al ritmo actual de avance, aún pasarán varios decenios antes de que la situación se resuelva por completo.

Estadísticas Sanitarias Mundiales 2008 es el registro oficial de los datos producidos por los programas técnicos y las oficinas regionales de la OMS en estrecha consulta con los países y en colaboración con investigadores y organismos de desarrollo. Con la publicación de estas estadísticas, la OMS pone de relieve los problemas sanitarios persistentes y ofrece una base de pruebas científicas para las estrategias encaminadas a mejorar la salud pública mundial.
Tags: accidente cerebrovascular, afecciones crónicas, AIDS, alcohol consumption, Antigua and Barbuda, Argentina, Bahamas, Barbados, Belize, Bolivia, breast cancer, cáncer de mama, cardiopatías, Chile, Colombia, consumo de álcool, consumo de tabaco, Cuba, diarrea, diarrhoea, Dominica, enfermedades infecciosas, enfermedades no transmisibles, Guatemala, Guyana, Haiti, health care coverage, health care financing, health statistics, heart disease, HIV, Honduras, indicadores sanitarios, infectious diseases, malaria, mammography, MDGs, Mexico, Millennium Development Goals, mortalidad materna, neonatal infections, Nicaragua, OMS, OPAS, OPS, PAHO, paludismo, Paraguay, Peru, public health, risk factors, salud pública, saude, SIDA, smoking, St. Kitts and Nevis, St. Lucia, stroke, Trinidad and Tobago, tuberculosis, Uruguay, Venezuela, VIH, WHO
Subscribe to My Comments Feed
Leave a Reply