« The CEC's "Annotated Bibliography" on Environmental Impacts of Biofuels | Home | Brazil to Invest R$25 Million by 2012 on Anti-HIV Vaccines / Brasil vai investir R$25 milhões até 2012 em vacinas anti-HIV »
By Keith R | October 5, 2008
Topics: Health Issues, Pharmaceutical Issues | No Comments »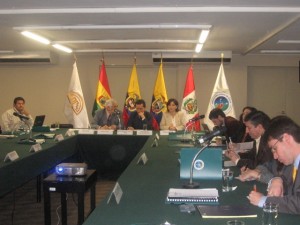 Synopsis in English: The Andean Health Organism – Hipólito Unanue Convention (ORAS-CONHU) — the health cooperation agency that brings together the four Andean Community (CAN) member states (Bolivia, Colombia, Ecuador, Peru) with two former CAN members, Chile and Venezuela — has decided to formulate a regional policy guaranteeing universal access to medicines.  The policy should not only feature joint negotiation on pharmaceuticals, but also balancing quality, equity, "fair" prices and rational use, bearing in mind the principles on public health, innovation and intellectual property recently approved by the World Health Organization's (WHO) annual Assembly.
The meeting also decided that current conditions are not appropriate for the ORAS-CONHU to seek joint price negotiations with producers of antiretroviral medicines (ARVs) to treat HIV/AIDS.
A measure of how interested others are in what direction ORAS-CONHU takes on these two related issues was the presence at the meetings of representatives of MERCOSUR, UNAIDS, UNICEF, the Pan American Health Organization (PAHO), The Latin American Network of People Living with HIV/AIDS (REDLA+), and the head of Brazil's National Program on AIDS and Sexually Transmitted Diseases (STDs).
________________________

Desde el Organismo Andino de Salud – Convenio Hipólito Unanue (ORAS CONHU):
Países Andinos deciden priorizar el diseño de una política regional, dirigida a garantizar el acceso universal al medicamento.

El Organismo Andino de Salud – Convenio Hipólito Unanue organizó en la ciudad de Lima los días 22 y 23 del presente mes la VII Reunión de la Comisión Técnica Subregional para la Política de Acceso a Medicamentos ampliada con la presencia de MERCOSUR, representada por Brasil, Argentina y Uruguay. Además estuvieron presentes la señora Guiselly Flores representante de la REDLA+, la  Dra. Julia Ortega, Responsable de Desarrollo Social de la Comunidad Andina de Naciones, la Dra. Victoria De Urioste, Asesora Subregional para Medicamentos de la Organización Panamericana de la Salud,  la Dra. Renate Ehmer,  Coordinadora de ONUSIDA para Perú, Bolivia y Ecuador y el Dr. Mario Tavera de UNICEF

En el acto inaugural participaron el Dr. Oscar Feo Istúriz, Secretario Ejecutivo del ORAS CONHU; la Dra. Juliana Vallini del Programa Nacional de ITS y Sida del Ministerio de Salud de Brasil- Presidencia Pro Témpore del Bloque Regional MERCOSUR, el Dr. Víctor Dongo, Director de la  Dirección General de Medicamentos, Insumos  y Drogas del Ministerio de Salud de Perú y la Dra. Lorena Ruíz presidenta de la Comisión Técnica.

Se decidió priorizar el diseño de una política regional, dirigida a garantizar el acceso universal al medicamento, en coherencia con los postulados aprobados por los presidentes en UNASUR.

Con relación a la negociación de medicamentos antiretrovirales se decidió que no hay condiciones en estos momentos para impulsarla, y que existen otros mecanismos que pueden permitir obtener mejores precios que los actuales.

Finalmente, todos los asistentes a la reunión coincidieron en que la negociación conjunta es solo una de las herramientas con las que deben contar los países para lograr el cometido final, que es el acceso universal a los medicamentos en condiciones de calidad, equidad, a precios justos y mediante un uso racional, dentro del marco de la estrategia mundial sobre salud pública, innovación y propiedad intelectual establecida en la Asamblea de la Organización Mundial de la Salud.
Tags: acceso universal, AIDS, Andean Community, antiretroviral medicines, ARVs, Bolivia, CAN, Chile, Colombia, Comunidad Andina, Ecuador, fármacos, medicamentos, medicamentos antiretrovirales, medicines, MERCOSUR, OMS, ONUSIDA, Organismo Andino de Salud, Peru, pharmaceuticals, public health, REDLA+, salud pública, SIDA, UNAIDS, UNASUR, UNICEF, Venezuela, WHO
Subscribe to My Comments Feed
Leave a Reply