« Improving Bolivia's Agricultural Health & Food Safety / Mejorando salud agropecuaria y la seguridad de los alimentos de Bolivia | Home | Combating Maternal/Infant Mortality/Malnutrition in Peru / Combatir mortalidad/desnutrición materno/infantil en Perú »
By Keith R | December 11, 2008
Topics: Health Issues | No Comments »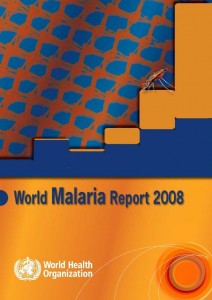 When the World Health Organization (WHO) released the first-ever World Malaria Report (English, Spanish, French) in September, I read through it with the intention of doing a post an update to my 2007 post on malaria in Latin America and the Caribbean (LAC), complete with the appropriate charts and graphs from the report that you've come to expect here on The Temas Blog.
I have indeed sprinkled those helpful visuals — such as the maps showing highest concentrations for malaria in Brazil and Colombia — throughout this  post below (click on each to view a larger version).  But as for the discussion, the Pan American Health Organization (PAHO) actually summed up the situation very well in their Malaria Day press release last month, supplemented by the explanatory video they posted to youtube (below), so I'll leave that to them.
But permit me to underline their takeaway message: sure, malaria case load and deaths in LAC generally are down right now, but the impact is still big on many nations (Bolivia, Brazil, Colombia, Ecuador, Guatemala, Haiti, Peru, Venezuela) and any cutback in funding to current efforts to combat the disease may lead it to surge once more.  I would add too that climate change may spread this risk to other nations in the region that are not accustomed to high malaria case loads.
By the way, WHO's report was accompanied by detailed "country profiles" of 30 "high burden" countries.  Most of these were in Africa, but you can download profiles of two LAC nations: Brazil and Colombia.
________________________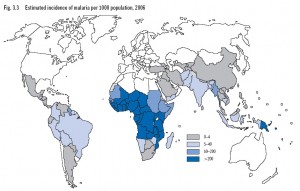 From the Pan American Health Organization (PAHO):
Malaria in the Americas: No Time to Ease Up

Cases of malaria have declined 32 percent in Latin American and the Caribbean since 2000, and deaths have dropped nearly 40 percent. Yet more than 140 million people in the Region (16 percent of the population) remain at risk of the disease, experts said today in a panel discussion marking Malaria Day in the Americas at the Pan American Health Organization (PAHO).

The progress so far is largely due to improved treatment of the most deadly form of the disease, along with more effective mosquito control, said the experts. Continued funding for both treatment and control is essential to consolidate these achievements and to spur further progress toward elimination of transmission of the disease throughout the hemisphere, they said.

"Malaria is a problem not only for health, but also for social and economic development," said Jarbas Barbosa, PAHO Area Manager for Health Surveillance and Disease Management. "We have the infrastructure, commitment, tools, and strategies to eliminate malaria."

"Sustaining commitment to high levels of funding even in the face of lower prevalence is essential to get to elimination," said Matthew Lynch, Director of the Global Program on Malaria at Johns Hopkins Bloomberg School of Public Health.

Malaria is caused by Plasmodium parasites, which are carried by mosquitoes and transmitted to people through their bites. In Latin America and the Caribbean, 75 percent of malaria infections are caused by P. vivax and are rarely fatal, while 25 percent are caused by the more lethal P. falciparum, the dominant malaria parasite in Africa. Out of a total 775,500 malaria cases in 2007 in Latin America and the Caribbean, 212 deaths were reported.

Past efforts to eliminate malaria from the Americas have yielded mixed results. Mosquito control efforts in the mid–20th century succeeded in eradicating the disease from North America and most of the Caribbean, and dramatically reduced it in Central and South America.

However, cutbacks in public health funding—largely as a result of the decline in cases—led to a major malaria resurgence in a number of countries. Later control efforts succeeded in reducing the disease, but not in eliminating it.

The most recent efforts were launched in 2000, when a group of South American countries joined together—with PAHO support—in the Amazon Malaria Initiative (AMI). In response to World Health Organization (WHO) findings that malaria parasites in other regions had developed resistance to traditional drugs, AMI set out to assess the emergence of resistance in the Amazon Region. The group documented the growth of resistance to older single-drug treatments and then collectively introduced more effective artemisinin-based combination drug therapies to replace them.

"This is a good example of how cross-border collaboration and consensus-building can be used to achieve a public health impact," said Trenton Ruebush, an expert on malaria and other tropical diseases at the U.S. Agency for International Development (USAID). The AMI network formed to study drug resistance is now serving to improve laboratory diagnosis in the countries as well as to strengthen country capacity in entomology and for pharmaceutical testing, Ruebush noted.

Current AMI efforts focus on the widespread use of insecticide-treated bed nets, indoor residual spraying, and treatment of malaria cases with artemisinin-based combination drug therapies.

Keith Carter, PAHO's top malaria expert, said that while it was important to ensure sustained funding of malaria control and treatment efforts, it was equally important to increase support for general health systems strengthening in affected countries.

"We cannot just be content to say, here are the drugs that work," said Carter. "Health workers and service providers have to be clear when talking to patients about how they should take these drugs. And it's not just a question of getting the drugs to the ministry of health in the capital city, when patients are getting sick out in rural areas. We need to train people in the use of these tools and we need to ensure good coverage."

PAHO is also supporting malaria-control efforts in other member countries, including countries in Central America.
_______________________
Desde la Organización Panamericana de la Salud (OPS):
Paludismo en las Américas: No hay tiempo que perder

Los casos de paludismo han bajado un 32 por ciento en América Latina y el Caribe desde el 2000. Y también se han reducido las muertes resultantes de la enfermedad en el mismo periodo: hasta en un 40 por ciento. No obstante, más de 140 millones de personas en la Región (un 16 por ciento del total) permanecen en riesgo de contraer la enfermedad, dijeron hoy expertos durante un evento realizado en la sede de la Organización Panamericana de la salud (OPS) con motivo del Día del Paludismo en las Américas.

Los progresos realizados se han debido en buena medida a las mejoras en el tratamiento de la modalidad más mortal de paludismo, junto con medidas más eficaces de control de mosquitos, dijeron los expertos, quienes también subrayaron que la continuidad de la financiación tanto para el control como para el tratamiento es un aspecto clave para la consolidación de los logros en la Región y para incrementar el progreso hacia la eliminación de la transmisión de la enfermedad en todo el hemisferio.

"El paludismo es un problema no solo de salud sino de desarrollo social y económico", dijo el Dr. Jarbas Barbosa, Gerente del Área de Vigilancia Sanitaria y Control de Enfermedades de la OPS. "Tenemos la infraestructura, el compromiso, las herramientas y las estrategias para eliminar el paludismo", afirmó.

"Mantener el compromiso sobre altos niveles de financiación, incluso ante un panorama de menor prevalencia, es esencial para llegar a la eliminación", dijo Matthew Lynch, Director del Programa Global sobre Malaria de la Johns Hopkins Bloomberg School of Public Health.

El paludismo es causado por parásitos Plasmodium, que son transportados por mosquitos y transmitidos a las personas a través de picaduras. En América Latina y el Caribe, el 75 por ciento de las infecciones de paludismo son causadas por P. vivax, que raramente conduce a la muerte, mientras que el 25 por ciento restante se debe al mucho más letal P. falciparum, el parásito predominante en África. De un total de 775.500 casos de paludismo en América Latina y el Caribe en el 2007 se registraron 212 muertes.

En el pasado, los esfuerzos para eliminar el paludismo en la región han arrojado resultados mixtos. Los esfuerzos por el control de los mosquitos a mediados del siglo 20 lograron erradicar la enfermedad de América del Norte y de la mayoría del Caribe, reduciéndola dramáticamente en América Central y América del Sur.

No obstante, reducciones en la financiación de la salud pública, mayormente resultado de la reducción en los casos, ha provocado un gran resurgimiento del paludismo en varios países. Esfuerzos posteriores de control de la enfermedad lograron frenar la expansión de la enfermedad, pero no su eliminación.

Los esfuerzos más recientes fueron lanzados en el 2000, año en el que un grupo de países de América del Sur se unió, con el apoyo de la OPS, en la conformación de la Iniciativa Amazónica contra el Paludismo (AMI). En respuesta a los hallazgos de la Organización Mundial de la Salud (OMS) respecto a que los parásitos del paludismo en otras regiones estaban desarrollando resistencia a medicamentos tradicionales, la AMI comenzó a evaluar la emergencia de la resistencia en la Región Amazónica. El grupo documentó un crecimiento de la resistencia sobre anteriores tratamientos de carácter único, y colectivamente introdujeron unas terapias combinadas más efectivas, basadas en artemisinina, para reemplazarlos.

"Este es un buen ejemplo de cómo la colaboración inter fronteriza y el desarrollo de consensos pueden usarse para el logro de impactos en salud pública", dijo Trenton Ruebush, experto en paludismo y en enfermedades tropicales adscrito a la Agencia de Estados Unidos para el Desarrollo Internacional (USAID). La Red AMI, constituida para estudiar la resistencia a los medicamentos, trabaja ahora para mejorar los diagnósticos de laboratorio en los países así como para fortalecer las capacidades nacionales en entomología y para las pruebas farmacéuticas, agregó Ruebush.

Los actuales esfuerzos de la AMI se concentran en el uso generalizado de mosquiteros tratados con repelente, en el uso residual de insecticidas al interior de los hogares, y en el tratamiento del paludismo con terapias combinadas y basadas en artemisinina.

Keith Carter, el mayor experto sobre paludismo de la OPS, señaló que al tiempo que es importante asegurarse de que el paludismo sea objeto de una financiación continuada para poder sostener los esfuerzos de control y tratamiento, es igualmente importante  aumentar el apoyo para el fortalecimiento general de los sistemas de salud en los países afectados.

"No podemos contentarnos con decir simplemente: aquí están las medicinas que funcionan", dijo Carter. "Los trabajadores de la salud y los proveedores de servicios deben ser claros a la hora de hablarles a los pacientes de cómo han de tomarse estas medicinas. Y no es solo cuestión de llevar las medicinas al ministerio de salud en las ciudades capitales cuando los pacientes se están enfermando en áreas rurales. Debemos capacitar a las personas en el uso de estas herramientas y debemos asegurar una buena cobertura".

La OPS también apoya los esfuerzos por el control del paludismo en otros Estados Miembros, incluidos países de América Central.
Tags: Amazon Malaria Initiative, América Central, Artemisinin, artemisinina, Bolivia, Brazil, Central America, Colombia, Ecuador, Guatemala, Haiti, malaria, OMS, OPS, PAHO, paludismo, Peru, Plasmodium falciparum, Plasmodium vivax, public health, salud pública, saude, USAID, Venezuela, WHO
Subscribe to My Comments Feed
Leave a Reply