« More on the Solar Water Heater Made of PET Bottles | Home | Morelos Gets a Comprehensive Waste Law »
By Keith R | October 10, 2007
Topics: Health Issues | 1 Comment »
The short status report to PAHO's governing body, the Pan American Sanitary Conference, mentioned in the releases reproduced below, is available in English, Spanish, and Portuguese.
As the report shows, fighting malaria in Latin America and the Caribbean (LAC) remains a formidable challenge. While there has been a decrease in reported cases overall for LAC, in six countries/territories (Costa Rica, Dominican Republic, French Guiana, Haiti, Panama, Venezuela) they have actually risen, and among those that have managed decreases progress has been uneven, ranging from a small 5% drop for Peru to a huge 95% drop for Paraguay (click on chart below to view larger version).
The task is not getting any easier, as more cases of drug-resistant malaria appear.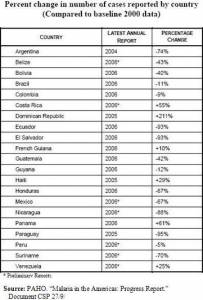 For more information on malaria and the challenges it poses to developing countries, check:
______________________________
From the Pan American Health Organization (PAHO):
Malaria remains formidable challenge in the Americas
Malaria remains a formidable challenge for the countries of the Americas and more action is needed to improve national control programs to reduce the burden of the disease, health ministers from the Americas heard today.
Although recent data show a decrease in cases in 15 of the 21 Pan American Health Organization Member States where the disease is endemic, with eight of these countries achieving a target of at least 50 percent case reduction and seven registering decreases below 50 percent, increases in malaria cases were reported in six other countries where the disease is endemic. The number of malaria cases reported in the Americas in 2006 was 902,373, representing a 22 percent reduction in malaria morbidity from the year 2000.
These figures were reported at the Pan American Sanitary Conference by Dr. Keith Carter, PAHO Regional Advisor on Malaria, who noted that the region "continues to confront a number of formidable challenges and situations that contribute to current constraints in the progress of work against malaria." These include increased migration of people within and among countries, which has made epidemiologic surveillance and monitoring ever more challenging and increased the susceptibility of countries, both endemic and non-endemic, to malaria outbreaks and epidemics, he said.
Changes in the organization of institutions and health systems in countries have created new conditions that require coordination among programs, and decentralization of vertical programs resulted in the transfer of responsibilities to the local level which, in many instances, lack managerial capacities, according to a document presented to the health ministers. Loss of trained personnel as malaria posts are suspended, and lack of active participation of many sectors, particularly civil society and communities, hampers progress, the report noted.
"Urban infrastructure development is deemed to have a concrete connection to the spread of malaria and other communicable diseases, particularly as a consequence of waste management problems, pollution of water reservoirs, and inadequate housing," the document said, and malaria programs in many countries "continue to be primarily vertical in approach and orientation and are minimally articulated/integrated with the primary health care system, thus undermining the potential gains in integrated and holistic health care for the affected populations."
The health ministers agreed to urge Member States to upgrade health surveillance, monitoring, and evaluation systems and to "reaffirm their commitment to establish and implement national policies and operational plans to ensure accessibility of prevention and control interventions for those at risk or affected by malaria in order to achieve a reduction of the malaria burden by at least 50% by 2010 and 75% by 2015."
The document also urged "Improving the communication process and extension of advocacy work to all stakeholders and target audiences," noting that this "highlights the importance of commemorating the World Malaria Day/Malaria Day in the Americas, proposed by Guyana for 6 November."
Dr. Carter noted that in the Americas, approximately 74 percent of infections are caused by Plasmodium vivax, with Plasmodium falciparum accounting for almost 26 percent of cases.
"The latest regional data on malaria-associated mortality from country reports in 2005 reflect a 69 percent decrease relative to the 2000 baseline figures. It is expected that these mortality figures further decreased in 2006."
______________________________
Desde Organización Panamericana de la Salud (OPS):
La malaria sigue siendo un desafío formidable

Dados los formidables retos y desafíos actuales contra la malaria, los países de las Américas deberán reevaluar sus programas nacionales de control y los esfuerzos conjuntos habrán de alinearse coordinadamente entre todos para avanzar hacia la consecución de metas mundiales y específicas.

Los datos más recientes indican una disminución de los casos de malaria en 15 de los 21 Estados Miembros de la OPS donde la enfermedad es endémica. Mientras ocho países lograron la meta de reducción de al menos un 50%, seis naciones donde la enfermedad es endémica informaron de incrementos porcentuales de entre un 10 a un 211% en comparación con los datos del 2000.

Según informes preliminares de los países presentados hoy a la Conferencia Sanitaria Panamericana, la reunión anual de Ministros de Salud de las Américas, el número de casos de malaria notificados en las Américas alcanzó los 902.373. La cifra representa una reducción de un 22% de la morbilidad por malaria en la Región respecto a los casos notificados en el 2000. En algunos países como El Salvador o Nicaragua, que durante el pasado siglo reportaron una gran incidencia de casos, se han producido impresionantes reducciones de hasta un 97%, como informó la delegada de Nicaragua al agradecer la cooperación clave de la OPS local y regional en haber llegado a este punto.

La OPS subraya que aunque se han registrado logros importantes, algunos retos están complicando enormemente la respuesta contra la enfermedad a nivel regional y por país. En muchos países aún no se ha concretado la participación activa de otros sectores, en particular la sociedad civil y las comunidades.

Se puso de relevancia con especial énfasis el desafío presentado por la malaria en la zona del Caribe por dificultades contra los vectores de la enfermedad en Haití y República Dominicana.

"En este contexto, la fecha del 6 de noviembre está siendo considerada como el Día de la Malaria en las Américas", dijo el Dr. Keith H. Carter, Asesor Regional sobre malaria, de la OPS. "Históricamente, el 6 de noviembre marca el día de 1880 en el que Charles Louise Alphonse Laveran observó la presencia de los parásitos de la malaria en la sangre de pacientes con síntomas febriles por primera vez. Esta es la razón por la que Guyana, el mayor proponente de la conmemoración, ha estado instando a esa fecha desde el 2004", indicó el experto. La representante de Bolivia matizó sin embargo que esa conmemoración internacional debería denominarse como Día Mundial de la Lucha contra la Malaria para poner el acento en la necesidad de 'respuesta' contra la enfermedad en la Región.

En septiembre del 2005, el 46 Consejo Directivo de la OPS aprobó una resolución que establecía la determinación por reducir la carga de malaria en al menos un 50% para el 2010, y en un 75% para el 2015. Los ministros de Salud acordaron también entonces el establecimiento de un Día de lucha contra la malaria en las Américas para prevenir y controlar la malaria y para promover la concienciación ciudadana y del liderazgo, y para monitorear los progresos realizados.

Los ministros y ministras de Salud evaluaron con renovado énfasis el progreso real de esta lucha en la Región. El representante de Colombia destacó que la cooperación de la OPS en respuesta a la malaria en los países de la Región ha sido coherente con la dimensión del reto de la enfermedad en las Américas. El representante de Argentina, por su parte, subrayó la gran reducción de la incidencia de esta enfermedad en ese país, pero advirtió que los esfuerzos individuales no bastan, reiterando con ello la importancia de reforzar los sistemas de vigilancia y la cooperación entre países.

Como indican expertos en malaria de la OPS, "una mayor migración de las personas dentro de los países y entre estos como resultado del turismo y de otras razones socioeconómicas y políticas han vuelto cada vez más complicada la vigilancia y el seguimiento epidemiológico y ha aumentado la vulnerabilidad de los países a los brotes y epidemias de malaria tanto donde la enfermedad es endémica como donde no lo es". Así dice un informe de la OPS sobre el progreso realizado en las Américas que los ministros de Salud analizaron hoy jueves en la Conferencia Sanitaria.

En muchos países no se concreta la activa participación de otros sectores, especialmente la sociedad civil y los grupos comunitarios, dice el informe. En algunos casos la coordinación entre la OPS y el adjudicatario principal del Fondo Mundial es "limitada", menguando con ello el potencial de optimizar las inversiones de los proyectos del país y alcanzar las metas correspondientes.

"En muchos países, los programas contra la malaria siguen siendo básicamente verticales en su enfoque y orientación, y están mínimamente conectados e integrados con el sistema de atención primaria de salud, hecho que socava los posibles beneficios de una atención de salud integrada para las poblaciones afectadas", explica el informe OPS.

El Dr. Carter afirmó que aparte de incrementar los procesos que logren la consecución de grandes retos y objetivos por medio del Plan Estratégico Regional de la Malaria en las Américas 2006-2010, es imperativo hacer que todos los sectores, socios y comunidades y poblaciones afectadas se sumen decididamente a la causa para combatir la malaria.

"La equidad, justicia social y sostenibilidad de esfuerzos y resultados solo se podrán conseguir por medio de una colaboración relevante y duradera", dijo el Dr. Carter. "La conmemoración del Día de la Malaria en las Américas comunicará el mensaje de que la malaria está más cerca de todas nuestras casas de lo que pensamos; que cada uno de nosotros tiene un papel que jugar; y que juntos podemos hacer la diferencia".

Al recordar que el año pasado hubo brotes en países donde anteriormente no había transmisión, el Dr. Carter subrayó en que se hace extraordinariamente importante el impulsar los esfuerzos para evitar este re-establecimiento de la transmisión donde ha sido eliminada, y también para eliminar la transmisión en aquellos países cuyos logros hasta la fecha hacen que esa eliminación pueda contemplarse en un próximo horizonte a corto o medio plazo.

A fin de abordar las presentes limitaciones y retos, la OPS instó a sus Estados Miembros a que se comprometan a reevaluar los planes y estrategias actuales para que colaboren en:

Mejorar el sistema de vigilancia sanitaria, seguimiento y evaluación.
Realizar una evaluación conjunta de acontecimientos epidemiológicos junto con los asesores de las oficinas de país de la OPS especializados en malaria y enfermedades transmisibles.
Fomentar una colaboración estrecha y eficaz entre los programas dentro de las instituciones, incluida la OPS, y dentro de los países, para optimizar esfuerzos y resultados.
Realizar reformas en la dotación del personal y su capacitación, y en otros aspectos de la gestión de los recursos humanos, para complementar los cambios en los programas.
Incorporar las recomendaciones y las intervenciones basadas en datos científicos a la ejecución de políticas apropiadas para las características específicas de cada país.
Mejorar el proceso de comunicación y divulgación del trabajo de promoción dirigido a todos los interesados directos y al público beneficiario. Esta inquietud destaca la importancia de conmemorar el Día Internacional del Paludismo y el Día de la Malaria en las Américas, que Guyana ha propuesto para cada 6 de noviembre.
Definir los mecanismos para la participación de la OPS en la ejecución de los proyectos de país financiados por el Fondo Mundial, y fortalecer esa interacción.
Participar en un programa multisectorial para crear una infraestructura urbana que aborde diversas consecuencias para la salud, incluida las de la malaria.
Fortalecer el compromiso con la atención primaria de salud y redoblar los esfuerzos y actividades de control de la malaria en el sistema de atención primario de la salud.
Institucionalizar y mantener las actividades de control de la malaria dentro del sistema de salud.Para la OPS, el camino que queda por recorrer requiere esfuerzos concertados.

"La batalla contra la malaria es un proceso dinámico", dijeron oficiales de la OPS. "El próximo paso es seguir adelante con el establecimiento del Día Mundial de la Malaria y decidir sobre la fecha en que será conmemorado en los países de la Región" ya que la institucionalización de un día como este, aseguraron estos expertos, "facilitará y acelerará el logro de las metas mundiales y nacionales".
Tags: Conferencia Sanitaria Panamericana, Costa Rica, Dominican Republic, El Salvador, French Guiana, GFATM, Guyana, Haiti, malaria, Nicaragua, OPS, PAHO, Pan American Sanitary Conference, Panama, Paraguay, Peru, Plasmodium falciparum, Plasmodium vivax, RAVREDA, Roll Back Malaria Partnership, Venezuela, vigilancia sanitaria, World Malaria Day
One Response to "Malaria in the Americas: Still Formidible / Malaria en las Américas: formidable todavia"
Gilberto Pontonio Says:
June 14th, 2017 at 9:30

Have you ever considered about including a little bit more than just your articles? I mean, what you say is valuable and all. Nevertheless think of if you added some great pictures or videos to give your posts more, "pop"! Your content is excellent but with pics and video clips, this website could undeniably be one of the greatest in its niche. Terrific blog!
Leave a Reply