« Toward a Cosmetovigilance System for Latin America? | Home | Turning Manioc Production Wastewater into New Products »
By Keith R | October 1, 2008
Topics: Health Issues, Tobacco Control | No Comments »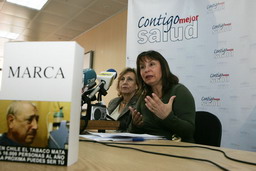 A couple of weeks back Chile's Health Ministry (Minsal) announced a new warning that, according to a new decree just published in the official gazette, all cigarette packs placed on the Chilean market must bear starting on 16 November.
Chile, it appears, has decided to forgo the shock treatment approach that Brazil and Uruguay have adopted.  Instead the new "face" (image) to be carried on the packs will be that of 67-year old Chilean carpenter that smoked a pack daily for 40 years.  As a result he developed emphysema, then lung cancer before the cancer metastasized.  He's now confined to his home and tied to his oxygen tank.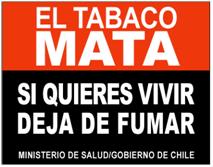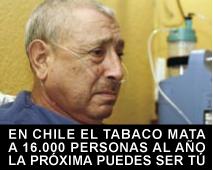 "Tobacco Kills.  If you want to live, stop smoking.  In Chile tobacco kills 16,000 persons a year.  The next one could be you."
The new decree also requires all cigarette packs to include on one of the lateral sides warnings about some of the substances in cigarettes:

"The smoke of each cigarette that you smoke contains, among other toxic products:

Tar, a product that provokes cancer

Nicotine, a product that addicts

Carbon monoxide, the same toxic gas that is emitted by tailpipes

Arsenic, a chemical utilized as rat poison"
I wonder why Chile has chosen the gentler, less graphic approach, when many experts and the World Health Organization (WHO) argue that more jarring images and messages are more effective.  Does it offend Chilean sensibilities in ways that it would not Brazilians or Uruguayans?  Would the other types of images/messages be culturally inappropriate to Chilean society?  Or is this just a case of Chilean public health officials being too timid?
Certainly something more has to be done to reduce tobacco consumption in Chile.  It is estimated that around 17% of Chile's annual deaths can be linked to tobacco consumption (the 16,000 per year figure mentioned on the new pack warning).  The National Commission on Drug Control (Comisión Nacional de Control de Estupefacientes – CONACE) says that 41% of Chileans smoke, one of the highest rates in Latin America and the Caribbean (LAC).  Smoking prevalence among school age Chileans is among the three highest in the world!
________________________
Desde el Ministerio de Salud (Minsal):
Minsal presenta nueva advertencia antitabaco

La nueva advertencia anti tabaco que debe regir en Chile a partir de noviembre próximo fue presentada hoy por el Ministerio de Salud. La subsecretaria de Salud Pública, Jeanette Vega, informó que deberá estar presente en todas las cajetillas de cigarrillos que comiencen a circular a partir de noviembre en todo el país.

Este cambio de advertencia se debe a lo establecido en la ley y obliga a las empresas tabacaleras a tenerla impresa en sus productos hechos de tabaco a partir del 16 de noviembre próximo.

Según lo establecido en la ley Nº 19.419; las obligaciones internacionales asumidas por el Estado de Chile al ratificar el Convenio Marco para el Control del Tabaco de la Organización Mundial de la Salud; lo dispuesto en el decreto con fuerza de ley Nº 1, de 2005, de este Ministerio, que fija el texto refundido, coordinado y sistematizado del decreto ley Nº 2763, de 1979, y de las leyes Nº 18.933 y Nº 18.469; y el artículo 32 número 6 de la Constitución Política de la República; en el Decreto Supremo Nº 128 de 2007 del Ministerio de Salud señala que todo envase de los productos hechos con tabaco, y toda acción publicitaria de los mismos permitida dentro de los lugares de venta, cualquiera sea la forma en que se realice, deberá contener la advertencia.

El nuevo rostro de la advertencia contra el tabaco 2008, es un chileno de 67 años y de oficio carpintero, quien fumó poco más de una cajetilla diaria por casi 40 años. En mayo de 2007 ingresó al Instituto Nacional del Tórax, con antecedentes de enfisema pulmonar, diagnosticándole un tumor pulmonar en el lóbulo inferior izquierdo.

Tras realizarle los estudios clínicos de rigor, se descubrió que padecía de cáncer pulmonar. En octubre del año pasado, se intentó operarlo pero se detectó que además tenía metástasis ganglionar, es decir, que su cáncer estaba muy avanzado, por lo que fue derivado a radioterapia y posteriormente a quimioterapia, tratamiento que mantuvo hasta junio de 2008.

Dado que el cáncer al pulmón siguió avanzando y el tratamiento no dio los resultados esperados, el paciente ingresó al programa de cuidados paliativos y alivio del dolor por cáncer avanzado, que garantiza el plan AUGE. A esto se suma, que actualmente se encuentra postrado en su hogar, debido a que es oxígeno dependiente, con todos los perjuicios para su calidad de vida.

El tabaquismo es considerado como la principal causa prevenible de enfermedad y muerte en el mundo actual, constituyéndose en una verdadera epidemia que se desplaza desde los países desarrollados a aquellos en vías de desarrollo. Según la Organización Mundial de la Salud (OMS), cada año mueren 5 millones de personas por causas relacionadas con el consumo de tabaco.

En Chile, se estima que mueren alrededor de 16.000 personas cada año a consecuencia del consumo de tabaco, cifra que representa aproximadamente el 17% de la mortalidad país/año, muertes que pudieron ser evitadas si esas personas hubiesen dejado de fumar oportunamente.

Según las cifras de la Comisión Nacional de Control de Estupefacientes (CONACE, 2006), el 41% de la población chilena consume tabaco, lo que nos ubica como el país con los índices de prevalencia más altos de la región. Más preocupante aún los escolares chilenos están considerados entre los tres más fumadores del mundo (Encuesta EMTA Jóvenes 2003) al igual que las mujeres de nuestro país. En este contexto, la subsecretaria de salud pública recordó la importancia de trabajar en conjunto como sociedad para combatir este tremendo problema de salud pública.
Tags: advertencia anti tabaco, alquitrán, arsenic, arsénico, cancer, carbon monoxide, Chile, cigarettes, CONACE, enfisema pulmonar, Health Ministry, metástasis, Ministerio de Salud, monóxido de carbono, nicotina, nicotine, OMS, public health, rat poison, ratas, salud pública, tabaco, tabagismo, tar, thorax, tobacco policy, tórax, tumor pulmonar, WHO
Subscribe to My Comments Feed
Leave a Reply