« Recycling Ozone-Depleting Substances | Home | Time for a New Biodiesel Policy in Brazil? »
By Keith R | July 16, 2009
Topics: Food/Beverage Issues, Health Issues | No Comments »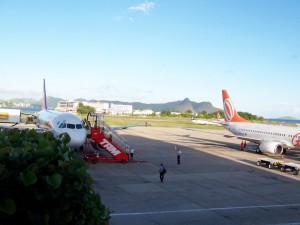 Brazil's Federal Public Ministry (MPF) has "recommended" to all Brazilian airline companies* to comply with Law 10.674 (requiring consumers to be informed whether foods contain gluten or not) and existing National Sanitary Vigilance Agency (Anvisa) regulations on nutrition labeling (Resolutions RDC 359/03 and 360/03) within the next 30 days.  The Anvisa regulations impose mandatory nutrition labeling for foods not prepared and packaged in the presence of the consumer, requiring that the label should include information on such items as energy, carbohydrates, protein, fat and sodium.
MPF also "recommended" to Anvisa and the National Civil Aviation Agency (ANAC) that they check compliance with those rules by both national and foreign airlines.
If you are a reader from outside of Brazil, you may be asking yourself what is the big deal about a "recommendation" from a public prosecutor.  Well, a MPF "recommendation" is more akin to what we call a "warning" in the US: the Ministry is saying it has spotted a problem in enforcement and/or compliance with existing law and/or constitutional principal, it is giving the offending parties notice to fix the problem or else face legal action.  And yes, MPF does have the constitutional authority to take on Anvisa and ANAC for not doing their job.**
The MPF's Reasoning
MPF attorney Thiago Lacerda Nobre, the author of the two "recommendations," cites an example of the problem that he himself observed during a flight between São Paulo and Rio Preto.  Seated beside him was an elderly diabetic who counts her carbs.  Since the airline food lacked nutritional labels, she had to stop eating.
He also cited the issue of indicating for celiacs presence of gluten in the composition of foods served to airline passengers.
He noted that in 2003 Anvisa issued a regulation (Resolution RDC 2/03) establishing the monitoring and control in the airports and aircraft. The rule provides that the airlines should ensure the safety and quality of food served on the aircraft, as well as give basic information that must appear on food labels.
He particularly noted that art. 21 of the Resolution says that airlines must comply with laws and rules already in place for food.  [ANVISA Resolutions RDC 359/03 and 360/03 do not provide a specific exemption for foods served on airlines — or any other transport (trains, buses, ships, etc.), for that matter.]  "Users of air transport are consumers and entitled to know what they are eating and whether this represents a risk to their health," said the prosecutor.
In the recommendation to airlines, the MPF advises that non-compliance with federal health legislation may be subject to the penalties provided for in Law 6437/77.
________
* TAM Linhas Aéreas S/A.; VRG Linhas Aéreas S/A (Varig & Gol); Azul Linhas Aéreas S/A; Trip – Transporte Aéreo Regional do Interior Paulista Ltda.; Oceanair Linhas Aéreas Ltda.; Webjet Linhas Aéreas S/A; Abaeté Linhas Aéreas S/A; Air Minas Linhas Aéreas Ltda.; Cruiser Linhas Aéreas Ltda.; Mega Linhas Aéreas Ltda.; Meta – Mesquita Transportes Aéreos Ltda.; NHT – Linhas Aéreas Ltda.; Pantanal Linhas Aéreas S/A; Passaredo Transportes Aéreos S/A; Puma Air Linhas Aéreas Ltda.; RLA – Rico Linhas Aéreas S.A.; Sete Linhas Aéreas Ltda.; TAF Linhas Aéreas S/A; TEAM Transportes Especiais Aéreos e Malotes Ltda.; Total Linhas Aéreas S/A.
** Under Brazil's 1988 Constitution, the Public Ministries (MPs) at the federal, state and large city levels are empowered to protect the public interest through special investigations and legal actions, including the ação civil pública (public civil action), where the MP can take on anyone it feels is not complying with current law in specific areas (environment is one, health is another), even if it is a government agency.
________________
Desde o Ministerio Public Federal (MPF):
MPF/SP recomenda que companhias aéreas informem tabela nutricional de alimentos

Em outra recomendação, MPF quer Anvisa e Anac fiscalizem companhias aéreas e que determinem que empresas sigam normas da legislação

O Ministério Público Federal em Jales (SP) recomendou hoje, 15 de julho, que todas as companhias aéreas brasileiras obedeçam a Lei 10.674/03, que determina informar se o alimento contém ou não glúten, e as Resoluções RDC 359/03 e RDC 360/03, da Agência Nacional de Vigilância Sanitária (Anvisa), que obrigam a rotulagem nutricional dos alimentos. O prazo para adequação é de 30 dias.

Em outra recomendação, de igual teor, direcionada à Agência Nacional de Aviação Civil (Anac) e à Anvisa, o MPF recomendou que as agências fiscalizem as companhias aéreas nacionais regulares, brasileiras ou estrangeiras, que operem no Brasil, de modo a garantir o cumprimento da Lei 10.674/03 e das Resoluções RDC 359/03 e RDC 360/03.

As resoluções 359 e 360 impuseram a obrigatoriedade da rotulagem nutricional dos alimentos produzidos e comercializados, de qualquer origem, embalados na ausência do cliente. A mesma norma obriga que no rótulo devam constar informações como valor energético, carboidratos, proteínas, teor de gorduras e sódio, bem como outras informações.

Para o MPF, que apura a questão em procedimento instaurado na procuradoria de Jales, a norma vale também para os alimentos preparados especialmente para serem servidos em aviões, o que não vem sendo observado pelas companhias aéreas.

O procurador da República Thiago Lacerda Nobre cita um caso que ele observou num voo entre São Paulo e Rio Preto. Ao lado dele estava uma idosa diabética que faz contagem de carboidratos. Como o alimento não apresentava a tabela nutricional, ela deixou de comer. O procurador recolheu a embalagem do alimento servido no voo e o juntou no procedimento que abriu. Outra questão grave é a ausência da informação sobre a presença de glúten na composição desses alimentos.

Em 2003 a Anvisa editou uma resolução (RDC nº 2), que estabelece a fiscalização e controle sanitário em aeroportos e aeronaves. A norma prevê que as empresas aéreas devem zelar pela segurança e qualidade dos alimentos servidos nas aeronaves, assim como dar informações básicas que devam constar nos rótulos dos alimentos.

Para o procurador, autor das recomendações, a norma RDC nº 2 da Anvisa, em seu art. 21, diz que as companhias aéreas devem cumprir a legislação e regras já existentes para alimentos. "O usuário do transporte aéreo é um consumidor e tem direito a saber o que está ingerindo e se isso representa um risco para sua saúde", ressaltou o procurador.

Na recomendação às aéreas, o MPF informa que a não observância da legislação sanitária federal pode configurar infração sanitária e as companhias estarão sujeitas as penalidades previstas na Lei 6.437/77, que regulamenta as infrações à legislação sanitária federal.

Na segunda recomendação, às agências reguladoras, o MPF pede que se verifique se as companhias cumpriram o prazo de 30 dias para se adequarem às normas vigentes e, se for o caso, imponham, após esgotado o prazo, as penalidades cabíveis. É pedido também que as agências informem às companhias aéreas estrangeiras que operam no Brasil a necessidade de se obedecer às normas brasileiras presentes na recomendação.
Tags: aeronaves, airlines, alimentos, ANAC, Anvisa, aviões, Azul Linhas Aéreas, Brasil, Brazil, carbohydrates, carboidratos, celiac disease, companhias aéreas, fat, food, glúten, Gol, gorduras, Ministério Público Federal, MPF, nutrition labeling, Oceanair, planes, protein, proteínas, Puma Air, rotulagem nutricional, rótulo, sódio, sodium, TAF, Tam, TEAM, transporte aéreo, valor energético, Varig, Webjet
Subscribe to My Comments Feed
Leave a Reply