« The Ecoclubs Movement in Latin America and the Caribbean | Home | IBAMA Sets Record for Environmental Licensing »
By Keith R | January 2, 2009
Topics: Health Issues | No Comments »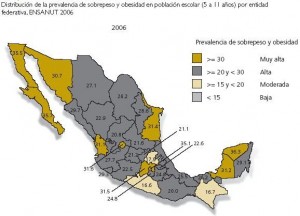 In a prior post I discussed how growing concern about weight problems among Mexican children is leading to calls there for restrictions on the advertising and marketing of certain foods and beverages to children.  A recent National Public Health Institute (INSP) survey of children in Mexico's public schools details the dimensions of the problem (the maps pictured here are from a 2006 national health survey – click to see larger images).
The survey found that among Mexican school children under age 18 the national average for overweight and obesity is 26%, and in some subfederal jurisdictions, as high as 35%.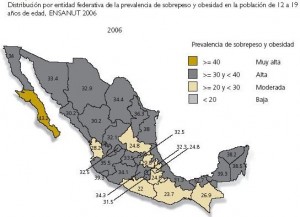 The overweight/obesity prevalence for primary school children was above the national average in the states of Baja California, Colima and Nuevo León, while the lowest rates for this age group was found in Chiapas, Oaxaca and Tabasco.  As for secondary school children, the highest rates were found in Baja California, Baja California Sur and Yucatán, while the lowest rates were found in Chiapas and Oaxaca.
The health survey also found that 20% of primary school children in the country have anemia, and that skin diseases were a problem in school children under 10 in the Federal District (DF), Tlaxcala and Tabasco.
____________________
Desde la Secretaria de Salud:
Sobrepeso y obesidad en primaria y secundaria es mayor en el norte del país

La prevalencia de sobrepeso y obesidad en niños de primaria en el norte del país, sobre todo Nuevo León, Baja California y Colima, con excepción de Chihuahua y Durango, es más alta que la media nacional, mientras que en Chiapas, Oaxaca y Tabasco es más baja, así lo dio a conocer el Secretario de Salud, José Ángel Córdova Villalobos.

Al presentar ante los integrantes del Consejo Nacional de Salud los resultados de una encuesta realizada por el Instituto Nacional de Salud Pública para describir el estado de salud, educación y condiciones de vida de los escolares de escuelas públicas de primaria y secundaria de la República Mexicana, Córdova Villalobos afirmó que el sobrepreso y la obesidad en menores de 18 años afecta a 26% de esta población, sin embargo, en algunas entidades llega a 35%.

Los estados con mayor prevalencia de sobrepeso y obesidad en estudiantes de secundaria fueron Yucatán, Baja California y Baja California Sur, en cambio, Chiapas y Oaxaca tienen los niveles más bajos; sin embargo, Yucatán registra una combinación de baja talla con sobrepeso y obesidad.

La encuesta aplicada a 73 mil 560 niños de 644 escuelas del país también mostró que 20% de estudiantes de primaria del país tiene anemia y que los estados de Hidalgo, Tamaulipas y Tabasco registran el menor índice en menores de 12 años que asisten al nivel básico.

Sobre este problema, el Secretario de Salud aclaró que no se aprecian tendencias geográficas definidas, ya que la anemia se encontró tanto en altos como en bajos niveles de marginación. No obstante, la prevalencia en estudiantes de primaria es más alta que en secundaria, en quienes incluso va desapareciendo.

Eneste estudio también se analizaron efectos culturales en menores de 10 años y se demostró que por ejemplo, este factor está relacionado con el hecho de que el uso de medidas correctivas del pie fue mayor en varones, quienes tienen más prevalencia de pie plano, en cambio en las niñas es más común el problema de rodillas en valgo.

En lo que respecta a enfermedades de la piel según nivel educativo, la prevalencia es un poco más alta en primaria que en secundaria, pero los adolescentes en primaria tienen menor prevalencia. Las entidades en donde es mayor el problema en menores de 10 años fueron Tlaxcala, Tabasco y Distrito Federal; hubo más casos en los niños en primaria en Aguascalientes, Campeche y Nayarit; en Secundaria fue Aguascalientes, Yucatán y Oaxaca.

Córdova Villalobos detalló que otros objetivos de esta encuesta fueron identificar los factores de riesgo de obesidad y sobrepeso en estudiantes de primaria y secundaria para disminuir esos problemas y conocer las características sociodemográficas de la sociedad escolar.

La metodología se hizo con la participación de las Secretarías de Salud Federal y de Educación, además de la Fundación Banamex, y se aplicó a más de 73 mil estudiantes, 43 mil de primaria y 30 mil de secundaria, 47% hombres y 57% mujeres, con un promedio de edad de 9.1 años en primaria y de 13.6 en secundaria.
Tags: anemia, Baja California, Baja California Sur, Chiapas, Colima, DF, Federal District, INSP, Mexico, Nuevo Leon, Oaxaca, obesidad, obesity, overweight, sobrepeso, Tabasco, Tlaxcala
Subscribe to My Comments Feed
Leave a Reply