« Improving Environmental Governance in Uruguay | Home | Zero Waste in Buenos Aires? »
By Keith R | June 8, 2007
Topics: Food/Beverage Issues, Health Issues | No Comments »
Temas Note: Although the task force report mentioned in these Pan American Health Organization (PAHO) press releases was actually approved several weeks ago, it was not formally released to the general public until today (07 June). Rather than release it quietly and let it be approved without much public discussion (outside of PAHO and Health Ministry circles, that is) by PAHO's governing body (the Pan American Sanitary Conference) next October, PAHO's secretariat and the task force chose to issue it with great fanfare in a media event in Santiago, Chile.
Why Chile? Perhaps it is because Chile's Congress now has before an anti-"junk food" bill that includes measures against trans-fats.
If you want to read the task force's report, it can be downloaded in PDF format in either English or Spanish (sorry, Portuguese version not yet available).
From the Pan American Health Organization (PAHO):
PAHO Task Force Calls for "Trans Fat Free Americas"

Nutrition experts urge action by governments and industry to phase trans fatty acids out of foods

Experts on nutrition and public health convened by the Pan American Health Organization (PAHO) called today for the elimination of industrial trans fatty acids from food supplies throughout the Americas. The call for action followed the release of a special task force report in Santiago, Chile.

"The negative effects of trans fats produce high rates of cardiovascular disease resulting in heart attacks and stroke, often fatal, and are completely avoidable through good education and information," said Dr. Ricardo Uauy, president of the International Union of Nutritional Sciences and chairman of the task force. He called for a halt in the consumption of foods with trans fats, which didn't exist 100 years ago.

Dr. Juan Manuel Sotelo, PAHO/WHO Representative in Chile, outlined the Organization's efforts to cut trans fats and prevent chronic disease, including the PAHO campaign with television personality Don Francisco, "Let's eat healthy, live well, and get moving, America," an unprecedented campaign against obesity and its devastating health impact in Latin America.

Dr. Lidia Amarales, Undersecretary of Public Health of Chile, said Chile has made advances in cutting trans fats with obligatory labels on foods and public education, and more foods are now available without trans fats, including margarines, infant foods, breads and others. She said the Ministry of Health is collaborating on these tasks with food producers, the restaurant industry, and academia, "but there is still work to be done and this declaration presents a larger challenge."

Experts from the PAHO task force cited "conclusive evidence" that consuming trans fatty acids, or trans fats, increases the risk of heart disease and possibly the risk of sudden cardiac death and diabetes. Reducing trans fat consumption by just 2 percent to 4 percent of total calories would prevent an estimated 30,000 to 225,000 heart attacks in Latin America and the Caribbean, the report said.

Trans fats are found primarily in foods that contain partially hydrogenated oils, whose texture and longer shelf life make them attractive to food processors, but which have harmful effects on human health. Research has shown that trans fats contribute to heart disease by raising levels of "bad cholesterol" (low-density lipoprotein, or LDL), lowering levels of "good cholesterol" (high-density lipoprotein, or HDL), and damaging the cells in the linings of blood vessels, contributing to inflammation and blockage and leading to heart attacks.

Several countries have begun to take action to reduce or eliminate industrially produced trans fats. Denmark passed legislation last year that limits trans fats to 2 percent of total fat in all foods sold in the country. Canada and the United States both require labeling of trans fat in processed foods and recommend that consumers reduce trans fat consumption to as little as possible. Meanwhile, Argentina, Brazil, Chile, Costa Rica, Paraguay, and Uruguay are all considering proposals to reduce trans fat consumption by their populations.

A number of private companies have also taken steps to reduce the use of trans fats. McDonald's has eliminated trans fats from its restaurants in Argentina, Denmark, France, and Russia, while Unilever and Kraft Foods have announced their intention to eliminate trans fats from all their products. Oil producers in Costa Rica and Uruguay are currently marketing trans fat-free oils as a way of reducing trans fat consumption. To speed up the process of eliminating trans fats from food in the Americas, the PAHO task force made the following recommendations:

Industrial trans fat should be eliminated from food supplies in the Americas, with unsaturated fats promoted as an alternative.
This will require government regulatory action in addition to voluntary action by industry.
Trans fat should be legally limited to less than 2 percent of total fat in vegetable oils and soft margarines and to less than 5 percent in other foods.
Measures that governments should consider include mandatory labeling of trans fat content in foods, the establishment of standards for product health claims, and mandatory disclosure of types of fats in foods served in restaurants, food aid programs, schools, and other food service providers.
Public health advocates should work with industry to speed the phasing out of trans fats and to promote healthier oils and fats in foods.
Governments should provide special support to help small food industries and services eliminate trans fats and adopt healthier alternatives.
PAHO/WHO should lead hemispheric efforts toward a Trans Fat Free Americas by assigning the initiative high priority on the regional health agenda and by helping member countries develop policies, regulations, and legislation needed to implement the initiative and measure its progress.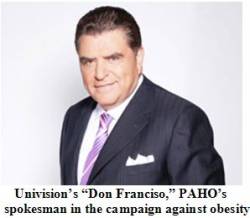 Desde la Organización Panamericana de Salud (OPS):
Grupo de trabajo de la OPS/OMS aboga por "las Américas libres de grasas trans"

Expertos en nutrición instan a los gobiernos y a la industria a tomar medidas para eliminar progresivamente las grasas trans de los alimentos.

Expertos en nutrición y salud pública convocados por la Organización Panamericana de la Salud (OPS), hicieron un llamado a favor de la eliminación de las grasas trans de los alimentos producidos por la industria en todos los países de las Américas.

Los efectos negativos de las grasas trans producen altas tasas de enfermedades cardiovasculares, que derivan en infartos y derrames cerebrales, muchas veces mortales, y son completamente evitables con una buena educación e información, señaló el Dr. Ricardo Uauy, presidente de la Unión Internacional de Ciencias Nutricionales y profesor de Nutrición en Salud Pública en La Escuela Londinense de Higiene y Medicina Tropical.

Como presidente del grupo de trabajo OPS "Las Américas libres de grasas trans", Uauy hizo un fuerte llamado a la opinión pública a parar el consumo de suministros alimenticios que contengan grasas trans. "Hace cien años no había grasas trans en la alimentación", añadió.

El llamado a la acción se hizo luego de la divulgación de un informe del grupo de trabajo especial de la OPS ayer en Santiago, Chile. Expertos citaron "pruebas concluyentes" de que el consumo de ácidos grasos insaturados o grasas trans, aumenta el riesgo de cardiopatía coronaria y posiblemente también de muerte súbita de origen cardíaco y de diabetes mellitus. Una reducción del consumo de grasas trans de apenas 2 a 4% del total de calorías evitaría cerca de 30.000 a 225.000 ataques cardíacos en América Latina y el Caribe, dice el informe.

El Dr. Juan Manuel Sotelo, representante de la OPS/OMS en Chile, destacó los esfuerzos que la OPS está haciendo para impulsar en las Américas a no consumir grasas trans, por sus efectos negativos a la salud, incluyendo la campaña "A comer sano, a vivir bien y a moverse América" para asistir a los países de la Región a que promuevan mejores hábitos de alimentación y se incremente el índice de la actividad física entre sus poblaciones. La campaña tiene el apoyo de la estrella de televisión internacional, Don Francisco. Las iniciativas se enmarcan también dentro de la Estrategia Regional para la Prevención y el Control de las Enfermedades Crónicas de la OPS así como en la Estrategia de Nutrición en Salud y Desarrollo, dijo Sotelo. Lidia Amarales, Subsecretaria de Salud Pública de Chile, dijo que Chile ha avanzado voluntariamente en la disminución del uso de las grasas trans, "pero aún nos falta y esta declaración de la OMS/OPS nos plantea un reto mayor."

"Chile ha dado un tremendo paso con el rotulado obligatorio de grasas trans en los alimentos y con permitir a las industrias destacar las que han disminuido significativamente su uso, de tal manera que hoy, hay un conjunto de alimentos libres de grasas trans, ejemplo de ellas son las margarinas, alimentos para niños, el pan envasado y otros que se pueden destacar", dijo Amarales.

El avance ha sido producto del trabajo de muchos sectores, dijo Amarales Osorio. Entre ellos destacan el Ministerio de Salud induciendo políticas saludables, el mundo productor de alimentos y materias primas asumiendo estos desafíos y desarrollando alimentos con menos y mejores grasa y con menos grasas saturadas y grasas trans. La industria de restaurantes ha avanzado en la misma línea y el mundo académico también, entregándonos toda la evidencia científica, agrego la subsecretaria.

Las grasas trans se encuentran principalmente en los alimentos que contienen aceites parcialmente hidrogenados, cuya textura y tiempo de conservación prolongado hacen que sean atractivos para la industria procesadora de alimentos, pero que tienen efectos perjudiciales para la salud humana.

Varios países ya han empezado a tomar medidas para reducir o eliminar las grasas trans producidas en la industria. El año pasado, Dinamarca aprobó leyes que limitan las grasas trans a 2% del total de grasa en todos los alimentos vendidos en el país. Tanto en Canadá como en los Estados Unidos, es obligatorio que en las etiquetas de los alimentos procesados se indique si contienen grasas trans; además, se recomienda que se reduzca al mínimo el consumo de grasas trans. Entretanto, en Argentina, Brasil, Chile, Costa Rica, Paraguay y Uruguay se están considerando propuestas para reducir el consumo de grasas trans por toda la población.

Varias empresas privadas también han tomado medidas para reducir el uso de grasas trans. McDonald's ya eliminó las grasas trans en sus restaurantes de Argentina, Dinamarca, Francia y Rusia. Unilever y Kraft Foods anunciaron su intención de eliminar las grasas trans de todos sus productos. Productores de aceite de Costa Rica y Uruguay están comercializando aceites sin grasas trans para reducir su consumo.

Para acelerar el proceso de eliminar las grasas trans de los alimentos en las Américas, el grupo de trabajo de la OPS formuló las siguientes recomendaciones:

Las grasas trans deben eliminarse del suministro de alimentos en las Américas y deben promoverse las grasas insaturadas como alternativa.
Esto exigirá medidas reglamentarias establecidas por los gobiernos, además de las medidas que la industria adopte voluntariamente.
Las grasas trans deben limitarse legalmente a menos de 2% de la grasa total presente en los aceites vegetales y las margarinas blandas, y a menos de 5% en los otros alimentos.
Otras medidas que los gobiernos podrían considerar son la mención obligatoria en las etiquetas del contenido de grasas trans en los alimentos, el establecimiento de normas para reglamentar las afirmaciones sobre propiedades saludables de los alimentos, y la declaración obligatoria de los tipos de grasas en los alimentos servidos en restaurantes, programas de ayuda alimentaria y de alimentación escolar; y otros proveedores de servicios de alimentación.
Los líderes de salud pública deben trabajar con la industria para acelerar la eliminación gradual de las grasas trans y para promover el uso de aceites y grasas más saludables en la producción de alimentos.
Los gobiernos deben dar apoyo especial a las industrias y servicios de alimentos pequeños para que eliminen las grasas trans y adopten opciones más saludables.
La OPS/OMS debe encabezar los esfuerzos continentales para el logro de las Américas libres de grasas trans asignándole a la iniciativa una prioridad alta en la agenda regional y ayudando a los países miembros a formular políticas, reglamentos y leyes necesarios para poner en práctica la iniciativa y medir su avance.
Tags: aceites vegetales, afirmaciones, alimentación escolar, alimentos, Americas, Argentina, Brazil, breads, Canada, cardiovascular disease, Chile, cholesterol, colesterol, Costa Rica, Denmark, derrames cerebrales, diabetes, Dinamarca, Don Francisco, enfermedades cardiovasculares, escolas, escuelas, food, food aid, France, Francia, grasas insaturadas, grasas saturadas, grasas trans, HDL, health claims, heart attack, high-density lipoprotein, infant foods, infartos, junk food, Kraft Foods, LDL, low-density lipoprotein, margarinas, margarinas blandas, margarines, McDonald's, nutrition labeling, OPAS, OPS, PAHO, pan envasado, Paraguay, partially hydrogenated oils, public health, restaurants, Rusia, Russia, salud pública, saude, schools, soft margarines, stroke, trans fatty acids, trans-fat, Unilever, unsaturated fats, Uruguay, vegetable oil, WHO
Subscribe to My Comments Feed
Leave a Reply