« OECS Needs to Get Serious About Environmental Management | Home | GEF Funds Binational Ecosystem Management Project / Donación del GEF para la gestión de un ecosistema binacional »
By Keith R | September 28, 2007
Topics: Food/Beverage Issues, Health Issues | No Comments »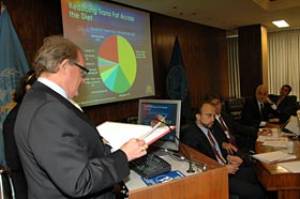 From the Pan American Health Organization (PAHO):
Nutrition Experts Call on Food Industry to Support "Trans Fat Free Americas"

Experts on nutrition and public health are calling on leaders in the food industry to speed up the elimination of industrially produced trans fatty acids from the foods they produce and distribute, and to become partners in promoting healthy diets throughout the Americas.

The call came at a meeting convened this week by the Pan American Health Organization (PAHO) to present the conclusions of a Trans Fat Free Americas Task Force to food producers and distributors and to hear industry plans for phasing trans fats out of food supplies in the hemisphere.

Many of the companies represented have already taken steps to phase trans fats out of their products. PAHO Assistant Director Dr. Carissa Etienne applauded them, saying: "I would like to congratulate the wide range of voluntary actions that your respective companies have taken or are considering in order to eliminate industrially-produced trans fatty acids from your products that are widely available in the region of Latin America and the Caribbean. These actions indicate your willingness to respond to consumer health concerns that will also serve to increase consumer confidence and enhance brand reputation."

Among companies represented at the meeting were Burger King Corporation, Cargill Inc., ConMéxico (Consejo Mexicano de la Industria de Productos de Consumo A.C.), Grupo ARCOR, Kraft Foods, Kellogg Company, McDonald's Corporation, Nestlé, PepsiCo, SADIA, SA, Watt's SA and Yum! Brands, Inc. Participants, including representatives of restaurant chains, oil producers, and food manufacturers, gave briefings on their initiatives and progress in phasing out industrially-produced trans fatty acids (TFAs) in the Americas, and on alternatives and potential obstacles.

Most of the food industry representatives estimated that elimination will take place by the end of 2008. It was noted, however, that phasing out trans fats completely will require additional action to eliminate them in oils used for home cooking and in bakery products, which account for about two-thirds of consumption of TFA in the Americas. Participants also discussed the need for standardization of regulatory norms in the Southern Hemisphere, heightened consumer awareness and education on TFA and diet and health-related issues, and their commitment to ongoing collaboration with PAHO in other areas to improve health outcomes.

"Educating consumers can only go so far in addressing this problem. We also have to create a more favorable environment in which healthy choices are easier choices," said Dr. Ricardo Uauy, president of the International Union of Nutritional Sciences and chairman of the PAHO task force that called for a halt in consumption of foods with trans fats, which didn't exist 100 years ago.

The PAHO task force cited "conclusive evidence" that consuming trans fat increases the risk of heart disease and possibly the risk of sudden cardiac death and diabetes. The task force's report, issued in June, estimated that a reduction in trans fat consumption by just 2 percent to 4 percent of total calories could prevent an estimated 30,000 to 225,000 heart attacks in Latin America and the Caribbean.

Trans fats are found primarily in foods that contain partially hydrogenated oils, whose texture and longer shelf life make them attractive to food processors. Research has shown that trans fats contribute to heart disease by raising levels of "bad cholesterol" (low-density lipoprotein, or LDL), lowering levels of "good cholesterol" (high-density lipoprotein, or HDL).
______________________________
Desde la Organización Panamericana de la Salud (OPS):
Expertos en nutrición piden el apoyo de la industria de alimentos para la iniciativa "América libre de grasas trans"

Expertos en nutrición y salud pública están pidiendo a los líderes de la industria alimentaria que aceleren la eliminación de las grasas trans, producidas industrialmente, de los alimentos que fabrican y distribuyen, y que se conviertan en socios para promover la alimentación saludable en todos los países de las Américas.

La petición emanó de una reunión convocada esta semana por la Organización Panamericana de la Salud (OPS) para presentar las conclusiones de un Grupo de trabajo sobre las Américas libres de grasas trans, a los productores y distribuidores de alimentos y para conocer los planes de la industria con miras a la eliminación gradual de las grasas trans de los suministros alimentarios en el hemisferio.

Muchas de las empresas representadas ya han dado algunos pasos para eliminar por etapas las grasas trans de sus productos. La Subdirectora de la OPS, Dra. Carissa Etienne, elogió a esas empresas al decir: "Quiero felicitarlos por las numerosas medidas voluntarias que sus respectivas empresas han tomado o están considerando tomar a fin de eliminar las grasas trans producidas industrialmente de sus productos distribuidos ampliamente en la región de América Latina y el Caribe. Estas medidas muestran que ustedes están dispuestos a responder a las preocupaciones de salud de los consumidores, que servirán también para aumentar la confianza del consumidor y mejorar la reputación de la marca".

Entre las empresas representadas en la reunión se encontraban Burger King, Inc., Cargill Inc., ConMéxico (Consejo Mexicano de la Industria de Productos de Consumo A.C.), Grupo ARCOR, Kraft Foods, Kellogg Company, McDonald's Corporation, Nestlé, PepsiCo, SADIA, SA, Watt's SA y Yum! Brands, Inc. Los participantes, entre ellos varios representantes de cadenas de restaurantes, productores de aceite, y fabricantes de alimentos, presentaron informes sobre sus iniciativas y logros para eliminar gradualmente las grasas trans producidas por la industria en las Américas, así como otros obstáculos alternativos y potenciales.

Casi todos los representantes de la industria de alimentos calculan que la eliminación definitiva tendría lugar a finales del 2008.

Sin embargo, se indicó que la eliminación definitiva de las grasas trans exigirá otras medidas para eliminarlas de los aceites usados para cocinar en los hogares y en los productos de panadería y pastelería, que equivalen a dos terceras partes del consumo de grasas trans en las Américas. Los participantes abordaron también la necesidad de estandarizar las normas de control en el Hemisferio Sur, recalcaron la toma de conciencia por los consumidores y su educación acerca de las grasas trans y otras cuestiones relacionadas con la alimentación y la salud, así como su compromiso con la colaboración constante con la OPS y otras áreas para mejorar los resultados de salud.

"La educación de los consumidores tienen un límite para abordar este problema. También tenemos que crear un entorno propicio en el que las decisiones favorables a la salud sean las más fáciles" dijo el Dr. Ricardo Uauy, presidente de la Unión Internacional de Ciencias Nutricionales y presidente del grupo de trabajo de la OPS, que ha solicitado la interrupción del consumo de alimentos con grasas trans, que no existía hace 100 años.

El grupo de trabajo citó "pruebas concluyentes" de que el consumo de grasas trans aumenta el riesgo de enfermedad cardíaca y posiblemente el riesgo de muertes súbita por infartos y de diabetes. Según el informe del grupo de trabajo, publicado en junio, se calcula que una reducción en el consumo de grasas trans de apenas 2 a 4% del total de calorías podría evitar entre 30.000 y 225.000 infartos en América Latina y el Caribe.

Las grasas trans se encuentran principalmente en los alimentos que contienen aceites parcialmente hidrogenados; estos aceites hacen que los alimentos tengan una mejor textura y se conserven por más tiempo, lo que resulta atractivo para los industriales. La investigación ha demostrado que las grasas trans contribuyen a las cardiopatías al aumentar los niveles del "colesterol malo" (lipoproteína de baja densidad, o LDL) y reducir los niveles del "colesterol bueno" (lipoproteína de alta densidad, o HDL).
Tags: aceites parcialmente hidrogenados, aceites usados para cocinar, alimentos, Americas, Burger King, cadenas de restaurantes, Cargill, cholesterol, colesterol, ConMéxico, diabetes, enfermedad cardíaca, food, grasas trans, Grupo ARCOR, heart disease, high-density lipoprotein, infartos, Kellogg Company, Kraft Foods, low-density lipoprotein, McDonald's, Nestle, nutrición, nutrition, OPAS, OPS, PAHO, partially hydrogenated oils, Pepsico, polietileno de alta densidad, polietileno de baja densidad, public health, restaurant chains, SADIA, salud pública, saude, trans fatty acids, trans-fat, Trans-Fat Free Americas, used cooking oil, Yum! Brands
Subscribe to My Comments Feed
Leave a Reply