« Developing Environmental Health Indicators for the Brazilian Amazon | Home | Progress Toward MDGs in Sanitation in LAC »
By Keith R | August 16, 2008
Topics: Health Issues, Water Issues | No Comments »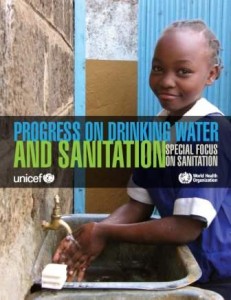 One of my first posts here on The Temas Blog concerned the 2006 World Health Organization (WHO) progress report on reaching the Millennium Development Goals (MDGs) regarding drinking water and sanitation. So it's probably fitting as I approach the second anniversary of the The Temas Blog to be discussing the latest update just released by the Joint Monitoring Programme (JMP) run by both WHO and the United Nations Children's Fund (UNICEF).
I'll discuss this report in two posts – in Part I here, the water portion; in Part II I'll address the sanitation side.
Like its predecessor, this report provides a good snapshot not only of where things stand worldwide, but also of where international lending and aid agencies are likely to focus their water/sanitation programs in the next 10 years. The latest report, however, also includes new and interesting types of data not explored in the prior one. So I am adding to the Temas Reading List for water and sanitation.
A Word First About What Does and Doesn't Count in the Access Figures
The Millennium Project's Task Force on Water and Sanitation defines safe drinking water as "water that is safe to drink and available in sufficient quantities for hygienic purposes."
The trouble is how to measure these, particularly with the principal tool utilized, household surveys. So instead what is measured and reported upon is "improved" drinking water access. JMP talks about two main categories of "improved" sources of drinking water: (1) piped water into the dwelling, plot or yard; (2) "other sources" – public taps or standpipes, tube wells or borewells, protected dug wells, protected springs, or rainwater collection. Bottled water — very commonly utilized through LAC nations — is only considered "improved" drinking water access when the households surveyed use improved sources for cooking and personal hygiene. Shared or public facilities are excluded from the definition of "improved" sanitation access.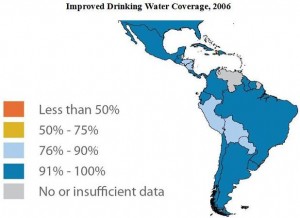 LAC in the Global Context
According to the JMP report, the number of people globally who lack access to an improved drinking water source has fallen below one billion for the first time since data were first compiled in 1990. Currently 87% of the world population has access to improved drinking water sources, with current trends suggesting that more than 90% will do so by 2015.
Among all developing nations, coverage in urban areas averages 94%, and in rural areas 76%. The developing nations average nearly a quarter of their drinking water in urban centers from "other" sources (see definition above), and nearly half in rural areas from such sources.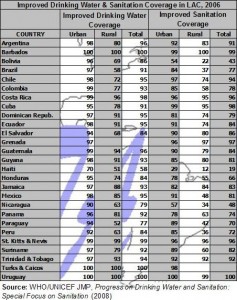 The total "improved" sources figure for LAC as a region in 2006 is 92%, meaning that, as a region, LAC has already achieved the MDG target. Individually, however, some LAC nations have a ways to go, although all are considered to be "on track" except Haiti.
As a region, LAC does better than the developing nations as a group in coverage for urban areas (97% instead of 94%) but worse for rural areas (73% instead of 76%).
As a region LAC does better than the developing nations as group in terms of having piped-in water: 90% vs. 70% in urban areas, 48% vs. 27% in rural areas. In LAC, only 7% of the drinking water in urban areas comes from "other" improved sources, but 25% of drinking water in rural areas comes from such sources.
A Closer Look at the LAC Picture
As the map graphic above from the report makes clear (click on the image to see a larger version), most LAC nations have 91% or higher overall access for "improved" drinking water. A handful — Barbados, the Turks and Caicos Islands, and Uruguay — claim to provide 100% coverage.
Most of those that don't fall into top tier are in the 76-90% range: Bolivia (%), El Salvador (84%), Honduras (84%), Nicaragua (79%), Paraguay (77%) and Peru (84%). The country far behind the rest: Haiti, at 58%.
Of concern is the divide between urban and rural coverage for drinking water. Generally speaking, coverage is good in urban areas; the notable exception is Haiti at 70%.
The rural picture is more of a mixed bag (click on image at right). Only 10 countries are in the upper tier for rural water coverage, while 9 are in the third tier (50-75%): Bolivia (69%), Brazil (58%), Chile (72%), El Salvador (68%), Haiti (51%), Honduras (74%), Nicaragua (63%), Paraguay (52%) and Peru (63%).
But How Much Progress is That on Water?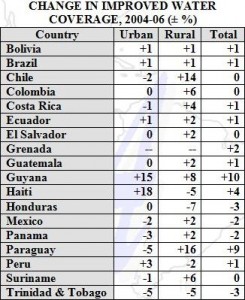 I was curious about something the report does not address: progress since the last update (in 2006, using 2004 data). The new report discusses who's making progress or not — but only in terms of comparing current numbers with those of the 1990 baseline, or to the goal set for 2015 under the MDG process. I want to know how things have been going in the short term.
So I went back and dug up the 2004 data and compared it with the 2006 figures. I did so thinking I would find almost no change in the total figures for each country, probably little change in the urban figures, and perhaps some notable changes in the rural numbers.
But the figures actually produced some surprises. Seen through this optic, Guyana and Haiti have made impressive gains on the urban front in just two years (see table); Chile, Colombia, Guyana, Paraguay and Suriname have done so in the rural; best improvement overall goes to Guyana at 10% in just two years, followed by Paraguay at 9%.
Slightly surprising were the sharp drops (-5%) in urban coverage in Paraguay and Trinidad and Tobago, and the urban drops in Chile, Mexico and Panama. My guess? That the poor neighborhoods of the major metropoles in these countries grew but water services did not keep pace.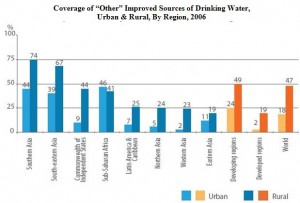 Piped In Vs. "Other Improved"
As noted above, LAC as a region has higher levels of piped in drinking water to houses, yards or plots. This is particularly true for urban areas: all but two LAC nations, El Salvador (78%) and Haiti (21%), have 80% or more of their urban households with water piped into the premises.
The rural picture is quite different, however. Only two LAC nations — Costa Rica (95%) and Uruguay (84%) — and two territories — Aruba (100%) and British Virgin Islands (97%) — have 80% or more of rural households with piped in water. The countries with the lowest levels of piped in water in rural areas? Haiti at 4%, Brazil at 17%, Nicaragua at 27% and Paraguay at 29%.
The Rising Use of Bottled Water
The report notes that the surveys WHO and UNICEF use indicate a growing reliance on bottled water. In fact, among the nations surveyed, four of the ones most utilizing bottled water as their main drinking water source are LAC nations: the Dominican Republic topped the list at 67% in urban areas and 34% in rural [having lived in the DR, I frankly think these values are too low], Guatemala (urban 31%, rural 10%) and Guyana (urban 28%, rural 14%) were high up there, and Haiti came in at 15% in urban areas and 8% in rural.
Household Water Treatment Methods
The WHO/UNICEF surveys also delved into what sort of water treatment, if any, households used for their drinking water. Interesting to me where that all four of the LAC nations involved had high levels both for no treatment whatsoever and adding bleach or chlorine to the water. This in line with what I know from living in the DR (not mentioned in the report's section on treatment), where many Dominicans did add chlorine to their cisterns. Many don't treat water because they only use bottled water for drinking, mixing and brushing their teeth.
"Improved" Not the Same as "Safe"
I'll close this look at the water portion of the JMP update by echoing the point I made in my post two years ago: that "improved" drinking water access is not synonymous with safe drinking water. For example, the DR claims 95% improved drinking water status, yet most Dominicans will never drink what comes out of the tap. Many will not even cook with tap water. Even in "good" Dominican urban neighborhoods with supposedly "safe" tap water, people come down with diarrheal and parasitic diseases from drinking the water. So is it enough to say 95% of Dominicans have access to improved water supply, when they are still forced to buy bottled water daily, or boil their water (using gas they should be using for cooking) or add chlorine to the water?
WHO and UNICEF acknowledge this, and in fact are currently working on a new report which will look at the relationship between this access data and the water safety and quality issues. This report will include an analysis of the role of bottled water, for which I am glad because as mentioned above, bottled water is playing a huge and growing role in the LAC region.
Tags: Aruba, Barbados, Belize, Bolivia, borewells, bottled water, Brasil, Brazil, British Virgin Islands, Chile, chlorine, Colombia, Costa Rica, Dominican Republic, drinking water, El Salvador, Guatemala, Guyana, Haiti, Honduras, household surveys, JMP, MDGs, Mexico, Millennium Development Goals, Nicaragua, OMS, Panama, Paraguay, Peru, public health, public taps, rainwater collection, República Dominicana, salud pública, saude, standpipes, Suriname, tap water, Trinidad and Tobago, tube wells, Turks and Caicos, UNICEF, Uruguay, water treatment, water-borne diseases, WHO
Subscribe to My Comments Feed
Leave a Reply