« Putting a Value on Belize's Reefs and Mangroves | Home | New Brazilian Rules on Pharmaceutical Marketing »
By Keith R | December 23, 2008
Topics: Health Issues | No Comments »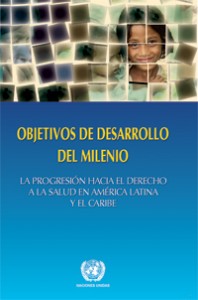 Recently 14 United Nations (UN) agencies* released a report (English, Spanish) reviewing the status of efforts of Latin American and Caribbean (LAC) nations toward meeting the health-related Millennium Development Goals (MDGs).
The report addresses the following health-specific MDGs:
reducing the under-five mortality rate by 2/3 between 1990 and 2015;
reducing the maternal mortality ratio by 3/4 between 1990 and 2015;
halving by 2015 and beginning to reverse the incidence of malaria and other major diseases;
halving by 2015 the proportion of people without sustainable access to safe drinking water and basic sanitation.
The report also discusses the hunger MDG — halving by 2015 the proportion of people suffering from hunger — and the poverty MDG — halving by 2015 the proportion of people whose income is less than one dollar a day.
Furthermore, the report examines in greater depth the issues of chronic child undernutrition, how inequalities in out-of-pocket health expenditures may affect health in the region, and how to finance the costs of achieiving the health MDGs in LAC.
I've already covered several of these issues separately here on The Temas Blog, including regional efforts on water, sanitation and malaria, so I won't rehash them here.  But the rest of the report merits some brief discussion here for the lens it provides on the state of health in the region.  And I am adding it to the health section of the Temas Reading List.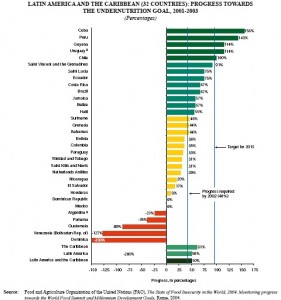 Hunger/Malnutrition
The report finds that LAC nations have taken major steps in the effort to combat generalized undernutrition and meet the target of eradicating hunger.  As the bar graph at right illustrates (click to see larger image), the region as a whole is on-track to meet the undernutrition goal, and the Caribbean and Latin American subregions as a whole are on-track as well.  But as usual, averages mask substantial national differences.  The yellow bars on the graph represent the countries who may not make the MDG target without significantly stepping up their efforts: Bolivia, Bahamas, Colombia, El Salvador, Grenada, Honduras, Netherlands Antilles, Nicaragua, Paraguay, St. Kitts and Nevis, Suriname, and Trinidad and Tobago.  Worse yet, the Dominican Republic and Mexico have not made progress at all, and Argentina, Dominica, Guatemala, Panama and Venezuela have regressed (represented by the red bars).  Unfortunately, Mexico and Venezuela have two of the largest undernourished populations in the region.  [Temas Note: Why is there no data for Barbados?]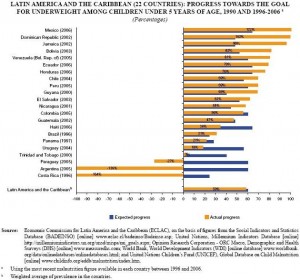 As for underweight children, a follow-up indicator for the hunger MDG, 4.1 million of the region's children suffer from it, and prevalence is high in many countries, particularly Ecuador, El Salvador, Guatemala, Guyana, Haiti, Honduras, St. Vincent and the Grenadines, and Suriname, and with rates of between 10% and 23%.  The two highest rates — 21% in Haiti and 23% in Trinidad and Tobago — exceed even those of sub-Saharan Africa.  The largest numbers of underweight cases are to be found in Brazil, Mexico, Guatemala, Colombia, Haiti and Peru, which together account for 73% of the total.  Haiti, Uruguay and Trinidad and Tobago are substantially underperforming in meeting this indicator (see bar graph at right — click for larger image), Panama and Colombia are just a bit behind expectations, and Argentina, Costa Rica and Paraguay have seen significant setbacks.  [Temas Note: Why is the data for Brazil, Costa Rica and Panama 10 years out-of-date?]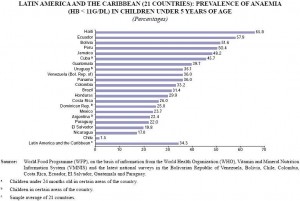 Micronutrient malnutrition (deficiency of vitamins and minerals) is a serious nutritional problem in the region.  Deficiencies of iron and vitamin A and, to a lesser extent, iodine are the most frequent and best documented.  Iron deficiency anaemia is widespread (see graph at right – click for larger image), particularly among children under 2 and pregnant women (and that's just for the nations for which data is available).  Bolivia and Haiti have the highest rate among under-twos (83.3%), while Haiti has the highest rate for under-fives (65.8%).  Among expectant mothers, the rate for Bolivia is 37%, Peru 42.7% and Guatemala 22.1%.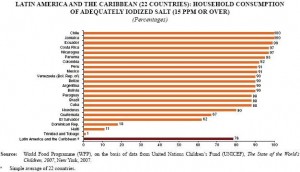 Vitamin A deficiency is not a national issue for most LAC nations, but is high among indigenous women and children in some nations (23.6% among indigenous children under five years old in Panama, for example).
Iodine deficiency is not a problem for much of the region (see graph at right — click to view larger image), largely because of the widespread consumption of iodized salt (most governments require by law that salt sold in their markets be iodized).  However, that's not true for five LAC nations: Dominican Republic (18%), El Salvador (62%), Guatemala (67%), Haiti (1%) and Trinidad and Tobago (11%) all are well below the norm.  [Temas Note: I can understand why Haiti, which has not had a functional government for years, has not made progess in ensuring all salt is iodized, but what in the world is the excuse for the DR and Trinidad and Tobago?]
After briefly discussing lessons learnt from the approaches taken by LAC nations to address the hunger/malnutrition issue, the report makes several policy recommendations:
Promote exclusive breastfeeding up to the age of six months, providing suitable conditions for working mothers;
Maintain and improve programs to fortify foods with micronutrients;
Provide food supplements and encourage their consumption by expectant and nursing mothers and by infants and preschool children;
Promote and improve eating habits based on highly nutritional local and traditional food products, taking account of cultural and ethnic diversities;
Create cash and food transfer programs for people living in extreme poverty, in return for their participation in education and primary health-care services, community work, training, literacy education, etc. (such as Jamaica's PATH);
Strengthen preventive measures aimed at the most vulnerable groups, particularly public information programs, education about food and nutrition, and the provision of information about best practices in childcare, hygiene, parasite removal, healthy eating, and food handling and storage.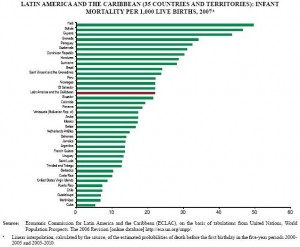 Child Mortality
The report finds that, regionally speaking, child mortality has declined substantially and life expectancy at birth has increased.  In fact, in 2007, child mortality in LAC was the lowest in the developing world and was dropping faster then in any other region.
The regional average, however, masks wide differences, particularly regarding infant mortality (see bar graph at right — click to see larger image).  The five countries and territories (Chile, Cuba, Guadeloupe, Martinique, Puerto Rico) at the bottom of that graph have rates similar to those found in Europe, but the top three (Bolivia, Guyana, Haiti) are among the world's worst.  Among those with relatively high rates, Bolivia, Grenada, Guyana, Haiti, Paraguay and Suriname have shown insufficient progress toward meeting the MDG target.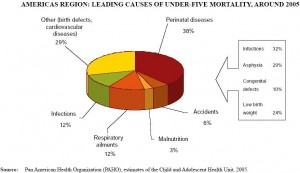 The pie graph at right (click to see a larger image) shows the major causes of mortality in children under five in LAC.  As the report notes, many of these are linked to the mother's sexual and reproductive health, and many can be tackled by addressing micronutrient deficiencies.  The report urges that public health officials and actors in LAC put greater emphasis on neonatal and child health if this MDG is going to be met.
Maternal Health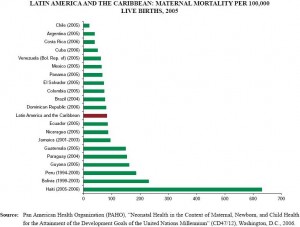 The report finds that maternal mortality in LAC remains a cause for concern and that further efforts are needed.   Although the figures drifted downwards in the region between 1997 and 2005, the ratio and absolute number of maternal deaths have barely shifted.  The ratio in Haiti remains extremely high (630 deaths per 1,000), and far too high in Bolivia, Guatemala, Guyana, Paraguay and Peru (see bar graph at right – click to see larger image).  Maternal deaths in the region are due primarily to direct obstetric causes, such as hemorrhaging (20%), toxemia (22%), complications in puerperium (15%) and others (anemia, micronutrient deficiencies, etc.) (17%).
Skilled care during pregnancy and childbirth is often associated with lower maternal morbidity and mortality, and in this metric LAC as a region is much ahead of Africa and Asia.  As a region, it is already close to the 90% of births attended goal set by the UN for 2015, with 34 regions and territories already there.  But several of those that are not — Bolivia, Ecuador, El Salvador, Guatemala, Haiti and Nicaragua — have much ground yet to cover.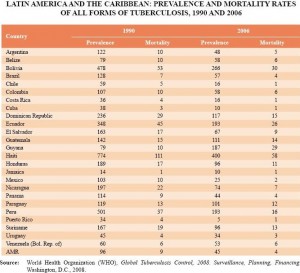 Major Diseases
In terms of tackling disease, this report looks mostly at malaria and tuberculosis (TB).  As I said above, we've already discussed regional progress regarding malaria, so I won't rehash that here.  Instead, let's take a look at what the report says regarding TB.
Regionally speaking, TB incidence has been falling since the 1980s, and this trend is expected to continue through 2015.  The country figures are disparate, though:
Those with greater financial resources or successful control programmes (Argentina, Brazil, Chile, Costa Rica, Cuba, Dominican Republic, Mexico, Nicaragua, Panama) reached the Millennium target before 2005, Peru and Puerto Rico did so before 2006, and the remainder are expected to do so by 2015. To achieve this, however, the countries that have a high prevalence or risk of tuberculosis, namely the Bolivarian Republic of Venezuela, Belize, Bolivia, Colombia, Ecuador, El Salvador, Guatemala, Haiti, Honduras, Paraguay and Suriname, will have to take deliberate measures to control the disease and make a firm political commitment in the form of sustainable financing provision. Because of the HIV/AIDS epidemic now ravaging Guyana, the incidence, prevalence and mortality rate of tuberculosis have risen steadily, and it will probably be the only country in the Americas region not to achieve this component of the 2015 Millennium targets.
WHO and PAHO say the major reason for success in tackling TB in the region is do to widespread adoption and implementation of the directly observed treatment, short course (DOTS) strategy.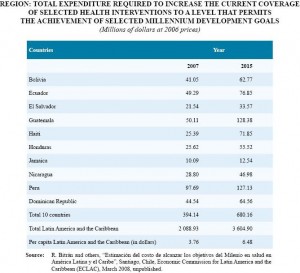 Health Expenditures Needed to Reach the Goals
The report's chapter exploring calculations to determine the funding needed in order to fully meet the health-related MDGs in LAC is a bit complex, and I am not certain how much confidence I put in the methods utilized, so I won't recount them here.  In a nutshell, they take 10 LAC nations with disparate economic and health indicators, figure the probable costs for specific interventions for these ten, and then try to extrapolate the results to the rest of the region.  The result: some US$3.6 billion needed for the region as a whole by 2015, or about US$6.48 per capita.
________
* UN Economic Commission for Latin America and the Caribbean (ECLAC), International Labor Organization (ILO), UN Food and Agricultural Organization (FAO), UN Educational, Scientific and Cultural Organization (UNESCO), World Health Organization (WHO)/Pan American Health Organization (PAHO), UN Development Programme (UNDP), UN Environment Programme (UNEP), UN Children's Fund (UNICEF), United Nations Population Fund (UNFPA), World Food Programme (WFP), UN Development Fund for Women (UNIFEM), UN Office for Coordination of Humanitarian Affairs (OCHA), UN Joint Programme on HIV/AIDS (UNAIDS) and the UN Refugee Agency (UNHCR).
________________
From the UN Economic Commission for Latin America and the Caribbean (ECLAC):
ECLAC presents Interagency Report on Health-Related Millennium Development Goals

Fourteen UN agencies reviewed achievements and obstacles in meeting MDGs.

The English version of the report Millennium Development Goals. Progression towards the right to health in Latin America and the Caribbean was launched on September 24 during a side event to the High-level Event on the Millennium Development Goals organized by Mexico's Permanent Representative to the United Nations, Ambassador Claude Heller, in his capacity as President Pro-Tempore of the Rio Group.

The report was presented by Alicia Bárcena, Executive Secretary of the Economic Commission for Latin America and the Caribbean (ECLAC), and Rebeca Grynspan, Regional Director of the United Nations Development Programme (UNDP) and Chair of the United Nations Regional Directors' Team.

The First Lady of Peru, Pilar Nores de García, presented a case of good practice implemented by the project "Sembrando" and NGOs working in the most isolated areas of Peru, complementing government efforts to advance achievement of MDGs. Chile's Minister of Planning, Paula Quintana, shared her country's experience in building social schemes that guarantee universal access to health and other social programmes aimed at improving health determinants.

During the debate following the presentations, participants highlighted the interagency collaboration that has been taking place in Latin America and the Caribbean, as illustrated by the joint efforts that went into the preparation of this report.

The document was coordinated by ECLAC with the participation of fourteen UN agencies (ECLAC, ILO, FAO, UNESCO, WHO-PAHO, UNDP, UNEP, UNICEF, UNFPA, WFP, UNIFEM, OCHA, UNAIDS and UNHCR). Participants also stressed that the upcoming Doha Follow-up Conference to Review the Implementation of the Monterrey Consensus must address the impact that the current financial crisis in the developed world will have on the efforts carried out by developing countries to achieve the MDGs.
_______________________
Desde la Comisión Económica para América Latina y el Caribe (CEPAL):
Presentan informe sobre Objetivos de desarrollo del Milenio relacionados con la salud

Catorce agencias de la ONU en América Latina y el Caribe revisaron logros y obstáculos para alcanzar los ODM.

La versión en inglés del informe Objetivos de desarrollo del Milenio. La progresión hacia el derecho a la salud en América Latina y el Caribe fue lanzada el 24 de septiembre durante una actividad paralela a la Reunión de Alto Nivel sobre los Objetivos de Desarrollo del Milenio, organizada por el Representante Permanente de México ante Naciones Unidas, Embajador Claude Heller, en su capacidad de Presidente Pro-Témpore del Grupo de Río.

El informe fue presentado por Alicia Bárcena (ver presentación), Secretaria Ejecutiva de la Comisión Económica para América Latina y el Caribe (CEPAL), y Rebeca Grynspan, Directora Regional del Programa de Naciones Unidas para el Desarrollo (PNUD) y Presidente del Equipo Inter-agencial de Directores Regionales de la ONU.

La Primera Dama de Perú, Pilar Nores de García, presentó un caso de buenas prácticas implementado por el proyecto "Sembrando" y otras ONGs que trabajan en las zonas más aisladas de ese país, complementando los esfuerzos estatales por lograr los ODM. La Ministra de Planificación de Chile, Paula Quintana, compartió la experiencia de su país en construir esquemas sociales que garanticen el acceso universal a la salud y otros programas sociales orientados a mejorar los determinantes de salud.

Durante el debate posterior a las presentaciones, los participantes resaltaron la colaboración entre agencias que se ha dado en América Latina y el Caribe, como lo ilustran los esfuerzos conjuntos para preparar este informe.

El documento fue coordinado por CEPAL y en él participaron 14 agencias de Naciones Unidas (CEPAL, OIT, FAO, UNESCO, OMS-OPS, PNUD, PNUMA, UNICEF, UNFPA, PMA, UNIFEM, OCHA, ONUSIDA y UNHCR). Los participantes también recalcaron que la próxima Conferencia Internacional de Seguimiento para Revisar la Implementación del Consenso de Monterrey a realizarse en Doha debe abordar el impacto que la actual crisis financiera tendrá sobre los esfuerzos de los países en desarrollo para lograr los ODM.
Tags: agua potable, Argentina, Bahamas, basic sanitation, Bolivia, breastfeeding, CEPAL, child mortality, Colombia, Costa Rica, Cuba, Dominica, Dominican Republic, DOTS, drinking water, ECLAC, El Salvador, FAO, fome, Grenada, Guadeloupe, Guatemala, Guyana, Haiti, hambre, health policy, hemorrhaging, Honduras, hunger, ILO, infant mortality, iodine deficiency, Jamaica, malaria, malnutrición, malnutrition, Martinique, maternal mortality, MDGs, Mexico, micronutrients, Millennium Development Goals, Monterrey Consensus, mortalidad infantil, mortalidad materna, Netherlands Antilles, Nicaragua, OCHA, ODM, OIT, OMS, OPS, PAHO, Panama, Paraguay, Peru, PNUD, PNUMA, pobreza, poverty, public health, Puerto Rico, reproductive health, República Dominicana, salud pública, saneamiento básico, saude, St. Kitts and Nevis, Suriname, toxemia, Trinidad and Tobago, tuberculosis, UNAIDS, UNDP, UNEP, UNESCO, UNHCR, UNICEF, UNIFEM, Uruguay, Venezuela, Vitamin A, WFP, WHO
Subscribe to My Comments Feed
Leave a Reply