« What the Other Guy Blogs About: EPR for WEEE in LAC | Home | Espirito Santo's Wind Atlas Finally Online »
By Keith R | September 2, 2009
Topics: Sanitation | No Comments »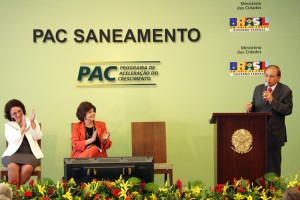 When Brazil's multifaceted Program for Accelerated Growth (Programa de Aceleração do Crescimento – PAC) was announced in 2007, it included a segment earmarked for improving infrastructure in provision of drinking water and sanitation services.
Today the head of the Civil House, Dilma Rousseff, and the Minister of Cities, Márcio Fortes, announced a list of 109 projects for water supply and sewerage services that will receive an investment of R$ 4.5 billion as part of the latest phase of the "Sanitation PAC." Of that amount, R$ 3 billion is allocated to 61 projects involving sewerage network projects, and R$ 1.5 billion for 48 projects involving water supply networks. The 109 projects involve 90 cities in 19 Brazilian states, focused on both capital cities of metropolitan areas and other cities with populations of over 50,000 inhabitants.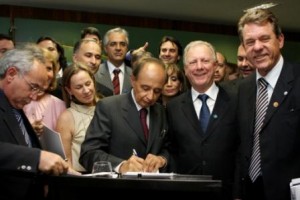 At the announcement ceremony agreements regarding the projects were signed between the Ministry of Cities, representing the Federal Government, and seven state governors: Jaques Wagner, Bahia (BA); Sergio Cabral, Rio de Janeiro (RJ); Jose Maranhao, Paraiba (PB); Wilma de Faria, Rio Grande do Norte (RN); Marcelo Deda, Sergipe (SE); Eduardo Campos, Pernambuco (PE); and André Pucinelli, Mato Grosso do Sul (MS).
Cognizant that the sanitation/water components of the PAC originally had been  justified partially as an effort to help Brazil meet its Millennium Development Goals (MDGs), Minister Fortes said that when picking projects the Government considered how projects might improve local health and environmental conditions.  He noted that supply of clean water and proper sanitation positively affects factors such as infant mortality.

Governor Campos, while acknowledging the health and environmental benefits of investments in water supply, said that for the Northeast it is "also [one] of freedom and democracy."  The Mayor of the City of Rio de Janeiro, Eduardo Paes, praised the investments in his city as helping prepare it to host the 2016 Olympic Games.
Drainage – Last June, President Lula and Minister Fortes announced investment of $ 4.7 billion PAC Sanitation for drainage works in 109 cities (in 18 states) constantly affected by flooding.
______________
Desde o Ministerio das Cidades (MCidades):
Governo Federal divulga 109 novos projetos do PAC Saneamento Investimento é de R$ 4,5 bilhões em obras em 90 municípios

Ao lado da ministra da Casa Civil, Dilma Rousseff, o ministro das Cidades, Marcio Fortes, divulgou na manhã desta quarta-feira (2), em Brasília, lista com projetos de abastecimento de água e esgotamento sanitário que receberão investimento de R$ 4,5 bilhões do PAC Saneamento. Do montante, R$ 3 bilhões são destinados a projetos de redes de esgotamento sanitário e R$ 1,5 bilhão, a projetos de redes de abastecimento de água. Serão 109 projetos de 90 municípios em 19 unidades da federação, entre capitais, municípios de regiões metropolitanas e cidades com população acima de 50 mil habitantes.

Durante a cerimônia, o ministro assinou as duas instruções normativas (40 e 41) que formalizam a seleção dos projetos anunciados.

O ministro resumiu o significado do investimento para a população. "São recursos para garantir à população que a água seja tratada e o esgoto, coletado e tratado. Isso é saúde humana e do meio ambiente", afirmou. Marcio Fortes lembrou que um dos critérios para seleção dos municípios onde serão realizadas as obras de saneamento foi a incidência de mortalidade infantil. "Sobretudo as crianças são afetadas pela falta de saneamento, tanto por causa da má qualidade da água quanto pela falta de tratamento do esgoto", disse.

Segundo a ministra Dilma, a partir de agora, a avaliação da qualidade de um governo vai considerar a capacidade de fazer bons projetos. "A gestão é a capacidade que temos de responder às demandas da população que representamos", afirmou. Dilma lembrou ainda que as obras de infraestrutura eram pensadas apenas do ponto de vista da logística, e não do ponto de vista social e urbano. "O investimento no tratamento de água e de esgoto é componente do desenvolvimento sustentável e uma demonstração de respeito às águas do país", afirmou.

Foram assinados protocolos de cooperação federativa relativos às obras entre o Ministério das Cidades, representando o governo Federal, e sete governadores estaduais: Jaques Wagner, da Bahia; Sergio Cabral, do Rio de Janeiro; José Maranhão, da Paraíba; Wilma de Faria, do Rio Grande do Norte; Marcelo Deda, de Sergipe; e Eduardo Campos, de Pernambuco, e do Mato Grosso do Sul, André Pucinelli.

O governador pernambucano afirmou que, no passado, o fornecimento de água era usado como "instrumento de submissão" no Nordeste. "Investimento em abastecimento de água não representa só tratar de saúde e do meio ambiente, mas também de liberdade e democracia", disse Campos.

O prefeito do Rio de Janeiro, Eduardo Paes, elogiou a maneira "republicana" como o presidente Lula tem tratado os investimentos em saneamento e contou que o Comitê Olímpico Internacional avaliou positivamente a candidatura do Rio de Janeiro a sede dos Jogos Olímpicos de 2016, "destacando o volume de recursos destinados às comunidades carentes do município", relatou.

Prioridades – No processo de seleção pública iniciado em abril deste ano, foram priorizadas ações em estágio avançado de planejamento, para viabilizar o rápido início das obras. A seleção também priorizou intervenções estruturantes, que gerem benefícios para o maior número de pessoas possível.

Modalidades – Foram selecionadas 48 propostas de abastecimento de água, que receberão investimento de R$ 1,5 bilhão. A seleção inclui outras 61 propostas de esgotamento sanitário, que somam investimento de R$ 3 bilhões. Os recursos de financiamento somam R$ 3,7 bilhões oriundos do FGTS e Fundo de Amparo ao Trabalhador (FAT), sendo que R$ 800 milhões referem-se a contrapartidas de estados, municípios e companhias de saneamento.

Até agora, o montante selecionado no setor de saneamento era de R$ 29,16 bilhões, alcançando com essa nova seleção, R$ 33,66 bilhões. O total contratado é de R$ 23,8 bilhões, dos quais 75% estão em obra.

Drenagem – Em junho passado, o presidente Lula e o ministro Marcio Fortes anunciaram investimento de R$ 4,7 bilhões do PAC Saneamento para obras de drenagem em cidades constantemente atingidas por enchentes e inundações, atendendo 109 municípios em 18 estados brasileiros.

A ministra Dilma destacou o aumento de investimentos em saneamento no país, durante o governo Lula. "Em 2002, apenas R$ 220 milhões foram investidos em obras de saneamento no país. Quando o país ainda devia ao Fundo Monetário Internacional (FMI), o Brasil investia R$ 500 milhões em saneamento, que é o valor investido em saneamento apenas no município do Rio de Janeiro", disse.
Tags: abastecimento de água, Alegrete, Anápolis, Aparecida de Goiânia, Apucarana, Arapongas, Atibaia, Bahia, Balneário Camboriu, Barreiras, Bauru, Belo Horizonte, Bento Gonçalves, Bertioga, Boa Vista, Brasil, Brasilia, Brazil, Cabo de Santo Agostinho, Cachoeira do Sul, Campinas, Campo Mourão, Caratinga, Carazinho, Caruaru, Cascavel, Cianorte, Corumbá, Cubatão, Dilma Rousseff, drenagem, Eduardo Paes, FGTS, Florianópolis, Fundo de Amparo ao Trabalhador, Glorinha, Goiana, Goiânia, Governador Valadares, Gramado/Canela, Guaranhuns, Guarapari, Guarujá, Guarulhos, Ijuí, Irati, Itaguaí, Itaituba, Itajaí, Itanhaém, Jaques Wagner, João Pessoa, Jogos Olímpicos, Joinville, Laguna, Lapa, Lauro de Freitas, Londrina, Lula, Marabá, Marituba, Mato Grosso do Sul, Mauá, MCidades, Ministério das Cidades, Monguaguá, mortalidade infantil, Mossoró, Nossa Senhora do Socorro, Nova Iguaçu, Novo Hamburgo, Olympic Games, Oriximiná, PAC, PAC Saneamento, Paraíba, Parauapebas, Parnamirim, Patos de Minas, Pedro Leopoldo, Pernambuco, Ponta Porã, Praia Grnade, Recife, Ribeirão das Neves, Rio de Janeiro, Rio Grande, Rio Grande do Norte, saneamento, Sanitation, Santa Bárbara do Oeste, Santa Cruz do Sul, Santa Rosa, Santiago, Santo Andre, São João de Meriti, São José, Sérgio Cabral, Sergipe, Serra, storm drainage, Teixeira de Freitas, Teresópolis, Toledo, tratamento de esgoto, Três Lagoas, Uberaba, Uberlândia, Umuarama, Valença, Vila Velha, Vitória
Subscribe to My Comments Feed
Leave a Reply