« Grappling with Greenhouse Gas Emissions from Ships | Home | Promoting Local Production of Cancer Medicines »
By Keith R | July 9, 2008
Topics: Sanitation | No Comments »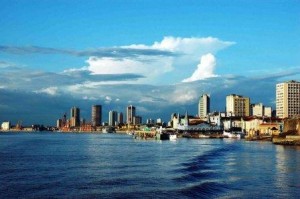 From the Inter-American Development Bank (IDB):
Brazil obtains IDB loan for Belém Sanitation Project

Bank will finance drainage, water treatment and improve living conditions for 220,000 people in northern Brazil

The Belém municipality in northern Brazil will obtain US$68.7 million from the Inter-American Development Bank for a sanitation and urban environmental program in Estrada Nova watershed, which is home to about 220,000 people.

The loan will help finance the construction of 77 kilometers of drainage systems for rainwater to prevent flooding and the relocation of about 1,100 low-income families now living in hazardous areas. It will also support the construction of roads and parks along drainage channels in the second most populated of the city's 13 urban watersheds.

"Residents will have access to cleaner water and that will reduce disease among children and adults,'' said IDB project team leader Fernando Bretas. "Quality of life will improve significantly for the poor.''

Belém, located in Brazil's Amazon region, has seen its population double in the past 30 years without the accompanying investments in infrastructure and urban planning. The loan is part efforts by the bank and the local government to improve living conditions in the city, which has 35 percent of its land prone to flooding. In 2004, the IDB completed the disbursement of a US$149 million loan to Belém to finance a similar sanitation project in Una watershed, which benefitted 176,000 people.

The loan, which accounts for the 50 percent of the total cost of the Estrada Nova project, has a five-year disbursement and grace period. It is denominated in U.S. dollars and will be repaid in 25 years.
__________________________
Desde o Banco Inter-Americano de Desenvolvimento (BID):
Belém obtém empréstimo do BID para projeto de saneamento

Banco financiará drenagem e tratamento de água, ajudando a melhorar as condições de vida de 220.000 pessoas no norte do país

O município de Belém no estado do Pará obterá US$ 68.7 milhões do Banco Inter-Americano de Desenvolvimento para financiar um projeto de meio-ambiente e saneamento na bacia de Estrada Nova, onde vivem aproximadamente 220.000 pessoas.

O empréstimo ajudará a financiar a construção de 77 quilômetros de sistemas de drenagem para evitar inundações causadas por chuvas e a remoção de aproximadamente 1.100 famílias de baixa renda que residem em áreas de alto risco. O financiamento também será utilizado na construção de estradas e parques ao longo dos canais de drenagem na segunda bacia mais densamente ocupada entre as 13 bacias urbanas.

"Os residentes terão acesso a água mais limpa e isso reduzirá a incidência de doenças entre crianças e adultos,'' disse Fernando Bretãs, responsável pelo projeto. A qualidade de vida melhorará significantemente para os pobres.''

A população de Belém, localizada na região Amazônica, duplicou nos últimos 30 anos sem que houvesse os investimentos necessários em infra-estrutura e planejamento. O empréstimo é parte de um esforço do BID e do governo local para melhorar as condições de vida na cidade, que tem 35% de sua área suscetível a inundações. Em 2004, o banco completou o desembolso de um empréstimo de US$149 milhões para Belém para financiar um programa de saneamento similar na bacia do Una, que beneficiou 176.000 pessoas.

O empréstimo, que representa 50 por cento do custo total do programa de saneamento de Estrada Nova, tem cinco anos de carência e será desembolsado em igual período. O financiamento será em dólares e terá que ser pago em 25 anos.
Tags: Belém, Brasil, Brazil, drainage, drenagem, Estrada Nova, flooding, inundações, Pará, saneamento, Sanitation, tratamento de água, urban environment, water treatment
Subscribe to My Comments Feed
Leave a Reply